Zoom: Video Conferencing Software
$14.99 per host/month
🧐 A Closer Look:
Features and Functionality
😊 Key Takeaways:
Free plan - everyone can Zoom!
Mobile apps for Android and iOS
Conduct webinars via Zoom Rooms
Language support in 10+ languages
😷 Some Let-Downs:
Could use some more robust tools for editing a recorded video/audio
Zoom Room in-depth meetings reports could be better
40-minute limit on meetings for the Free plan
The dashboard can be difficult to navigate
According to almost every Zoom Review, it is a highly recommended video conferencing service that offers cloud-based ancillary features.
With a million software options available online, it's hard to pin-point the best one. However, a video conferencing software with over 500,000 customer organizations would definitely go as number one choice. Right?
Well, that particular software is Zoom.
What is Zoom?
With support for up to 1,000 participants at a time, the Zoom app offers a wide array of essential features to meet your company's virtual requirements.
This software can be installed in pretty much all desktops and mobile apps which makes it extremely user-friendly. Besides a vast range of video tutorials and online supports are made available so first-time users can dive into the experience without any training for the software.
The strongest selling point that gives Zoom a firm competitive edge over other applications is how it is able to offer budget-friendly options to businesses and corporations in contrast to software such as Demio or Webinar Ninja.
A high-quality and inexpensive experience in communicating with team members across the globe has allowed Zoom to catch the attention of several businesses very quickly!
This Zoom Review will cover in-depth aspects of the app such as its pricing, features, functionalities, user experience and customer support.
Let's begin.
Zoom Video Conferencing Software Review (2020)
1. Pricing – 4.4 out of 5.0
One of the most appealing aspects of Zoom is the price point, where there is a free plan offered and an extremely reasonable entry-level plan.
The cost-effective nature and the high quality of online meetings are what helps cast zoom as a cheap yet effective solution for today's cross-company communication.
Plan
Pricing
Features
Free
Free forever

1 host
40 minutes meeting time limit
Simultaneous Screen Share
Audio/Video recording
Calendar integration
Online Support

Pro
$14.99 per host per month

1 host
24 hours meeting time limit
All Free Plan Features
Administration Feature Controls
1GB Cloud Recording
Online Support

Business
$19.99 per host per month

10 hosts
24 hours meeting time limit
All Pro Plan Features
Administration Dashboard
Custom Emails
Cloud Recording Transcripts
Company Branding
Dedicated Phone Support

Enterprise
$19.99 per host per month

50 hosts
24 hours meeting time limit
All Business Plan Features
Unlimited Cloud Storage
Executive Business Reviews
Dedicated Customer Success Manager
Zoom offers a free plan and three paid service plans. All the fourth mentioned plans support up to 100 participants at a time. The pricing is structured on a per-host basis and a host license is required by every user who needs to host a meeting.
According to our zoom team meeting review, you can also increase meeting capacity by purchasing additional space at $65 per 500 attendees and $110 per 1,000 attendees per month.
---
2. Features and Functionality – 4.4 out of 5.0
Zoom is a strong contender in the online mass team communication market place because of the vast array of features and functionalities that it offers along with the reasonably priced business model that it follows.
This Zoom review will take a quick look at the features that help zoom stand out as a video-conferencing app and multi-faceted communication software.
2.1. Audio, Video, and Sharing
2.1.1. Dial-in numbers
When it comes to Zoom Video Conferencing Review, you would also want to know about the Audio Conferencing capabilities. Well for that, the participant needs to call a dial-in number and follow the verbal instructions.
Here a meeting ID is given for on top of the Zoom Window. The participant needs to enter the meeting ID followed by the key for the meeting they wish to join.
2.1.2. Language Support for Telephone
When a user calls the Zoom support, the call is prompted to the Zoom meeting in the language of the dial-in country. Zoom supports English, Arabic, French, Spanish, German, Portuguese, Mandarin, and Japanese
2.1.3. Push to Talk
This feature allows the participant to remain mute throughout the Zoom meeting. In order to unmute, you can hold down the spacebar and talk. In order to enable this function, the participant has to go in settings>audio and check the option to "Press and hold SPACE key to temporarily unmute yourself".
It is important to note that any participant will not be able to unmute their screen if the host has prevented participants from doing so.
2.1.4. 3rd-Party Audio Conferencing
This feature allows hosts to utilize their own audio conferencing tools instead of using PSTN or VoIP via Zoom. In order to use the 3rd party audio conference feature, users need to logout and login to their application once the option has been enabled/disabled.
When this feature is being used, no sound is recorded during the recordings and no active speaker detection occurs.
In order to enable this option, go to Account Settings>Telephone and navigate to 3rd party conference option. Here, verify the setting is enabled and then input your 3rd party device information via the edit button.
Once this is saved, you can start using the feature.
2.1.5. Screen Sharing
Zoom includes a developer platform that allows participants to create their own full-stack solutions through audio/video and screen sharing for their APIs. For using the developer platform, you can browse through the resources and join the community to submit the request for your API.
The Developer Platform, built-in 2017, also includes SDKs for Windows and MAC with a rich set of REST APIs. Using this feature, developers can test API calls and also view the responses in XML or JSON formats which allows flexible development.
2.1.6. Remote Control
This particular feature allows one participant to take control of another's screen during a meeting. This feature can be either completed by 'requesting a remote control' or by 'getting control' of the remote by other participants. In case you need admin functionalities, it requires restarting other participant's systems.
2.1.7. Whiteboards
This feature allows you to share a whiteboard with other participants to annotate on. In order to share a whiteboard, click on the Share Screen option on the meeting toolbar.
Next, click on Whiteboard > Share and press the option in meeting controls that you wish to show and hide. Once the work on the whiteboard is done, you can click on "Stop Share".
You can also have multiple whiteboards in a meeting by using simultaneous screen sharing. You can view two boards at a time and for this purpose, dual monitors feature is enabled.
2.1.8. Virtual Background
This feature allows you to set the background image or video for the Zoom meeting. It works best with a green screen and uniform lighting.
For the virtual background feature, there are no size restrictions but it is recommended to crop the image match aspect ratio of your camera before uploading.
2.2. Recording Features
2.2.1. Cloud Recording
The 323/SIP connector feature allows standard-based systems to work with the cloud. Users can enable room systems with just a single touch to connect and communicate with vendors via tablets, mobiles, or desktop devices.
The H.323/SIP Connector features come with two options; Cloud Room Connector (Hosted By Zoom) and Virtual Room Connector (Hosted on-premise).
2.2.2. Local Recording
Local recording allows you to record a meeting audio/video locally on your computer. This feature is available for both free and paid subscribers.
The recorded files can be uploaded to Google Drive, Vimeo, Youtube or Dropbox. It is important to note that this feature is not supported in Android and iOS however cloud recording can be used if you are using a mobile device.
2.2.3. Automatic Transcription
You can also get an automatic transcription of the audio of the meeting/webinar that you record over the cloud by using the Audio Transcript feature.
The file is saved in .vtt file format in the list of recorded meetings. You can also display the transcription within the video itself. The feature is divided into sections where each timestamp shows the portion for which recording has been converted to text.
2.3. Zoom Meetings
2.3.1. Recurring Meetings
At times companies need to schedule recurring meetings for specific matters like monthly or bi-monthly increments. For such meetings, the Zoom team meeting review shows that the app allows hosts to schedule multiple occurrences so that each occurrence uses the same meeting ID as well as settings.
The ID for recurring meetings expires in 365 days after the first meeting starts. The recurring meetings cannot be schedules with Personal Meeting ID. However, it is suggested to use Google Calendar or Outlook for a better scheduling experience.
2.3.2. Messages and Chats
Zoom also offers the functionality of instant messaging to businesses. This means that organizations can remain in touch with their participants by keeping a track of any file shared, document uploaded, image or audio sent by one member to another.
Zoom lets businesses and their workers create a more personalized experience by being able to create specific groups and add selected participants to those who are relevant to a particular project.
This way, the entire company does not have to become involved and it improves the organization's efficiency by having certain groups focus on specific things.
Zoom Business IM also lets you control the status of groups (presence) and gives you the ability to be able to scan through content to find the files that you need.
2.3.3. Auto-answer
This feature allows user to automatically answer meetings or group messaging information from specified users. This feature can be especially helpful in Zoom rooms where you would prefer to automatically join a meeting without having to accept or decline.
You can activate this feature for Mac or PC users only.
2.3.4. Meeting Templates
When scheduling a meeting, Zoom allows the host to save the setting of that meeting as a template for future meeting schedules. This template can include options such as alternative hosts and automatic recordings.
You can also save templates for recurring meetings and save the recurrence schedule as a part of the template. You can save up to 40 templates for future meetings.
2.3.5. Polling
This feature allows the host to create multiple choice or single choice polling questions for their meeting. Basically the polling feature allows you to launch a poll during the course of the meeting and collect responses from the participants in real-time.
Later, you can download these responses in the form of a report. You can also conduct anonymous polling if you don't wish to get participant information in the poll results.
2.3.6. Registrations
When scheduling a meeting, the host can set registration requirements and add questions like email, name, and other custom information for attendees. The host can also generate registration reports to get a list of people who have registered for the meeting.
2.3.7. Meeting Live Streams
Take a look at zoom team meeting review, you see the user can also live stream their webinar to a custom platform if configured by the account administrator.
In order to activate this feature, the admin has to configure the setting before the meeting begins so that you start streaming with just one click as soon as the session begins.
2.4. Webinars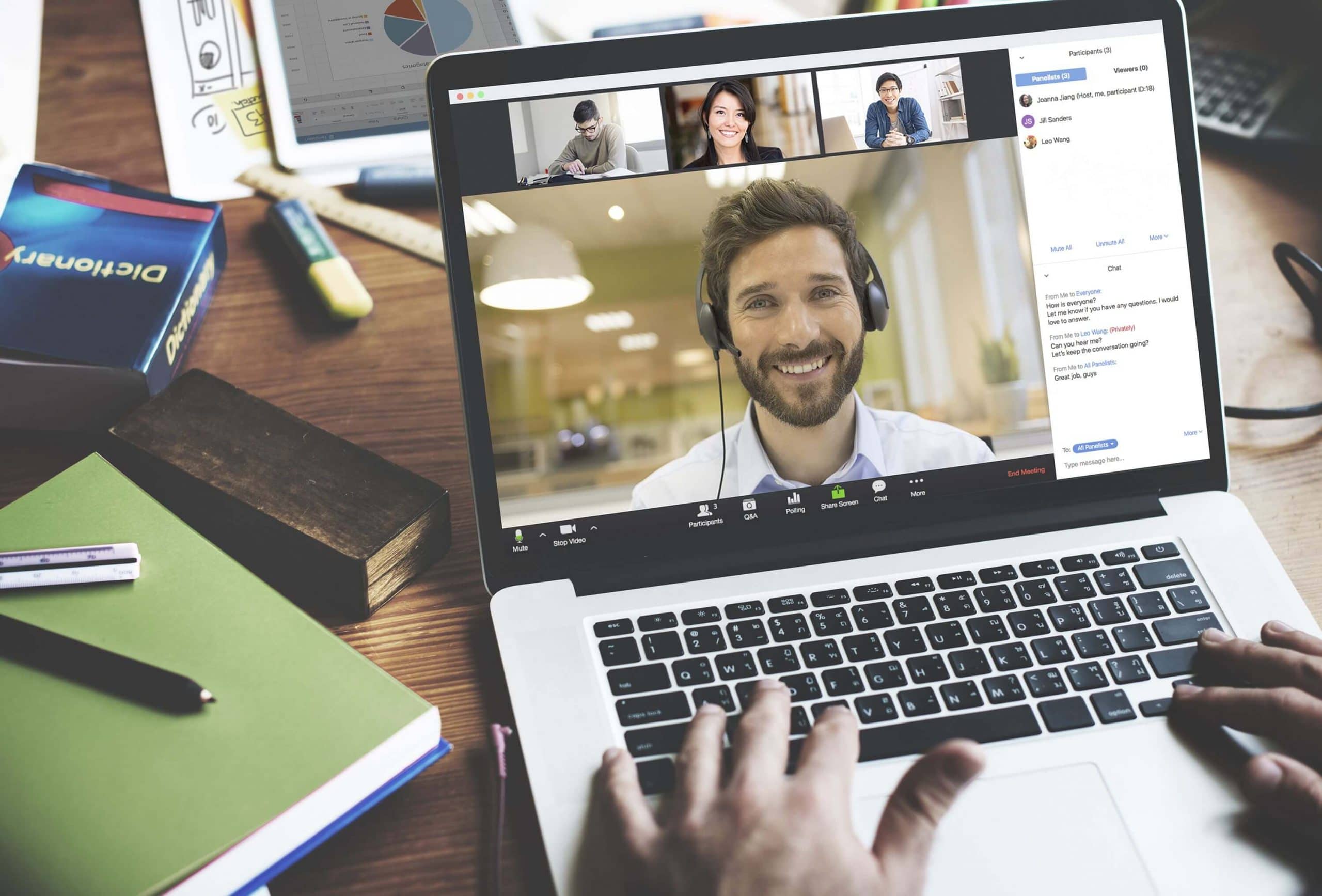 2.4.1. Webinar Roles
Zoom not only lets you engage in one-on-one calls with individuals but it also gives you the functionality to be able to host webinars with up to 100 participants.
Webinars are crucial to any business, and with Zoom, you have the option to be able to perform real-time webinars with features such as sharing data with a click and dual-screen support.
2.4.2. Webinar Branding
The webinar branding feature allows users to customize their webinar's registration page with logo, banner, color, speaker information, descriptions and much more. The speaker information is also included in the webinar invitation.
2.4.3. Webinar Chat
When attending webinars, chat becomes a necessary feature for the attendees as well as the hosts for communication. So during the webinar, co-hosts, panelists, attendees and the host can communicate via the chat function.
2.4.4. Webinar Reporting
The reports feature is designed to generate information reports based on various metrics such as registration, attendee, performance, Q&A, and polling.
The final report file can be exported to the CSV format to carry out further analysis and gain useful insights. These reports are also made available for the previous year. In order to use this feature, the user needs to have hosting power or have a role in access to the usage reports.
2.4.5. Webinars Using PayPal
PayPal integration in zoom allows you to charge a registration fee for the webinar via PayPal. So basically, with this feature, you make it mandatory for attendees to complete payment in order to receive joining information for the webinar.
Here, you can also enable the option to 'restrict the number of registrants' and allow a specific amount of attendees.
2.5. Integrations
2.5.1. Extensions and Plugins
When it comes to Zoom Video Conferencing Review, this application has a wide array of extensions and plugins to offer. Let us discuss a few in detail:
1. Google Calendar:
The Zoom Scheduler Google Chrome Extension and Zoom Firefox add-on allow users to schedule their meetings directly via Google Calendar. Through this extension, you can also start an instant meeting or schedule a future one. Once the meeting details are confirmed, invitations are sent via Google Calendar so attendees can join meetings with a single click.
2. IBM Notes Plugin:
The IBM/Lotus Notes plugin is a convenient way to schedule meetings. This plugin allows you to not only schedule a Zoom Meeting but also make existing appointments and meetings through the interface of IBM Notes Calendar. This plugin can be used on IBM Notes 9 and above.
3. 3rd-Party Integrations:
Zoom Rooms are integrated with 3rd party applications such as Polycon, Lifesize, and Cisco which allows executive offices to extend conference rooms and include remote participants with single touch features so as to enjoy interoperability.
4. Dropbox Integration:
Integration with Dropbox allows users to perform many functions such as presenting dropbox files in zoom meetings, join meeting from dropbox and even present files during the activity sessions.
This integration is only available for Zoom desktop client and requires Google Calendar or Outlook to be connected with dropbox.
5. OneDrive Integration:
This feature allows you to share OneDrive files on Zoom. To start, you have to connect your Zoom account to OneDrive and then you can easily share files during meetings or in chat. This integration can only be enabled by admin – and is available for the desktop client only.
6. Oracle Eloqua Integration:
This integration allows users to register contacts for Zoom Webinars as part of the campaign. You can also make decisions based on registration or data without having to bring Zoom data manually into Eloqua.
It is important to note that for this integration, Zoom Feeder only provides contacts of users that have been provided up till activation of the campaign.
For this integration, hosts must be licensed and assigned to particular add-0n. They also need to purchase a video webinar plan for 100-10000 participants.
7. Salesforce Integration:
This integration is designed for the sales department since it allows you to start and schedule zoom meetings with leads within Salesforce and also view your scheduled meetings. The Salesforce integration can be availed through Zoom Marketplace or Salesforce AppExchange. Either way, this integration requires access to REST API and is available only for Pro, Business, and API Partner Plan.
2.5.2. SSO and SAML
SSO or Single sign-on option allows users to login using company credentials. The Zoom SSO is written in SAML (Security Assertion Markup Language) 2.0 and offers automatic user provisioning. This particular feature requires the user to have a business or education account only.
2.5.3. Zoom Marketplace
The Zoom App Marketplace gives developers the option to be able to create third party applications by building upon zoom's video-first communications platform.
This means that developers can create their own customized version of zoom using leverage APIs, webhooks and SDKs to better control how their company can make use of Zoom.
This feature gives a very dynamic flair to the Zoom app itself because it allows companies to be able to personalize their experience of the online conferencing software based on their needs and requirements.
Thousands of businesses rely on zoom for being able to communicate with team members and are satisfied with their experience, which leaves an extremely positive impact on zoom review.
2.5.4. LTI/LMS Systems
LTI Pro app is an educational application that allows users to schedule, join and manage zoom meetings within their LMS (Learning Management System).
It also integrated Zoom video conferencing to LMS so students can remotely attend classes, work in study groups and even view recordings of previous classes.
This feature also helps instructors in terms of access to cloud recordings, distance learning support and flexible office hours.
2.6. Cross-Platform Availability
2.6.1. Meetings Client
Zoom meetings allow for 'white-boarding' to take place where participants in a meeting can simultaneously share files on the screen such as a notebook or whiteboard through screen-sharing.
This feature offers high-quality audio and video streaming with minimal hindrances and latency. It also offers 'remote control' where users can allow other participants to be able to control each other's screens from their own computer by granting them access.
As far as the Zoom video conferencing review is concerned, Zoom is an innovative solution to allowing collaborative communication to take place without having to pay a fortune.
If you are a trainer or coach who wants to remotely teach lessons or help your students develop a skill, and has checked through any Zoom Review, you would know that the remote control access offered by zoom meetings is an excellent way for you to be able to do so.
2.6.2. Zoom Rooms Client
Zoom Video Conferencing Review shows that zoom room functionality allows several companies to conveniently communicate and collaborate with team members across oceans and continents, thousands of miles apart.
It is impossible to host conference meetings frequently while also making sure everyone is physically available to participate. This is where zoom rooms come in offering an extremely appealing solution to making conference calls become easy.
Zoom room allows conference meetings to be set up where members from around the world can join in from their devices.
Zoom rooms allow clients to be able to share their audio and video stream live which adds to the life-like and realistic nature of these conference meetings which can be used for meetings, talks, and training sessions.
When it comes to taking a closer look at the zoom team meeting review, the zoom room is an optimal solution! It offers high quality, budget-friendly and accessible communication that transcends geographical borders and helps collaborative teams come closer than ever.
2.6.3. Browser Extension
In terms of browser extensions, Zoom offers Scheduler Chrome Extension and Firefox Add-on. Both these extensions integrate Google Calendar with Zoom meetings for convenient scheduling.
2.6.4. Outlook Plugin
Zoom offers integration with Microsoft Outlook plugin as well as Google calendar within this feature. This allows hosts to schedule meeting directly via these applications. Once the invitations for meetings are sent out, the schedule is placed automatically on the Zoom calendar as well.
The meeting service is designed mainly for training, collaboration, and support. Therefore the feature includes screen sharing, whiteboarding, HD audio/ video, and screen control functions.
2.6.5. iPhone/iPad App
Zoom mobile apps are available for iPhone/iPad screens. Using the Zoom Client Plugin, you can share your screen with remote participants during the Zoom meeting time. These apps are available on version 4.6.4.
2.6.6. Android App
The android based Zoom app is available in 11 different languages for 5.0 version and above. With this app, you can manage everyday meetings in an efficient manner without having to worry about quality.
Android app works with cloud meetings which are very convenient especially if integrated with outlook or google calendar
2.7. Other Settings
2.7.1. Custom Branding
Branding allows account admin to create a custom page for company users via your vanity URL. You can also customize the template of the email invitation. In order to use this feature, you must have a vanity URL that is approved and API, Education or Business Plan.
2.7.2. Account Settings
The account settings allow the host to change settings for all users in their accounts. For example, you can auto-save chats, require encryption for H.323/SIP connectors, launch polling, always show meeting control toolbar, mute participants, embed password for link joining and much more.
If you wish to lock a setting, you can set the lock option "on" to prevent users from changing it.
---
3. User Experience – 4.8 out of 5.0
Zoom has become a popular option for offices and homes alike and has gained very positive reviews but what about the UX it offers? In this section, we will explore the layers of this app's design – from floating toolbars to bare-boned wireframes – to understand how good the User Experience is.
The judgment of quality in user experience is mainly based on how people talk over a video call using this app. Understandably, Zoom is designed to work across several platforms and systems, making it hassle-free and easy to use.
Design
Zoom offers a very user-friendly design that offers 3-click journey for its customers. You can simply open the zoom app, click on "start with video", next click on "invite", copy the URL of your menu bar, paste it into chat and that's it – your call begins!
In the zoom rooms, you can also customize the design of the registration page with simple drag and drop. Therefore our Zoom Review suggests that the design and interface of this app are intuitive and easy to pick up on naturally.
Mobile Apps
Zoom offers mobile apps for both iOS and Android so both users can communicate through the software. The app offers a large view of the active speaker and a smaller view of participants for each session.
It also comes with a safe driving mode in which the microphone and camera of the specific user is turned off which also lets other participants know that they can not see or understand you at the moment.
Our Zoom Review shows that it has been rated 5/5 stars on the Play Store and 4.8/5 on the Apple Store.
It holds over 10,000,000 downloads on Android and supports 10 different languages including English, French, Chinese, Korean, Russian, and Spanish.
The apps allow you to connect with pretty much all other devices ranging from Chrome OS to H.323/SIP room systems and even telephones.
Integrations
As discussed in the Features and Functionalities section, Zoom offers an extensive range of integrations that make video conferencing experience more convenient for the users.
These integrations include, but are not limited to:
Google: The app is integrated with chrome and calendar which allows participants to schedule their meetings directly.
IBM: Watson Workplace by IBM is integrated into the Zoom app to offer seamless audio/video chat and direct messaging with just one click.
Hipchat: This integration allows you to start scheduled meetings via the HipChat room through your Zoom account as well.
Appointlet: This application allows participants to auto-generate links of Zoom meetings and add it to calendar events as well as bookings dashboards.
---
4. Security – 4.5 out of 5.0
According to a recent Zoom Review, it has been widely adopted by information-sensitive areas such as the US Department of Homeland Security, NASDAQ, and the Centers for Disease Control and Prevention, among many others.
This makes the Zoom app's security a very important point.
Zoom's official documentation states that Zoom operates in scalable hybrid mode so as to provide functions such as chat transcriptions, voice mail recordings, user management, and conference recording since they are hosted on the cloud.
The company also holds SSAE 16 SOC Type 2 certifications for real-time conference security. In terms of server compatibility, Zoom connects via HTTPS and works via SSL ports.
However, a recent flaw in Zoom's video conferencing security was discovered by Jonathen Leitschuh and another one was reported by Karan Lyons on July 15.
According to these reports, Zoom's vulnerability allowed hackers to initiate a video-enabled call without user consent on Mac. When you install the Zoom app, the camera for future meetings is turned on by default and you need to check the preference to turn off the camera for future meetings specifically.
Apart from this, Zoom is working perfectly on security level so it is considered popular among companies when it comes to holding meetings with augmented staff.
---
5. Customer Support – 4.4 out of 5.0
24/7 chat and online support
Dedicated phone support with Business Plan
Dedicated customer account manager with Enterprise Plan
Multi-Language support available for users in Chinese, English, French, German, Japanese, Portuguese, Russian, Spanish, and Korean
Phone Dial-in support available
Target Response time varies from 1 hour to 24 hours depending on the urgency of the problem
---
6. The ATS Staff Verdict
Zoom is a decent video conferencing, webinar and online meeting software for teams.
It offers a complete suite of features and functionalities, has grown tremendously in terms of user acquisition in a short span of time and is one of the most trusted collaboration platforms in the world.
We give Zoom a big thumbs up for all the features, support mediums, and the user experience that it offers. What do you think of Zoom?
Have you tried it within your team before? How has your experience been? Let us know and rate Zoom using the comments below.
---
Other SaaSy goodness on All That SaaS: