In this roundup, we are going to take a look at some of the best book reading apps that you can download on your PC, access online, or via your phone.
eBooks are taking over printed books because of the ease of accessibility and use, making them a suitable option for bookworms.
According to a survey, 68.7% of the children said they prefer reading on a digital screen as opposed to on a piece of paper.
During the global pandemic, the use of eBooks, and the best apps to read books have seen a great increase in demand. In March 2020, Libby, a famous book reading app, saw its app being downloaded more than 245,000 times in a single week.
Considering the many benefits and the sharp increase in demand, our staff decided to look at some of the best book reading apps that are available. Here are our top picks:
The Best Book Reading Apps in 2021
1. NOOK – Best Book Reading App for Windows
Download: Android | iOS | Windows | Not available for Mac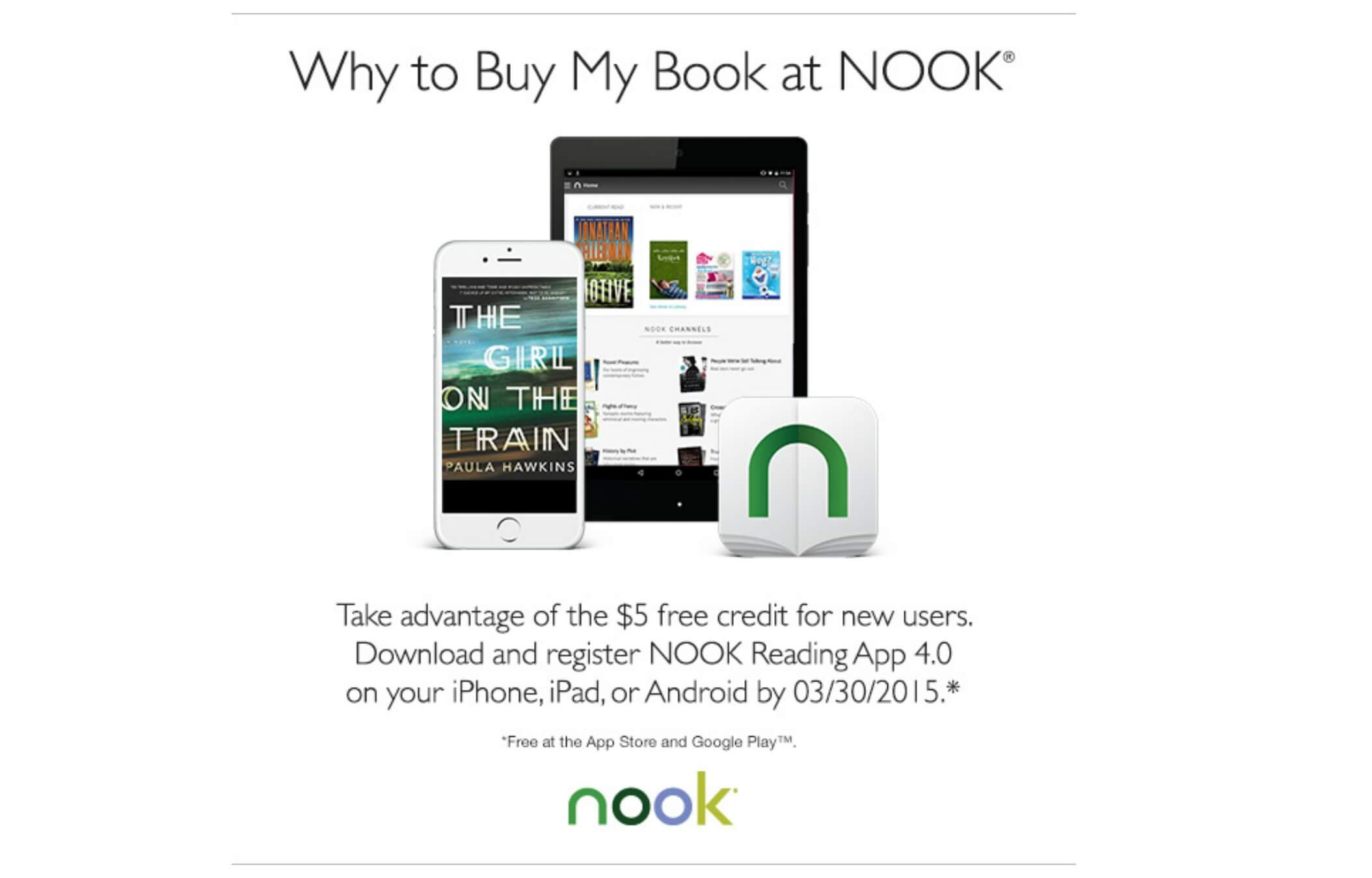 NOOK is one of the best free book reading apps with which you can enjoy millions of books online. This digital book reading app is easily available on your iPhone, iPad, iPod Touch, Android phone, or Windows desktop.
Get access to millions of eBooks, magazines, newspapers, novels, and much more with this book reading app.
Enjoy Barnes and Noble's award-winning eBook discovery and reading digitally and also get to know about the latest bestselling books with expert booksellers' recommendations.
Features
Enjoy over 75,000 free titles and download eBooks directly from the bookstores. Search for a book by a new author or start new series, everything is risk-free.
You can download free book samples and also add them to your Wishlist.
You can adjust your font style, page size, margins, page animations, line spacing, brightness, and other customizable features to read comfortably. It also offers day, night, and evening modes.
Add notes, bookmarks, and highlight the lines that you like or want to save. You can manage your Library with custom stacks of eBooks, magazines, and even your files.
It is easily accessible to people who are blind or have low vision problems leveraging Apple assistive technology, including screen magnification and Voiceover.
If you like a sentence in the text, highlight it, and tap on Share to launch the quote editor and create your custom card. Also, you can share it with friends.
Pricing
This app is free of cost.
---
2. Serial Box – Simple Book Reading App
Download: Android | iOS | Not available for Windows and Mac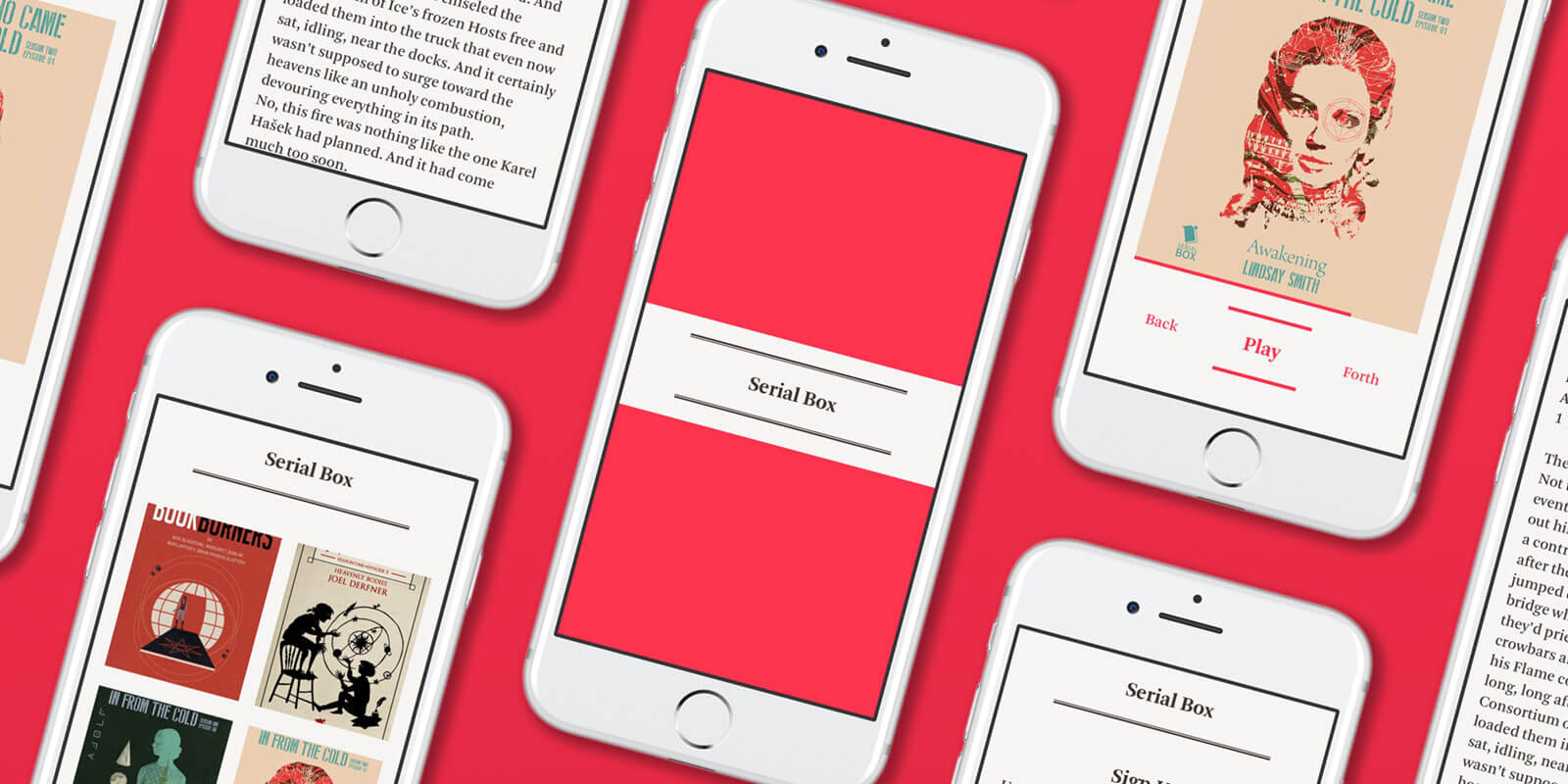 Serial Box is an app for reading sci-fi, fiction, fantasy, thrillers, and many other books online, and not only you can read them but also get an audiobook copy to hear them.
With this app, you can read and listen to the best fiction books that pop up weakly to your device automatically.
The stories in this app are created by award-winning bestselling authors with cinematic and immersive sound effects added by brilliant narrators such as Tatiana Maslany.
This app has a distinguished format of having titles of different stories and each title is divided into episodes.
Features
Easily switch back and forth between audiobooks to listen or eBook to read without losing your track.
Always have a choice of downloading the audiobook so you can listen to it offline.
Get a sample of each story that is, the first episode of every title for free and you can choose which story you want to buy.
The format for story reading is highly customizable. You can choose between scroll or swipe option.
It offers 5 optimized typefaces and 6 color combinations.
It offers customizable settings such as custom margins, line height, word and letter spacing, so on and so forth.
Pricing
Serial Box is free to download but it offers in-app purchases. Their title prices range from $0.99 to $13.99, depending upon the length of each title. You get an eBook as well as an audiobook when you buy something.
---
3. Goodreads – Free Book Reading App
Download: Android | iOS | Windows | Not available for Mac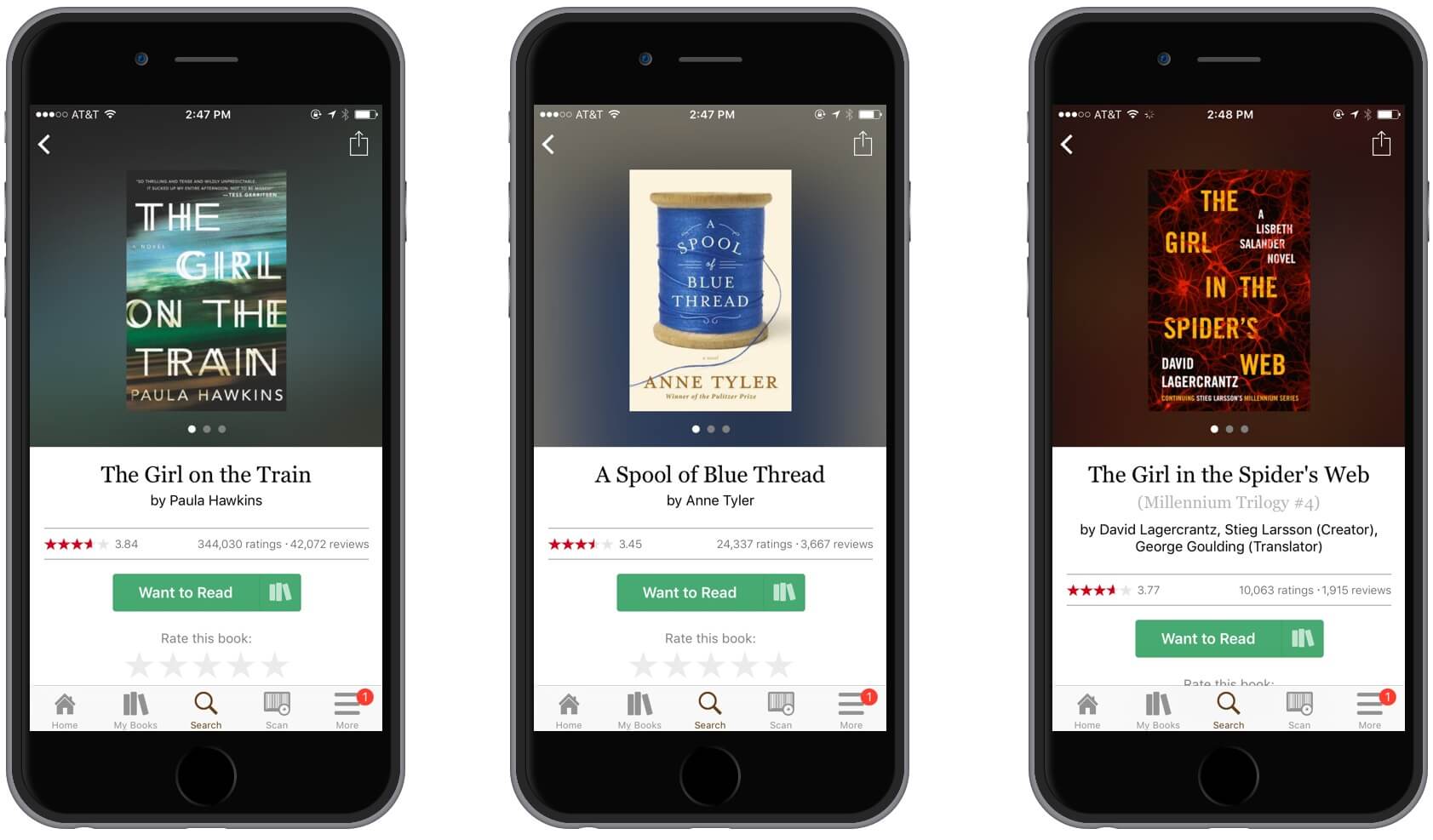 Goodreads is one of the best apps to read books for free and it is the world's largest online library to read eBooks. You can discover millions of books and share them online with your friends.
You can also take part in group discussions and give recommendations regarding your favorite book.
Get automatic personalized recommendations based on books that you read. Not only you can keep a track of which books you have read but also keep books that you want to read or mark the books that you are reading, so your friends would know as well.
Features
Get personalized book recommendations based on books you like and also discover new books according to your taste.
Vote for your favorite book of the year to make it a winner of the Reader's Choice Awards each year.
Get a barcode scanner when you are in the bookstore to get the books you want and also participate in book reading challenges to stay on top.
Make a list of books that you want to read in the future, share them with your friends, and get recommendations regarding books.
You can give your opinion regarding any book either by rating or by writing a proper review to help others find the right book.
Update your friends by sharing notes, progress regarding a book, join online clubs, and get to know about literary events happening near you.
Pricing
Goodreads is completely free of cost.
---
4. FBReader – Best Book Reading App for Mac
Download: Android | iOS | Windows | Mac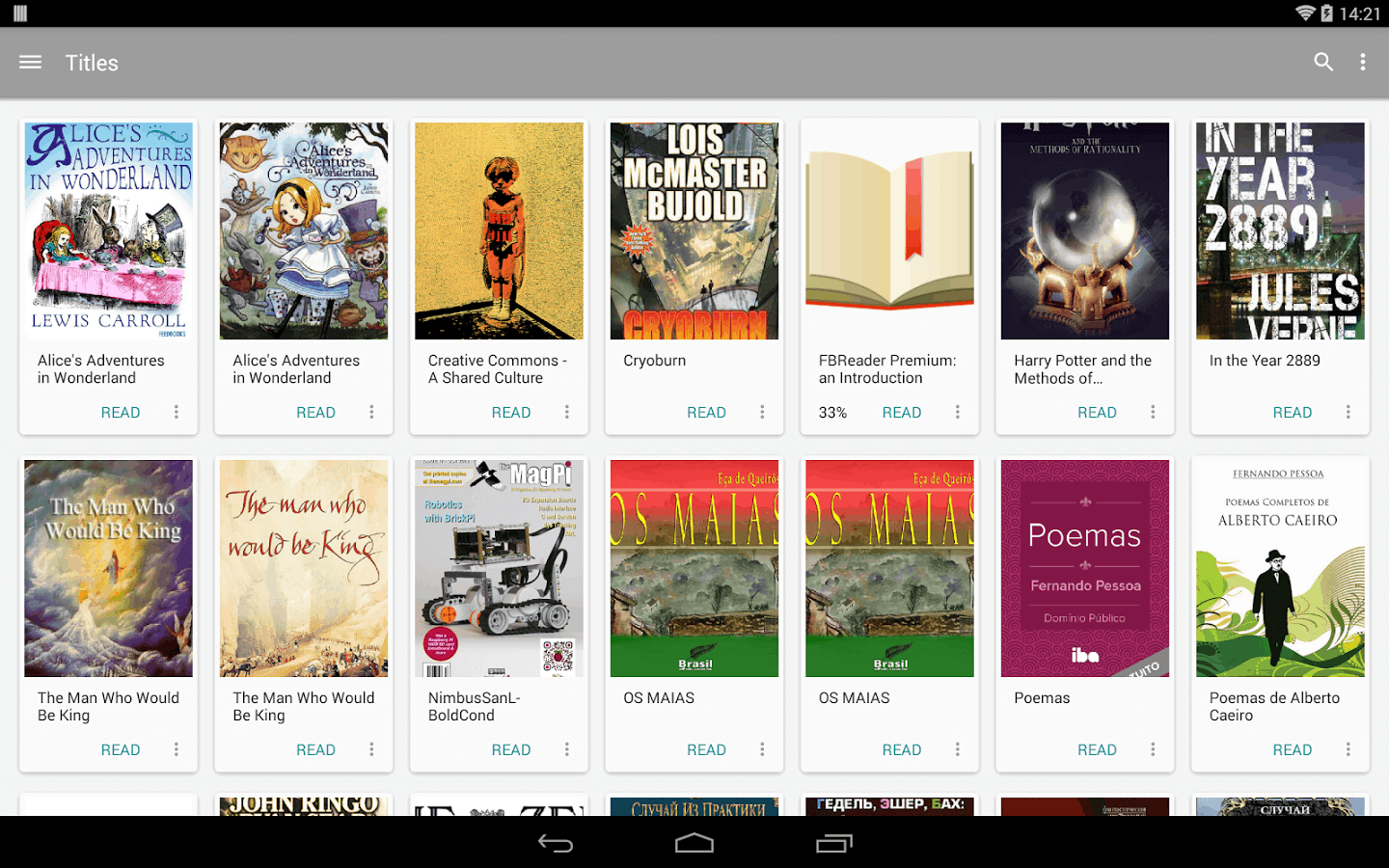 FBReader is among the best book reader apps for Android which is a multi-platform, popular eBook reading app that has 20+ million installs.
Get access to the popular public libraries having a large number of eBooks. You would either be asked to pay for a book or you would get it for free.
FBReader supports many reading formats (EPUB, FB2, MOBI, RTF, text, etc.). It makes your reading highly convenient through its customization options such as choosing your color and font size, animations, page-turning, dictionaries, bookmarks, and many other features.
Features
Store books to your device and in your Goggle Drive space, so you never miss your favorite book.
Make lists to organize your books accordingly under the title of your favorite author, series, etc.
Synchronize your book collections, reading positions, page numbers, and bookmarks across your device and keep your book reading history safe.
Provides integrations with external OPDS catalogs and you can add books from your computer to your mobile phone or other devices.
Share books with your friends, get meta info editing, custom folders, EPUB encryption using ExpressPlay implementation of Martin open standard, and many other features.
If offers plugins and API for Android devices and all plugins have different features.
Pricing
FBReader is free to download and offers in-app purchases. Its full version is for $3.99. It offers different plugins for Android and implements all the optional features as separate programs or packages.
---
5. Oodles – Best eBook Reading App
Download: Android | iOS | Not available for Windows and Mac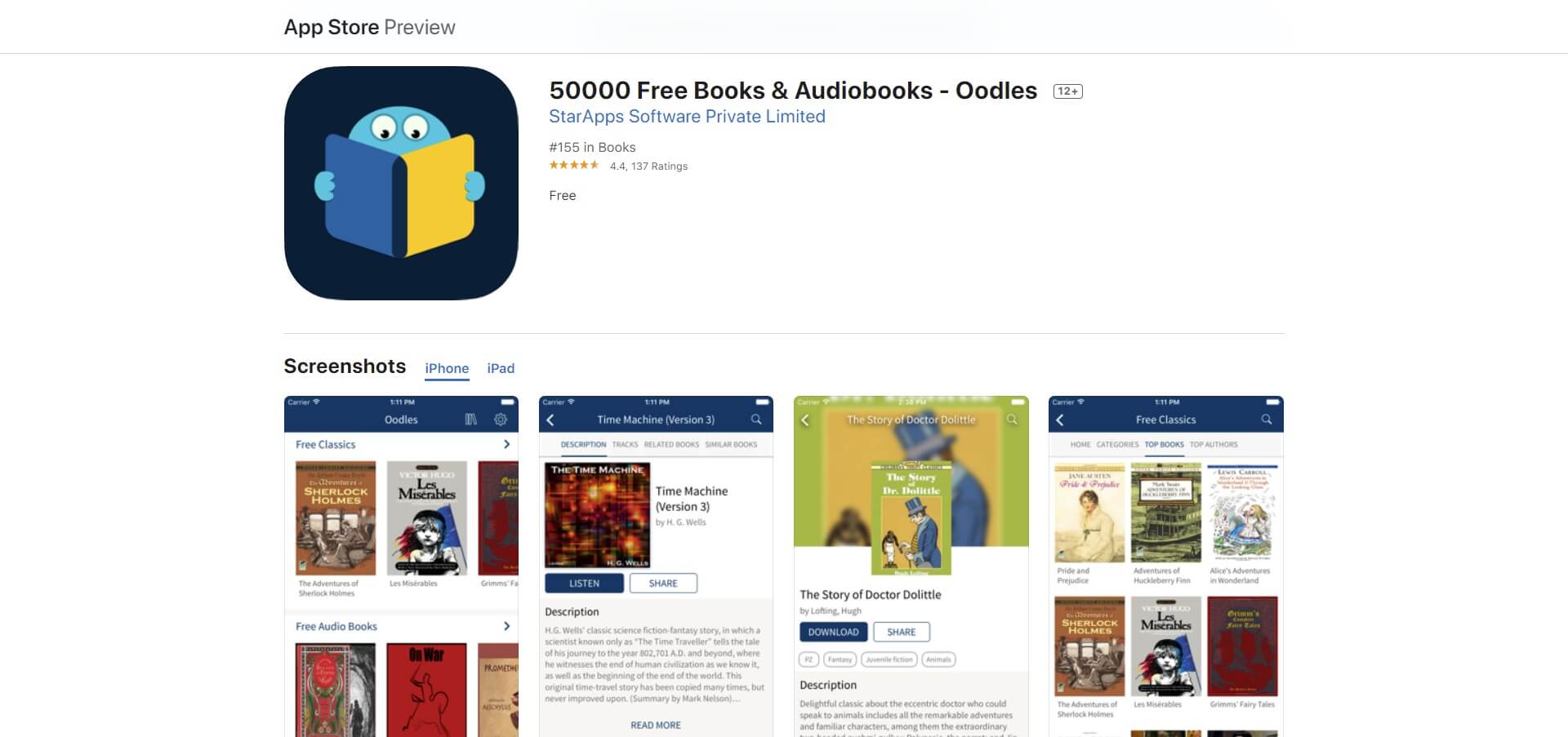 Oodles is an online book reading app with around 50,000 free eBooks and audiobooks that you can enjoy for free. It has over 3 million users because of its huge digital library which contains books of every kind and every taste.
You get to read books of your desired author and that also for free and you have a choice to select books from over 1000 categories.
The categories of books included in Oodles are fiction, fantasy, humor, history, horror, science fiction, love stories, poetry, travel logs, and much more.
Features
Books are available in over 10 languages including English, Italian, French, Russian, Portuguese, and more.
Has a separate section or Top authors and Top books so that you are always aware of which author's books are trending around the world.
Supports EPUB, FB2, and plain text eBook formats to make it convenient for you to read in whichever format you want.
Resize your text according to your visibility, adjust the brightness of the text, or jump to any page with a two-column view in the landscape mode.
Keep bookmarks to stay on the same page where you have left and get a table of contents.
Get the animation of a curling page when you turn over the page to get a realistic view while reading your book. Also, get volume-key navigation.
Pricing
Oodles is free to download and offers in-app purchases whose prices are between $6.29 to $6.66 per item.
---
6. OverDrive – Best Audiobook Reading App
Download: Android | iOS | Windows | Mac
OverDrive is one of the best book reading apps which not only provide eBooks and audiobooks but videos as well, so this one app giving you everything. Read books from the bestselling authors and get new releases from your local digital library.
Listen to your favorite books into audiobook format on the go during working out, driving, walking, or doing anything else. Its desktop version supports transfer to many devices or even burning to CD for listening on the road.
Features
Get access to all the features, i.e., finding menus, bookshelves, library websites, or bookmarks with just a swipe.
Sync private libraries or bookmarks to any of your devices whether that's Android or iOS. Customize your reading experience the way you prefer with font size, margins, and many other options.
It has a variable speed playback with which you can modify and adjust audiobook playback speed from ½ speed (.5x) to double speed (2x).
Return automatically the title you borrowed so it is not like your public library where you would get charged for not returning the book.
Requires a valid account with a participating library, school, or any other institution. You can borrow eBooks, audiobooks, and videos from 30,000 libraries.
Every library has its collection of titles and you can contact them for those titles and other title suggestions that you want to borrow.
Pricing
This app is free of cost.
---
7. Wattpad – Powerful Book Reading App
Download: Android | iOS | Windows | Not available for Mac
Wattpad is a versatile app not only for reading books online but for writing as well. It is a storytelling platform for readers and writers which makes it one of the best apps to read books. It has a community of over 80 million readers and writers that are connected globally.
Get your story featured and published with Wattpad through the power of its community that grows every day. Share your original story with them and they will publish it to make sure you get the attention you deserve.
Features
Connect with a huge Wattpad community of aesthetic people where you can talk about your interests and comment to support writers.
Have your library of stories by saving them to have them with you wherever you go. Just sync your account to have your stories saved to your phone, laptop, or any device.
Know that all the big hits on Netflix, Hulu, or the New York Times are first discovered by Wattpad.
Wattpad Premium is ad-free and its payment is charged to iTunes Account at confirmation of purchase.
You can take part in writing contests to get published, win awards, and get published by global brands.
Its premier annual writers' conference offers support for emerging and talented writers by giving them a platform to be recognized internationally.
Pricing
Wattpad is free to download but it offers in-app purchases. Wattpad Premium costs $5.99 per month and Wattpad Premium+ is for $9.99 for 1 month.
---
Download: Android | iOS | Windows | Not available for Mac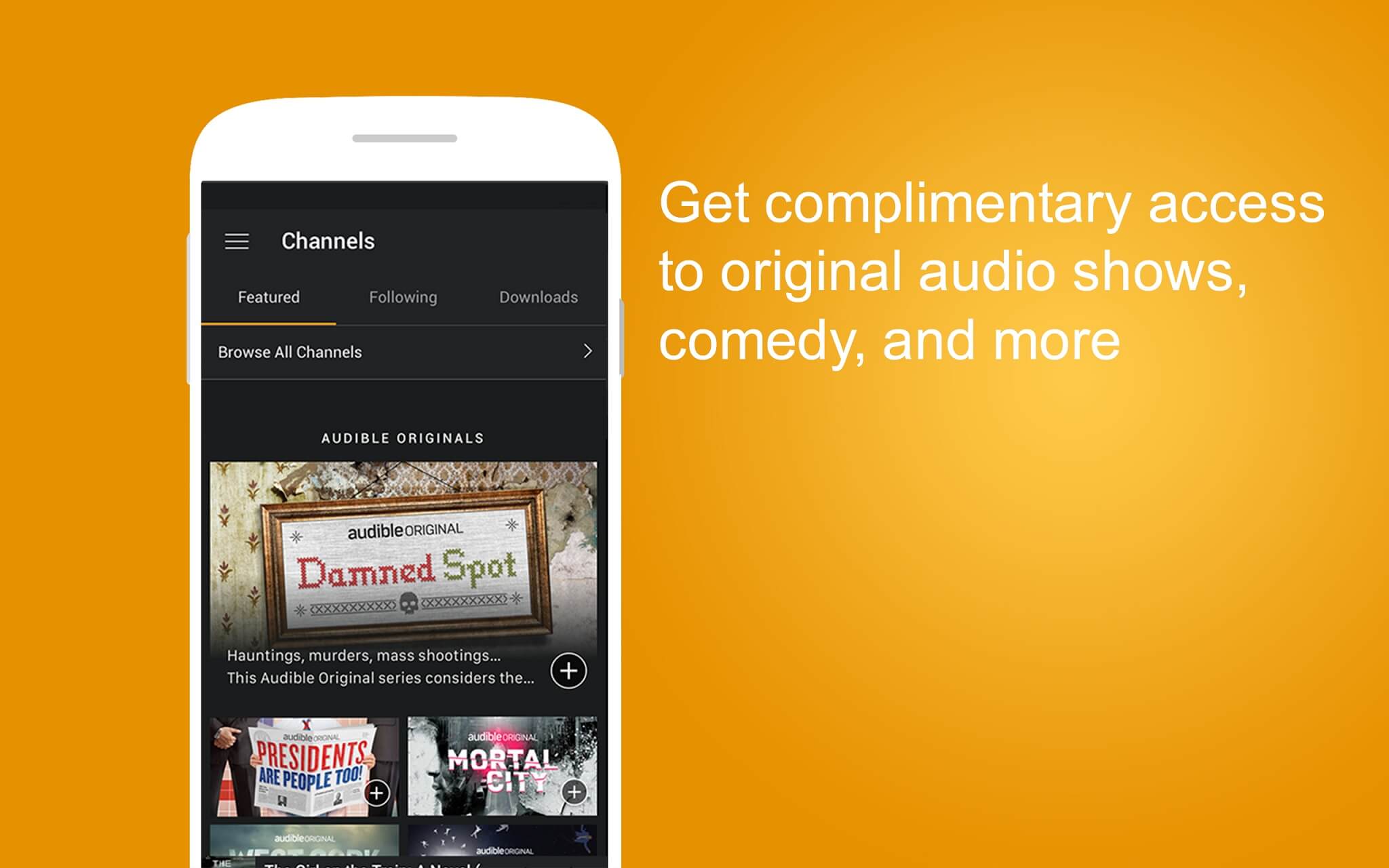 Amazon Audible is one of the best audio-book reading apps with which you can listen to tons of books on your mobile device or laptop desktop. This app will help you to stay connected, informed, and inspired. Audible is a company by Amazon and Amazon Prime members get a lot more.
Prime members get to choose 2 audiobooks to get started and enjoy their listening of books. It also offers you a 30-day free trial. Enjoy listening to stories in an attractive voice, when you are working, going somewhere, or taking a break.
Features
Discover Audible Originals which include exclusive audiobooks, documentaries, and scripted shows.
Browse books from the library and use your credits to add to your library. The titles you add to your library stay there, even if you cancel your membership.
You can download your books and listen to them when you don't have an internet connection.
It is also available on Apple Watch, you can rewind the story, pause it, or set a sleep timer and use Whispersync to switch across devices such as Amazon Kindle, Bluetooth speaker, etc.
You can listen to short stories or any chapter from your favorite story.
Exchange audiobooks at any time, with a single swipe and it also offers deals and discounts. Access their daily deals and get audiobooks from $2.95 and get 30% off additional titles.
Pricing
Amazon Audible costs $14.95 per month and also offers in-app purchases.
---
Download: Android | iOS | Not available for Windows and Mac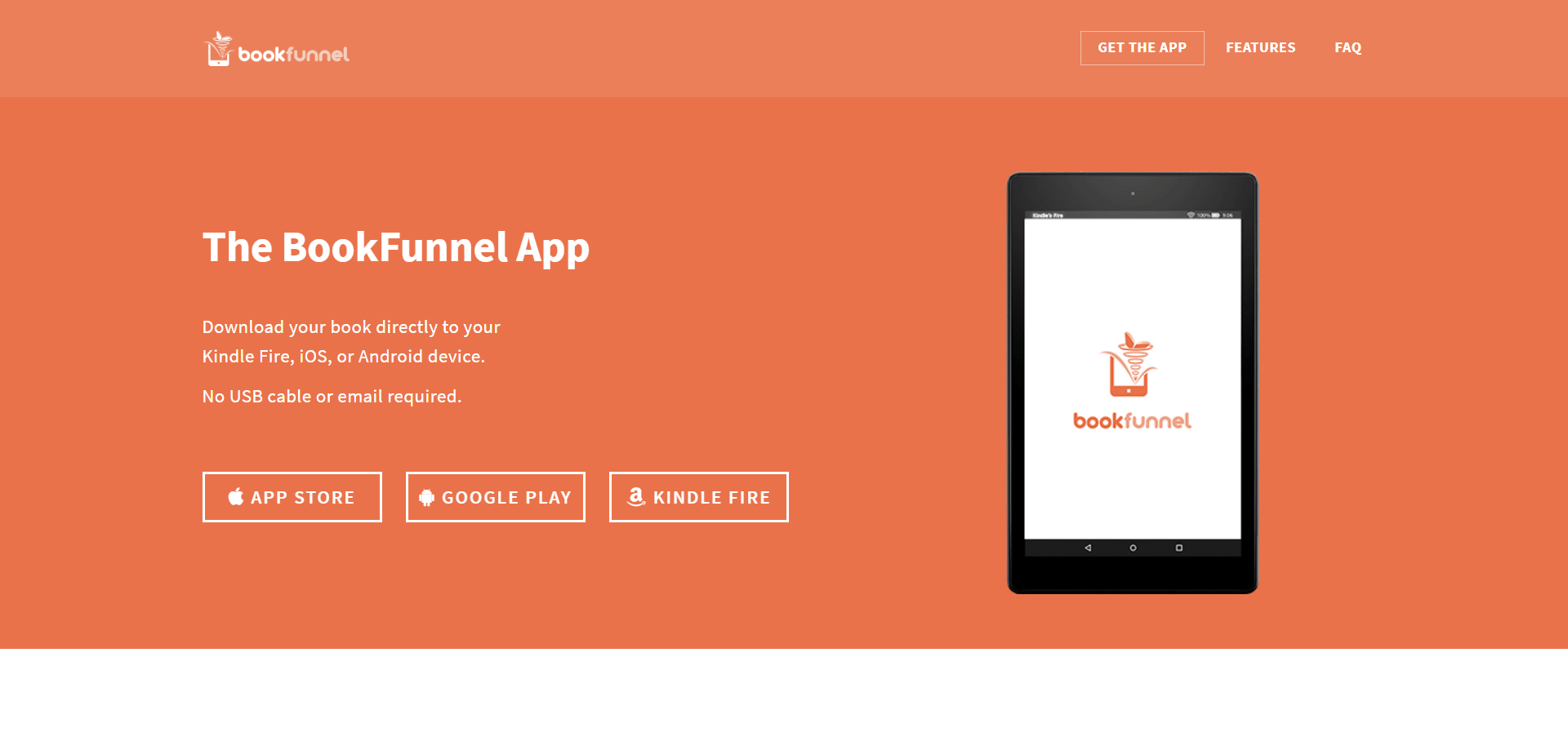 BookFunnel is a very helpful app for authors who either want to publish their books, deliver advanced copies of their books, or any other author business. It delivers several services to flourish your business or career as an author.
It allows you to use a free reader magnet to tempt new readers and sends certified mails to review teams with an exclusive, non-shareable download link to make your copies' review secure.
Moreover, it sends your sales directly to you and delivers your eBooks through your online library.
Features
Helps you in building your confidence while you self-publish your book, marketing of your eBook, or connecting with readers through Indie Author Tools.
Make your book unique and fantastic, just like yourself by making its cover page extravagant and versatile.
Control the number of downloads by choosing the people who can view and download your book.
See the statistics about the downloads within no time. You can set a date for your book's download and BookFunnel will pause it until you want.
Gives you a direct integration tool through which your reader can sign-up for your mailing lists to download your eBook directly.
It has a promotion board that can walk you through the tough and crucial part of finding new readers.
Pricing
First-Time Author – Costs $20 per year and has no monthly subscription
Mid-List Author – Costs $10 per month
Bestseller – Costs $25 per month
---
Download: iOS | Mac | Not available for Android and Windows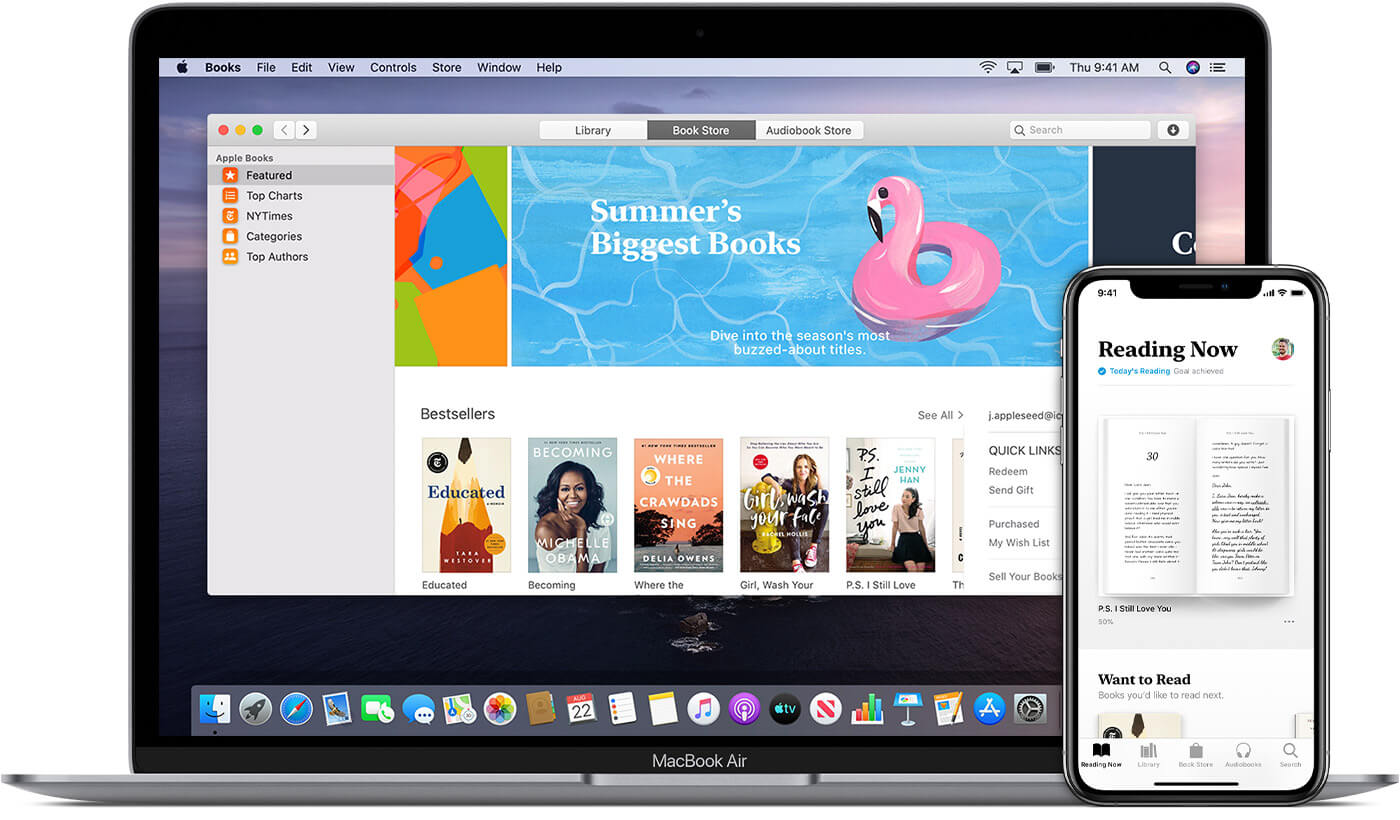 Apple books is an amazing app to read eBooks for iPhone and Mac users. It has a collection of millions of books and audiobooks that you can enjoy reading or listening at any time, anywhere. You have your virtual library on your fingertips or in your pocket.
Instantly download any book from your favorite genre or category on your iPhone, iPad, iPod Touch, or Apple Watch. Stay up-to-date by peeking through the Top Charts to find out about new releases, limited time offers, and recommendations that are updated every week.
Features
Discover your favorite books into audiobook format and hear your favorite actor or author telling you that story, which is so cool.
Get the latest preview books and audiobooks samples and download them to read for free and get your hands on them before anyone else.
Have a list of books that you want to read in the future and keep updating it so that you won't miss out on anything.
Get your audiobook app for Apple Watch, so you can listen to stories while you run, drive, or doing any other activity.
Customize your reading or listening with different font styles, color options, auto-night theme, scrolling view, flipping pages, and many more.
Share all your books and audiobooks with 5 of your family members and if you want to add any book or PDFs from outside the Book Store would require DRM-free.
Pricing
This app is free for iOS and Mac.
---
11. Google Play Books
Download: Android | Not available for iOS, Windows, and Mac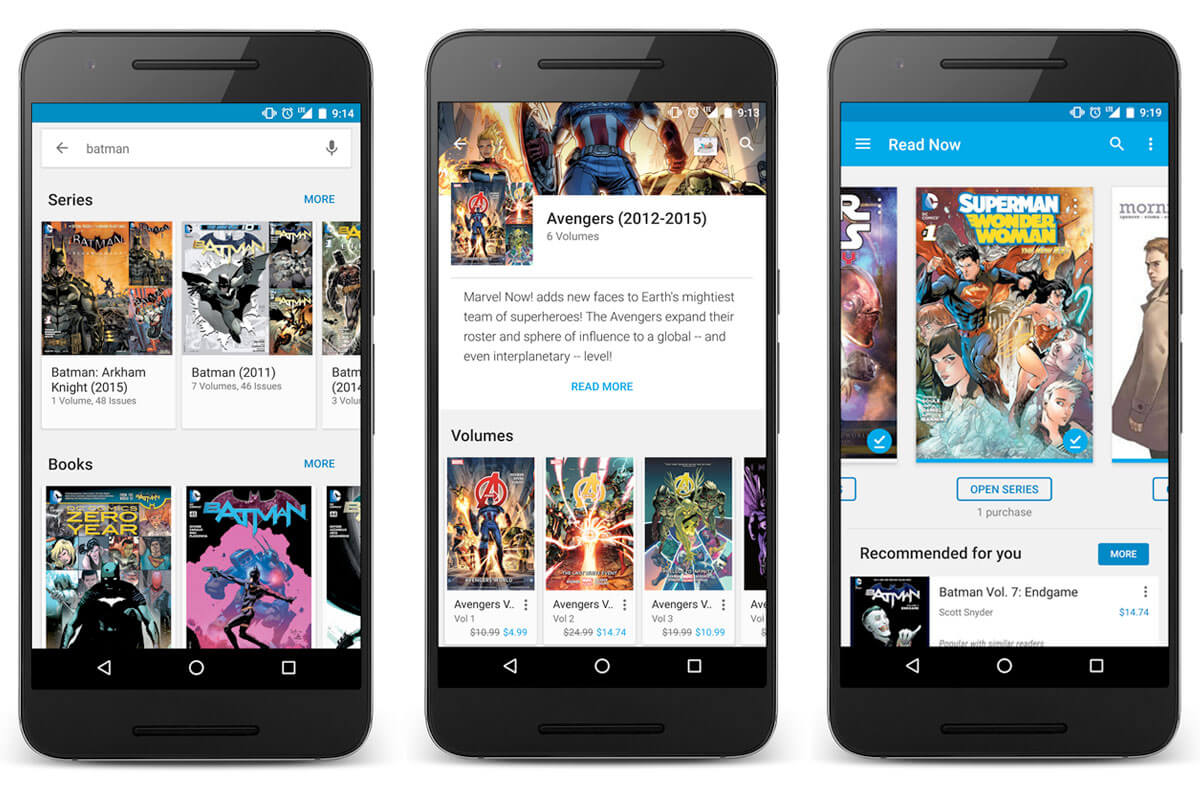 Google Play Books comes under the category of best book reader apps for Android in which you can enjoy more than 4 million eBooks and audiobooks purchased from Google Play. Select any book from the genre that attracts you, or from the author that you love the most.
Either download the books and read them offline or listen to them when you are doing other everyday life chores to make them interesting and fun. Get personalized recommendations of books after finishing a book, so you know exactly what you need to read next.
Features
Change the font, page margin, page layout, search within your book, or highlight an important line or quote with its customization options.
Get free preview pages to get an insight into the book and discover famous catalogs such as that of the New York Times and many more.
Get unlimited storage of books to store in the digital cloud. There are millions of free books available as well.
Sync all your books to your Google Play Books library by finding a book and then adding it to 'My Books'.
It does not require any dedicated e-reading device specified for reading, you can access all your books directly and wirelessly from a digital cloud.
With Bubble Zoom see your favorite comic book and manga come to life just by taping the front page of the book.
Pricing
Google Play Books is free to download.
---
Download: Android | iOS | Windows | Mac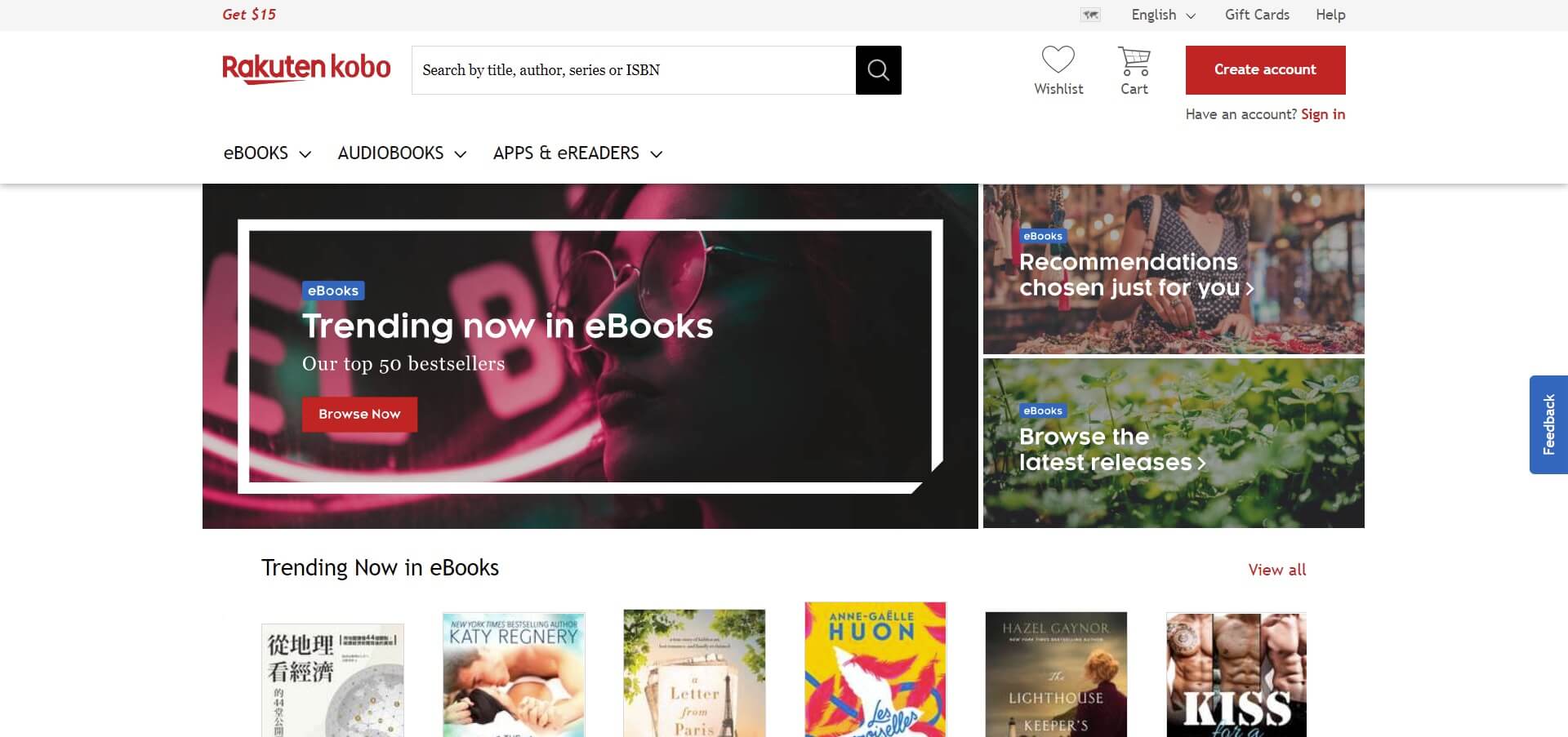 Kobo is a whole new world of your eBooks and audiobooks that you can choose from more than 6,000 titles that are available on the app. It gives you access to these books from your phone, tablet, desktop, or any other device that you prefer to use.
You can read on any device, choose from any mode either night, day, or evening, and you preferred font size so that your reading is comfortable and convenient. It has a built-in dictionary so if you are stuck with the meaning of a word, it will solve your problem instantly.
Features
Search by author, title, genre, or you can check out the latest releases or some of the best editions with 'Best of' lists.
Get custom recommendations based on books that you read and get to read book previews and reviews that would help you decide the next book.
Set time to turn off the story while listening and you can move through your audiobooks with a single touch.
Don't worry if you started reading your book on one device and picked up on another. You will never lose where you stopped.
You can rate and review the books you read to help others pick the best of books on Kobo. It is available in 12 languages.
You can purchase eBooks and audiobooks directly from Kobo and the books will appear on your app.
Pricing
Kobo is free. Pay for the books you want.
---
13. Moon+ Reader
Download: Android | Not available for iOS, Windows, and Mac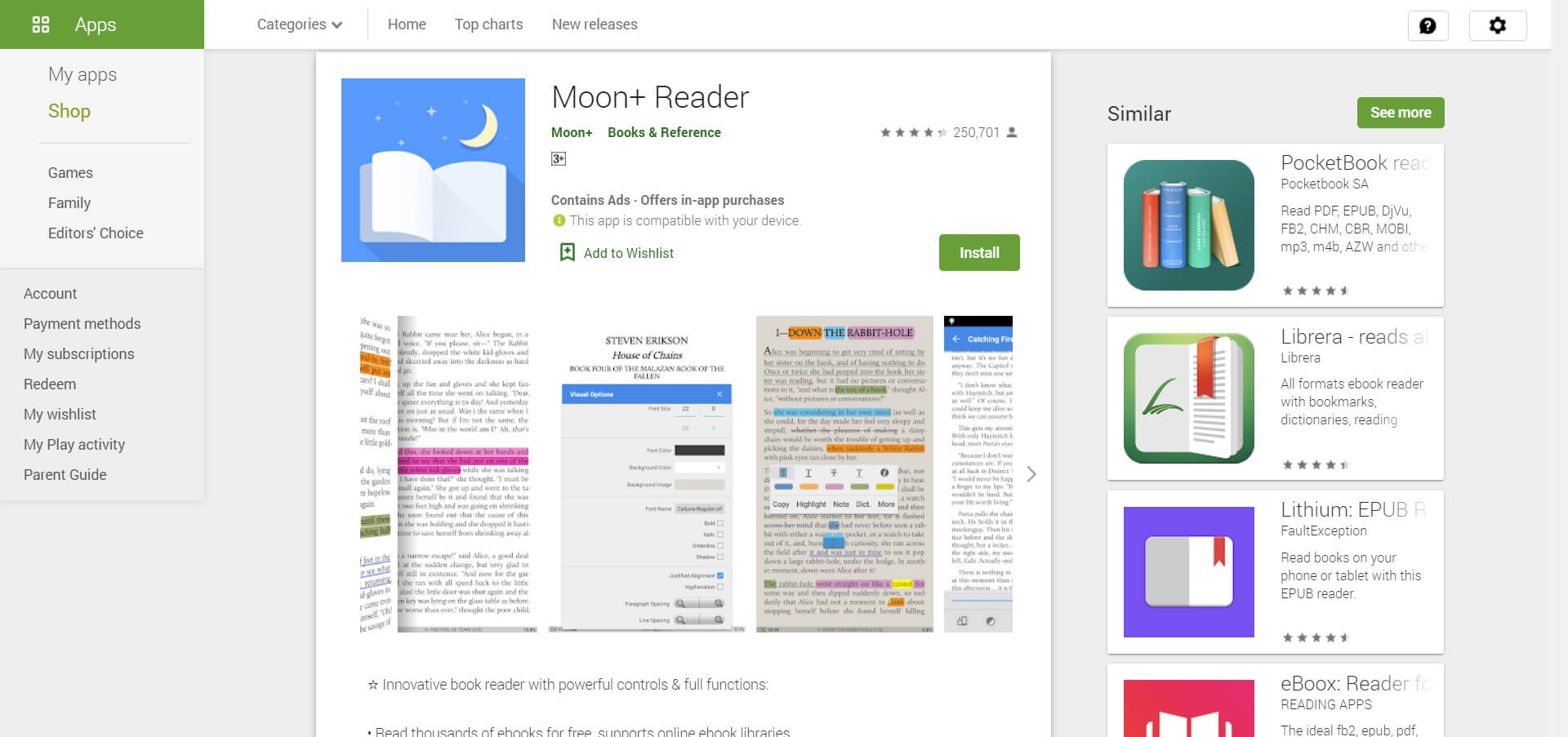 Moon+ Reader comes in the list of best book reading apps because it's an innovative app to read thousands of eBooks without any hassle. It has powerful controls and full features that support online eBook libraries from which you can pick and enjoy any book you like.
It supports EPUB, PDF, DJVU, TXT, FB2, and other formats so you can read your desired book in any format you like.
Features
Supports gesture commands and you can adjust the brightness through your fingers on the left corner of the screen.
Bluelight filter and dark mode available for long-time reading without straining the eyes.
Gives 5-page flip animations that give you a real page turning effect along with customized speed, color, and transparency.
You can manage your library in your way by making your bookshelf design. Keep favorites, downloaded books, authors, tags, everything aligned.
It has a dual page mode for landscape screen and supports all four screen orientations and EPUB3 multimedia content support for audio and video.
You can store your library via backup support and restore the option to cloud with Dropbox/WebDav.
Pricing
It is free to download but offers in-app purchases at $2.14 for each item. Moon + Reader Pro is for $15.41 which is a one-time payment. They offer guaranteed money back within 30 days.
---
14. PocketBook
Download: Android | iOS | Not available for Windows and Mac
PocketBook is among the best free book reading apps that not only provides free books but all other reading material to read online such as magazines, journals, etc. Not only books but it also provides audiobooks for listening which makes it highly convenient to use.
It offers 15+ book reading and audio formats like EPUB, MOBI, CBR, and many more. If ads don't bother you, let them be or if they annoy you, get rid of the, as per your choice. You can listen to audiobooks in MP3 and MP4 formats and has built-in Text-To-Speech (TTS) format for the voicing of text files.
Features
Easily sync your books, audiobooks, reading positions, bookmarks, etc. through free PocketBook Cloud services.
Your Dropbox and Google Books are all synced with your PocketBook account to keep your library in one place.
You can get access to other network libraries through its support for the OPDS catalog and has an IBN scanner for quick search.
It offers many personalized customization options like two night-reading modes, font style, size, line spacing and margins, 7 interface color themes, and more.
You will never lose your books since it provides smart search options and scanning feature to find any file with a single click.
Make notes and bookmarks on your books and audiobooks and collect them to share them with friends.
Pricing
This app is free to download and offers in-app purchases. In-app purchases pricing starts at $0.99.
---
15. Aldiko Book Reader
Download: Android | iOS | Not available for Windows and Mac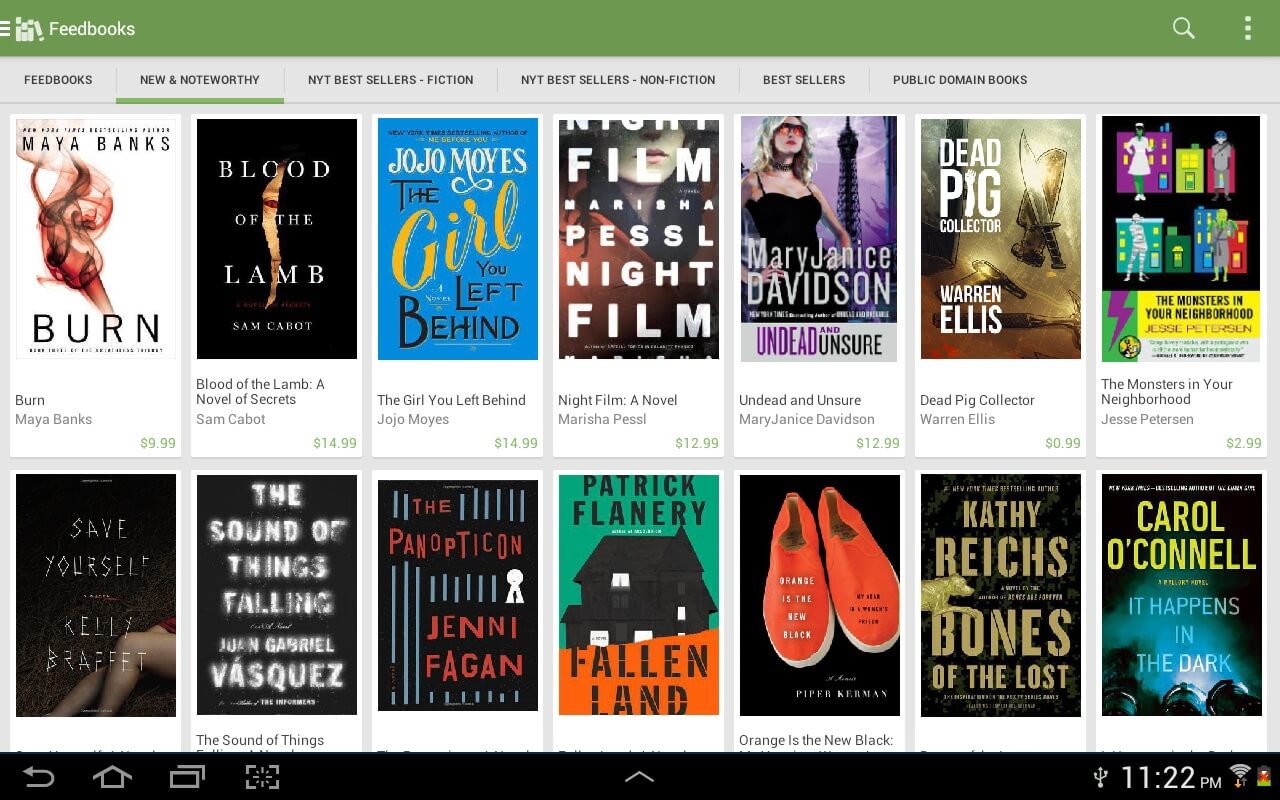 Aldiko Book Reader is among the best apps to read books for free. It is not only easy-to-use but also has features that will blow your mind. It has 30+ million users across 200 countries. You can edit the book cover the way you want, import and export options, and many other features.
It supports EPUB and PDF format and also Adobe DRM encrypted eBooks. It also gives you access to eBooks from public libraries so that you can get to read the books you want. So, if you are looking for an Android book reading app, do check this one out.
Features
It supports many formats such as EPUB, PDF, as well as Adobe DRM encrypted eBooks.
You can completely customize your reading experience with the options Aldiko Book Reader has to offer, for example, font size, style, brightness, and more.
It has a user-friendly interface that works with smartphones and tablets alike. Run through different pages and table of contents with a tap.
You can import files to your app and organize them with tags and categories. Start from where you have left.
Experience in-app shopping and browse huge catalogs, best-selling eBooks, classical books and novels, and much more.
It has an in-built dictionary and a global-text search option and many other features.
Pricing
This app is free of cost and also offers in-app purchases starts at $0.99.
---
Download: Android | iOS | Windows | Mac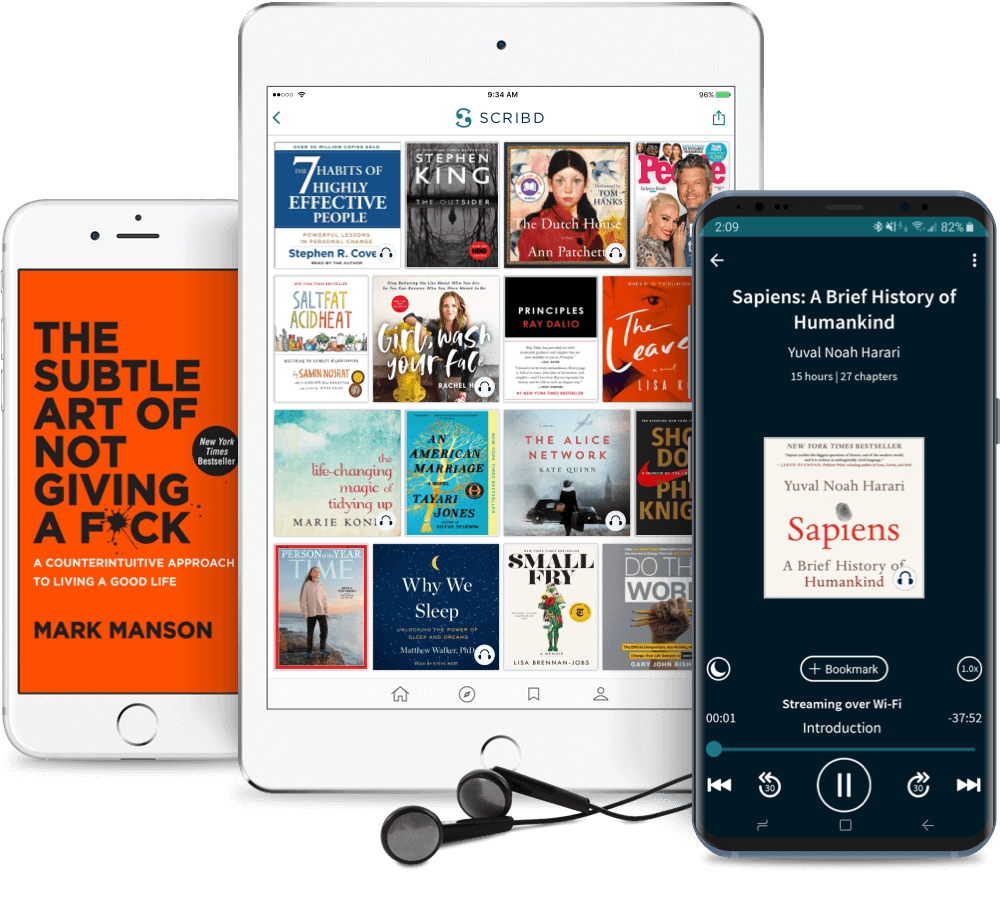 Read unlimited books with this amazingly diverse book reading app that is an all-in-one digital library having millions of readers. It gives you access to unlimited books, audiobooks, magazines, research documents, and sheet music selections.
It gets all the praise by top most magazines such as Entrepreneur, Mashable, Business Insider, and many others. Scribd has a huge variety of eBooks and audiobooks in every genre you name, for example, crime, fiction, biography, romance, politics, and many more.
Features
It has sheet music selections that will teach you music, playing any instrument at any level will be easier.
Not only books, but it also gives you access to more than 60 million documents having reports, case studies, academic dissertations, so on and so forth.
The content you read or listen to can be synced to multiple other devices automatically. Choose from horizontal or vertical page reading.
When you listen to audiobooks you can manage and adjust the narration speed, set sleep timer so your story will turn off once you sleep.
You can download your audiobooks as well as eBooks to listen offline.
Make notes, bookmarks, annotations, customize font sizes, font styles, and type, color, etc. with a click.
Not only you can download your e-content but also you can print out the document you need. The subscription will be automatically renewed until you cancel it.
Pricing
It gives a 7-day free trial and the membership is for $8.99 per month which can be canceled anytime.
---
Download: Not available for Android | iOS | Windows | Mac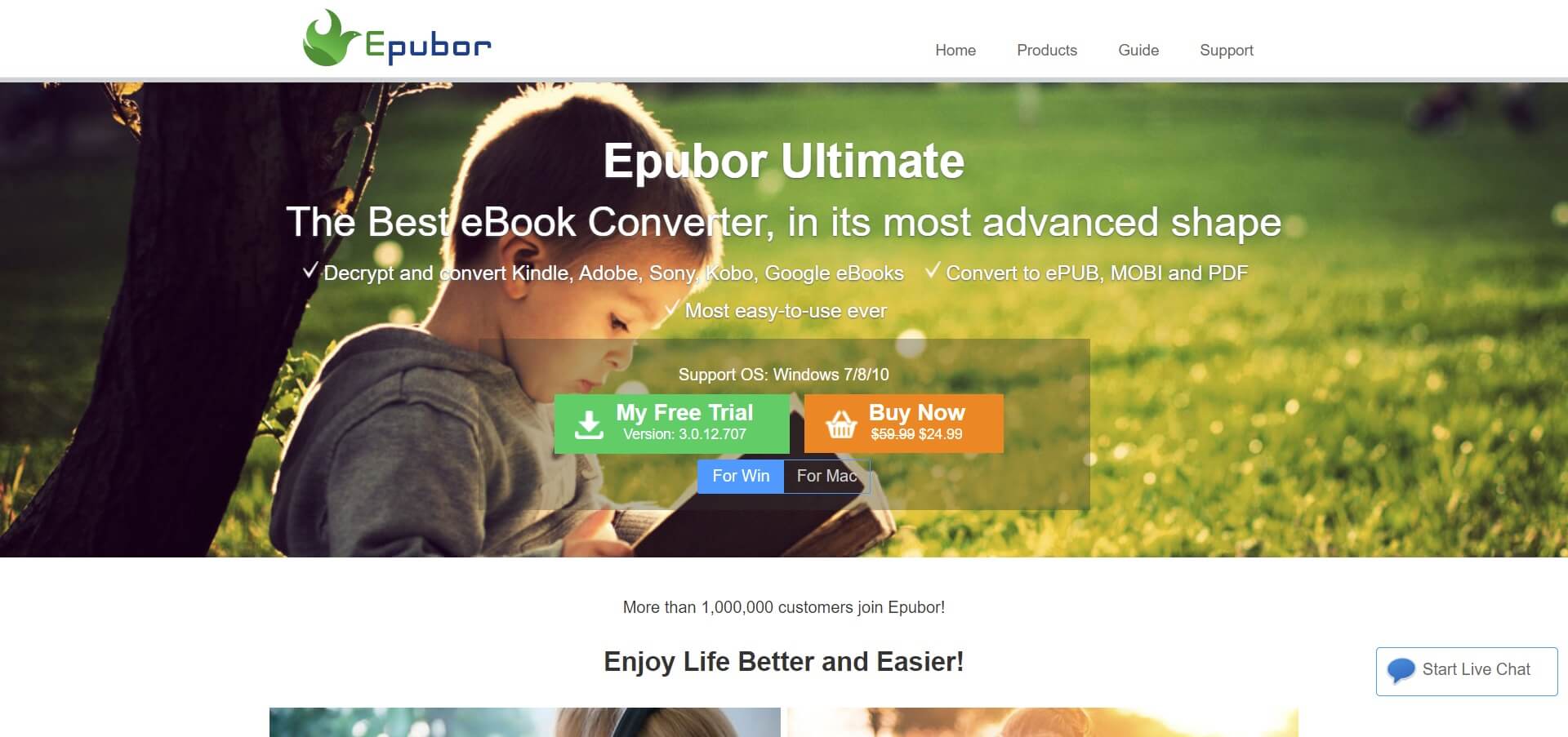 EPUBor is an eBook converter that is trusted by 1,00,000 users all over the globe. It converts eBooks and audiobooks into the formats you want.
It has many eBook tools to completely transform your online reading experience. The tools it offers are Audible Converter, KCR Converter, Kindle Transfer, and more.
Audible Converter removes Audible DRM and converts Audible AA/AAX, to MP3 format. With KCR Converter you can convert Kindle Cloud Reader to other formats (PDF, EPUB, TXT, etc.) with just a click.
Similarly, Kindle Transfer is the best solution when you have to transfer Kindle books and Kobo books to your computer.
Features
Integrate both DRM decryption and format conversion features such as Kindle, Kobo, etc. to any format.
Convert books to EPUB, PDF, MOBI to make it convenient for you to read books and it is easy-to-use.
Automatically scan your library and import conveniently all your purchased Kindle, Adobe, Sony, Google, and Audible Books.
You just have to add your books to this software and you are good to go.
It gives a 30-day free trial so you can check the software before ordering and buying your license.
You can get a full refund of your money after ordering the license within 30 days and get customer support services through email, live chat, and ticket.
Pricing
This app is free for iOS to download and for Windows and Mac, you need to buy it for $24.99 and $29.99.
---
18. FullReader
Download: Android | Not available for iOS, Windows, and Mac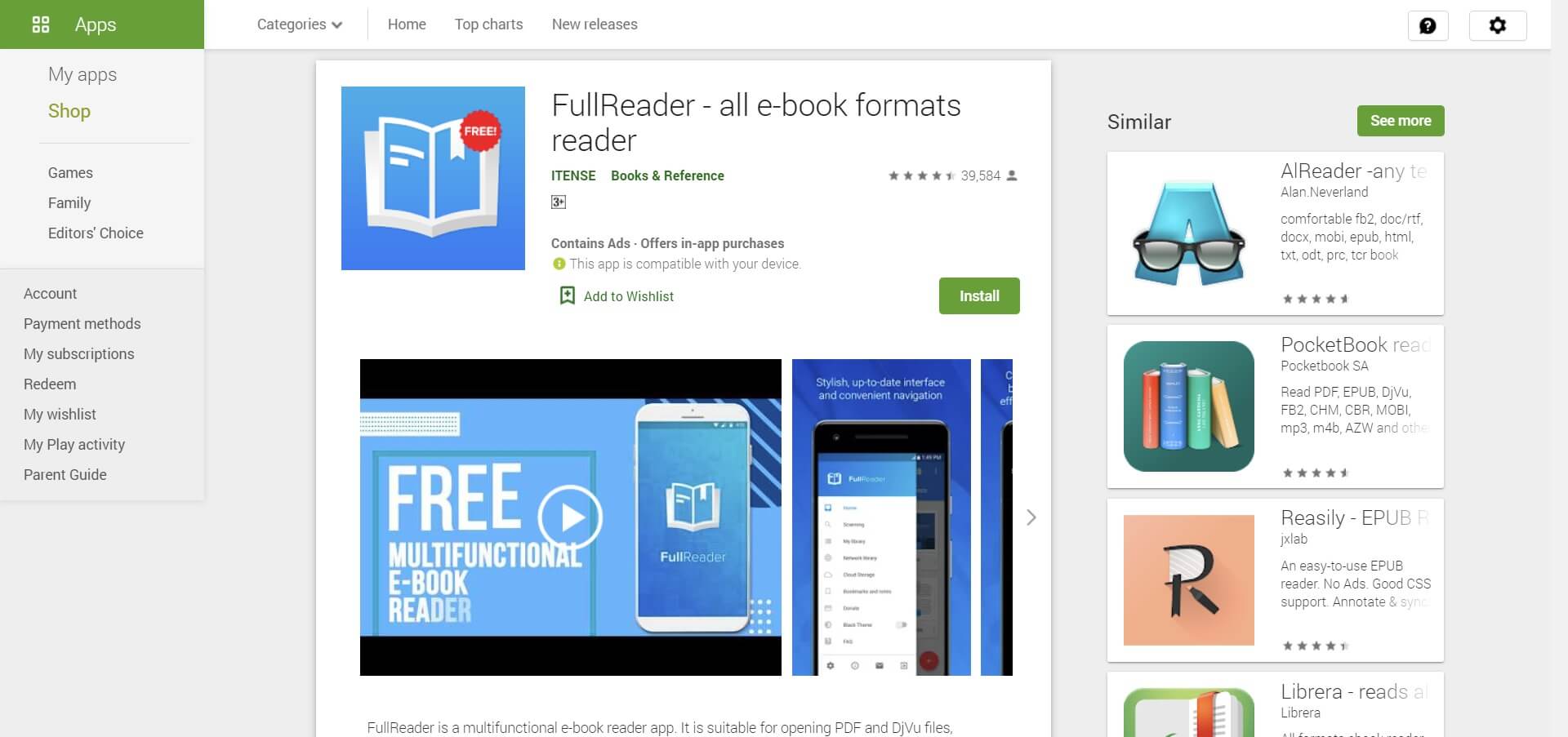 With having a multidimensional approach, FullReader is in the list of best audio-book reading apps, that is not only easy-to-use but also highly useful.
Do not worry if you are a book lover, needs to research, or a die-heart fan of magazines, this eBook reading app has got everything you want.
Lastly, It supports multiple formats (PDF, EPUB, TXT, DOC, CBR, MP3, etc.) so you won't be facing any problem while reading your favorite novel, magazine, etc. This app has a user-friendly, intuitive interface with navigation and layout options.
Features
It offers integrations into Google Drive, OneDrive, and Dropbox and saves the storage on your phone, tablet, or other devices.
You can have your catalog by downloading books from other libraries without leaving the app through the OPDS catalog.
It has a customizable toolbar that you can move to any side of the reading page according to your comfort.
Additionally, it also has a built-in translator that supports 95+ languages and you would not need any other translation app.
You can make notes and bookmarks with a lot of color choices and highlighting options
It has a wide range of setting options, MP3 format support, day and night modes, widgets, book shortcuts, and many other features.
Pricing
FullReader is free to download and offers in-app purchases that start with $1.88 to $193.19 per item.
---
Best Book Reading Apps for Publishers
Download: Android | iOS | Windows | Not available for Mac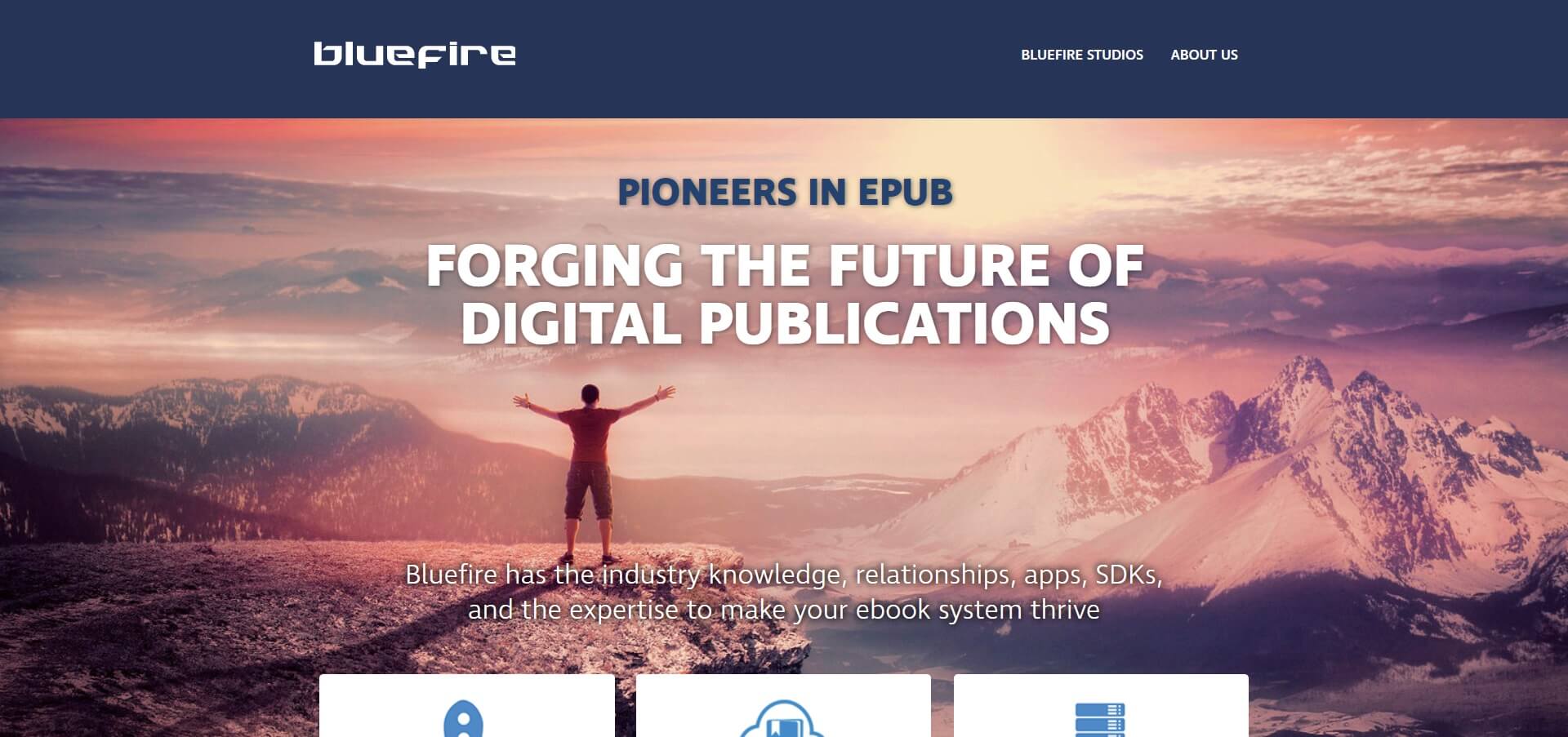 BlueFire Reader is an innovative and advanced app for publishing eBooks and prospering the future of eBooks. Its main aim is to flourish the future of digital publications. For this, it has full-fledged knowledge of the industry, relationships, applications, SDKs, and expertise.
BlueFire has a studio to help businesses and institutions to launch any sort of products and digital content. It also consists of Cloudshelf SDK that is a powerful and broad solution for adding EPUB3 support to your Android and iOS devices.
It is a gold standard in the e-reading apps with a white label which has been incorporated by 70 topmost brands around the globe in eBook retail, libraries, and academia.
Features
Bluefire powered apps have a refined interface that makes sure you have a seamless experience that identifies your brand.
Your apps would have a full set of active features and customizable options such as bookmarking, contextual search, note-taking, and more.
The apps would support EPUB and PDF formats that are essential for an immersive experience while reading on mobile phones.
Adobe Content Server is used by top agencies, libraries, retailers, and publishers around the world, and Bluefire Reader uses the same server.
You can easily integrate your current distribution platforms and partners into your app to allow your users to browse and purchase conveniently.
It gives Page Sync Cloud Services so the users of your app will easily swipe between different devices.
Pricing
Bluefire Reader is for $3.99.
---
Download: Android | iOS | Not available for Windows and Mac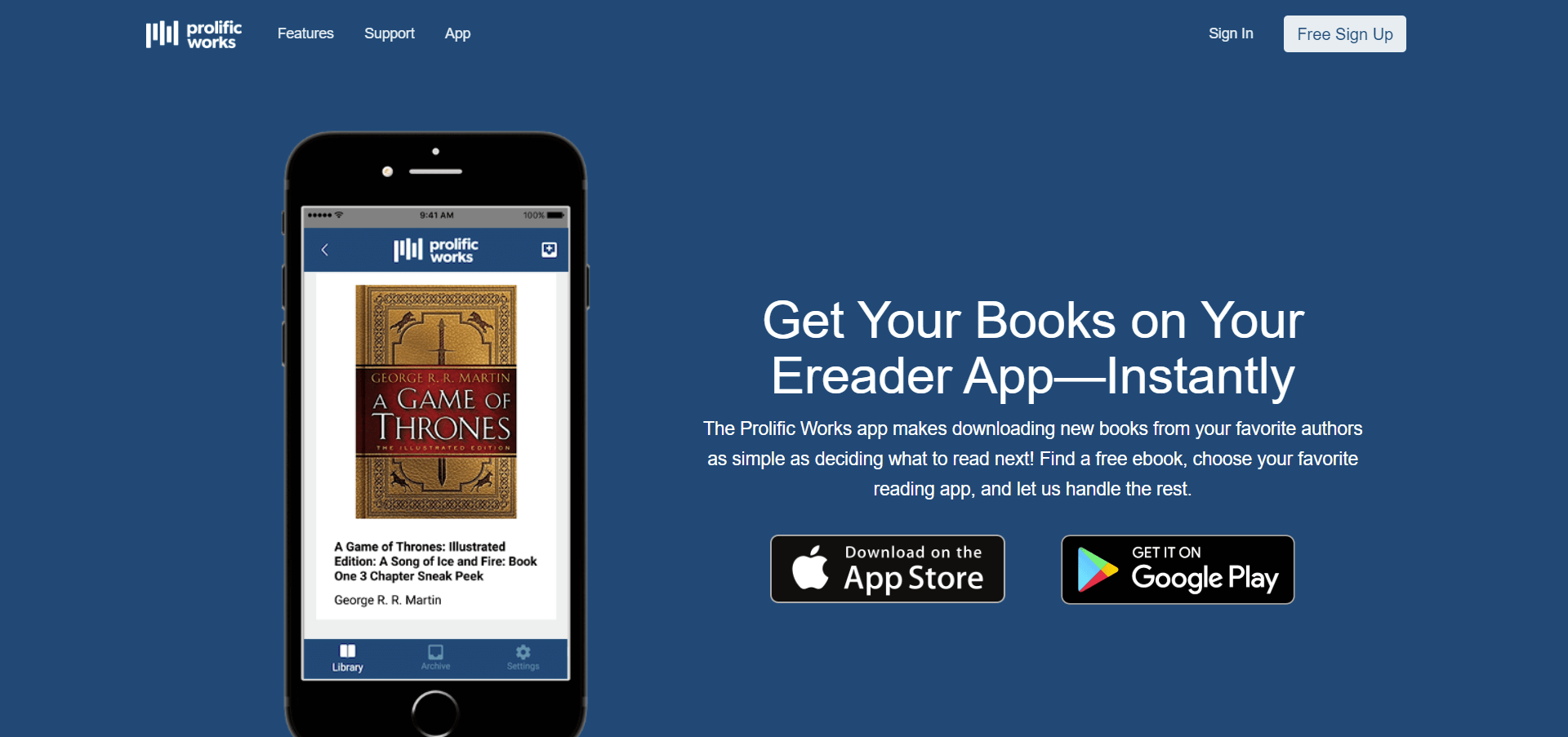 Prolific Works is a unique book reading app that can get your books on Ereader apps instantly and immediately. It makes downloading new books easier and simple, just choose a free eBook, select your book reading app, and leave the rest to Prolific Works.
It has a growing community of millions of readers who enjoy free books daily. Thousands of authors organize book giveaways which they can share with other readers all around the world with Prolific Works. Use their website to explore new books and choose from different genres.
Features
You get to know about unlimited giveaways and distribution so that your downloads are not limited and make your eBook delivery and support easy.
It adds subscribers to a mailing list so that readers can collaborate and communicate with the authors once they claim an eBook.
You get optional mail service integrations with Mailerlite or MailChimp and the subscribers will be automatically added to the mailing services.
Readers can find new authors through Prolific Works' recommendation engines, newsletters, and social media accounts.
Make your author brand and maintain it with customizable giveaway landing pages.
Control your author branding with up to 5 pen names for your giveaways and Author Pages.
Pricing
Prolific Works has 3 plans, Basic, Plus, and Pro. The Basic plan is free to download. The Plus plan costs $20 per month and the Pro plan costs $50 per month.
---
Best Book Reading Apps – Frequently Asked Questions
What is the Best Android App to Read Books?
People's choices vary according to the features they want in a particular app.
From my personal point of view, Goodreads would be the best Android app to read books online because it has the biggest library of eBooks available. I can set a goal or participate in a challenge of reading books, to keep my book reading energy level maximum.
With this app, I can read books from all the genres, either it is a mystery, romance, thriller, history, so on and so forth because it has more than 12 million eBooks. I browse recommendations, choice awards, lists, explore new books, genres, and much more.
It allows me to mark books as 'read', 'reading' or 'want to read' and have a record of my previous as well as current book reading list. I have joined discussion groups, get quotes, event notifications, creative writing, and I have taken part in many other intellectual activities.
Which App is Best for Reading Books on iOS?
Oodles is the best app to read books on iOS because it has more than 50,000 free books for everyone who loves reading books. I have been using Oodles for quite some time and love the features and how easy it is to use.
If you cannot read for long, you can also listen to audiobooks for free. The books in Oodles are not only divided by categories, but also by authors, titles, languages, and more so that it's easy to look for different books and select.
I am a fan of those apps which have abundant customizable options for book reading, and Oodles is one of them. I can customize my reading page the way I want, I can adjust line spacing, font size, font style, and can choose from many other options.
Is There an App to Read Free Books on PC/Windows?
Yes, there are several apps to read free books on your PC but my personal favorite is Wattpad.
I love to read books on my laptop because I like to read them on a big screen. Wattpad is not only the best app to read books on your PC but it is also one of the best apps to read books offline where you can save stories to read anytime, anywhere.
So, when I'm traveling or even at home, I can read them easily.
I discovered stories that are available in more than 50 languages from writers all over the globe. If you are the romantic type or like mystery, comedy, or horror, Wattpad has got just about everything. You get to read original stories of original writers.
What is the Best Book Reading App for Mac?
There are a lot of different apps that work best for Mac, but I really like FBReader.
FBReader is the app to read books on Mac which I have used most. I liked using it because of its vast library of books and also because it provides access to other online libraries.
You can either borrow your favorite books, download them, or buy them to have a catalog of your own.
It provides online storage for your electronic library and also stores your books in Google Drive space. I sometimes forget to add bookmarks, but every time I resumed reading, it would land me exactly where I left. It easily synchronizes your books to any of your devices.
Conclusion
Book reading habit is not only good for your brain but it keeps you optimistic and informed about the world. We hope we've covered the best apps to read books that are super easy-to-use.
These apps will make your life easier as you can have a huge library in your pockets all the time. You can download books, magazines, novels, research articles, or anything you need.
These are also the best apps for reading book summaries and previews, so you know what to read next.
Other SaaSy goodness on All That SaaS: