This roundup contains some of the best productivity apps as well as applications with robust features. It is up to you to select the ones best suited for you.
With our busy schedules and tough work routines, it gets difficult to stay productive and get most of our work done. Working online cause distractions when you have to switch between multiple productivity apps and tools to get the task done.
Honestly, it's a hustle. Luckily, there are many amazing productivity apps to help us buckle down and get things done.
May it be organizing your personal life, collaborating with others, streamlining your workflow, there is an app for everything. We have been onto these apps, we tried and tested them, and finally jotted down a list of the best productivity apps.
So, without further ado, let's have a look at the list!
What are the Best Productivity Apps in 2021?
1. Dropbox (Cloud Storage)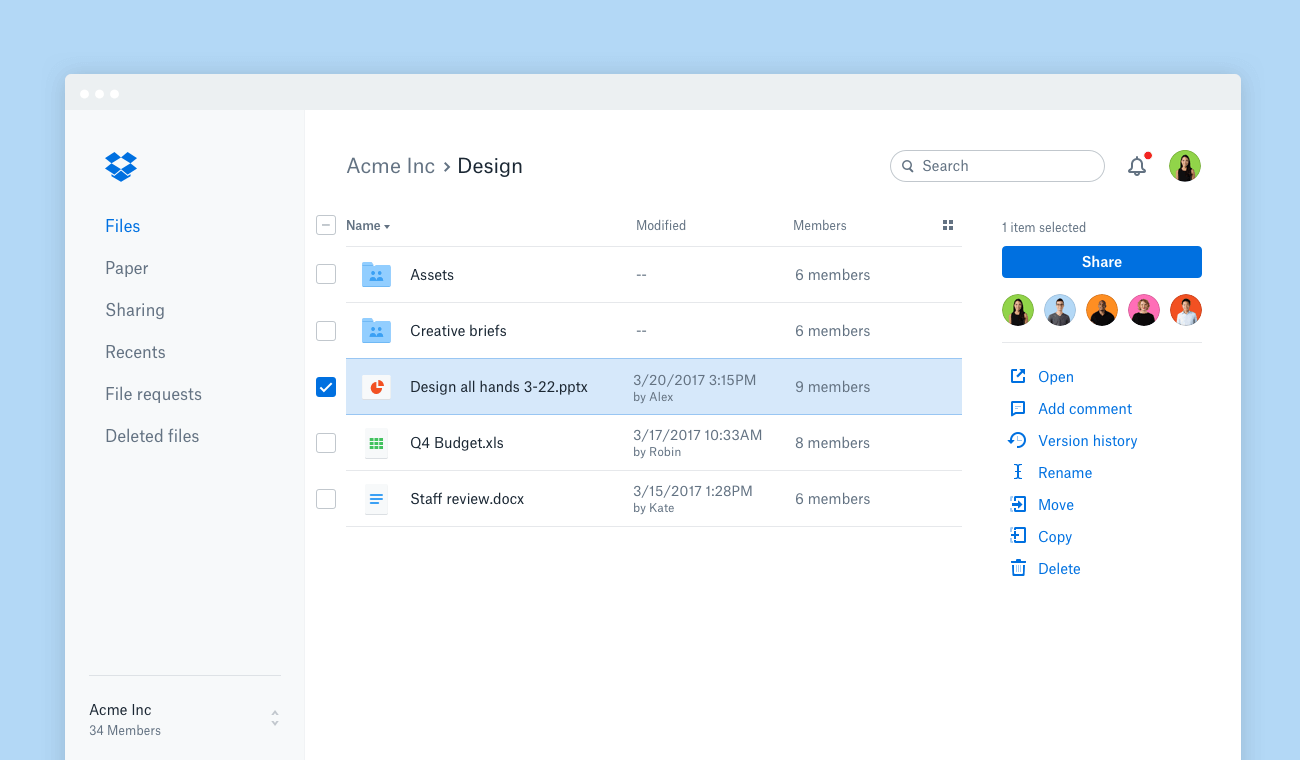 Dropbox is an online cloud storage with over 500 million users. It allows users to access, retrieve, and store files on the go. Smart synchronization allows you to sync files across all of your platforms. It has features like Dropbox Paper which can be used for note-taking, embedding media files, and collaborating with others.
Another unique feature called Showcase is for those who need to display their work professionally with visual previews, customized layouts, and captions. Dropbox also offers File versioning which stores previous versions of files. So, in case if you accidentally made some changes in the file then you can always revert those changes.
It also allows you to automatically backup your photos from computers and mobile devices. Dropbox makes sharing files easy and they can be shared via a link. Anyone with that sharing link can access those files and Dropbox registration isn't required.
Dropbox offers two-factor authentication for extra security and uses AES 256-bit at-rest and the TLS protocol with AES 128-bit to protect your files.
Dropbox also integrates with Office online which allows you to create a Word, PowerPoint, or Excel file directly in your Dropbox folders. It is available on all major platforms like Windows, macOS, Linux, iOS, and Android, there is also a web interface for accessing Dropbox via the web browser. Due to all these powerful features, Dropbox tops our list of best productivity apps for 2021.
Features
Collaboration: provides Paper through which you can share everything with your team members in one place. From sharing team meeting agendas to project outlines, adding images/videos, creating a checklist, and due dates, it provides all.
Synchronization: automatically syncs all your data stored on your computer to your mobile. Also, it integrates quickly with Windows, Mac, iPhone, iPad, and Android.
Backup: provides cloud storage in which you can store all your data. Also, it automatically backups all your files so that they can be stored easily in case of any accidental loss.
Security: provides enterprise-grade cloud security with centralized control of your company's confidential data. Moreover, for advanced security, it supports 2-factor authentications, and a six-digit security code to sign in to a new device.
Share: easily share all types of data with your colleagues, and friends even if they don't have dropbox. By just sharing a link, you can send anything to anyone.
Organize Folders: allows you to easily upload files and share data. You can create a group by adding a list of members and inviting the group to shared folders.
Role-based Access: allows you to control what you share by restricting the access based on roles. For instance, you can choose if you want to give recipients editing or view-only access to your folder.
Pricing
Dropbox uses a freemium pricing plan, where users get a free account with limited storage size. Users can upgrade their storage and can get access to features with paid subscriptions. Here is the yearly pricing plan for Dropbox:
Basic – free forever,2 GB storage, Dropbox paper, 30 days file recovery, and history along with E-mail and self-support.
Plus – at $9.99 per user/month billed annually includes 2 TB storage, Dropbox Smart Sync, Remote device wipe, Dropbox rewind for 30 days, and E-mail support on a priority basis.
Professional – at $16.58 per user/month billed annually provides 3 TB storage, Auto OCR, Dropbox showcase, File recovery, and Dropbox rewind with 180 days history. This plan further offers Advanced sharing controls, Watermarking, Full-text search, Priority E-mail and chat support.
---
2. Trello (Kanban Boards)
Check out our top picks for the best Trello alternatives.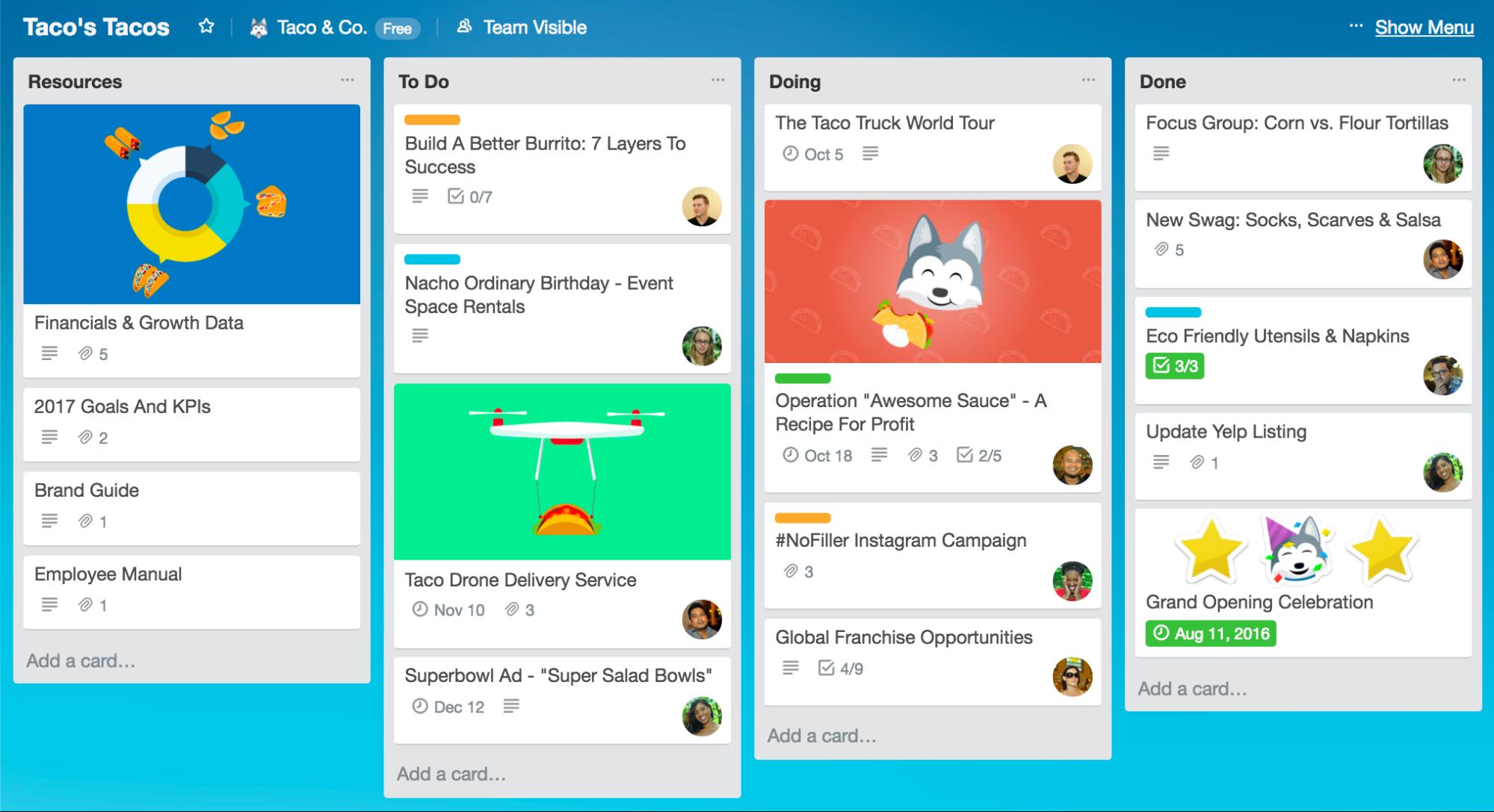 #2 on our list for the best productivity apps is Trello. It is one of the leading project management software. It has a simple, easy to use interface which makes task management a breeze.
Trello contains lists or columns that contain cards where you place content, file attachments, or interactive checklists. Trello works on the drag and drop approach by which you can easily add or remove cards within a Kanban board.
Cards can be edited, tagged, assigned a due date, and archived according to the user's requirements. The option to comment, share, and add attachments to the cards is also available.
Trello is a pretty straightforward online collaboration tool with powerful integrations to make planning a lot easier. Trello is designed for team collaboration by organizing and tracking all your teams' tasks, files, and information in one place.
Users can invite people to boards with just a click and get the work started right away. Moreover, Trello can be a personal to-do list or planning application as it can be used for various purposes.
Apart from its amazing features, Trello is very well-integrated and reasonably priced and that is what makes Trello stand out from the rest of the project management and collaboration systems on the market.
 Features
Team Management: manages your team by organizing all the projects in one place. It then helps you to assign it to the respective team members.
Reports: allows you to view all the happenings at a glance. You can directly add comments, due dates, and more to Trello cards.
Synchronization: automatically syncs across all your devices. Also, it integrates quickly with multiple platforms and is available on both Apple Store and Play Store.
Automation: boosts productivity, and remove tedious tasks from your to-do lists with Butler.
Intuitive: supports a user-friendly interface containing boards, lists, and cards. With an explanation of every feature on the side, you can understand the functionalities within seconds.
Search: allows you to search for attachments, team members, labels, and even cards.
Allows you to drag and drop cards easily from one list to another. You can also archive card records (comments, and changes).
Pricing
Basic – free forever, Unlimited Personal Boards, Cards and Lists, 10MB per File Attachment along 10 Team boards that are available for team collaboration and automation of simple tasks.
Business Class – at $9.99 per user/month billed annually includes 250MB per File Attachment along with unlimited Team Boards and Collections, App integrations, Automation, and E-mail support on a priority basis.
Enterprise – at $20.83 per user/month billed annually 250MB per File Attachment along with unlimited Team Boards and Collections, Unlimited Powerups, Custom fields, Voting, App integrations, Automation, and E-mail support on a priority basis.
---
3. Evernote (Note Taking)
Check out our top picks for the best Evernote alternatives.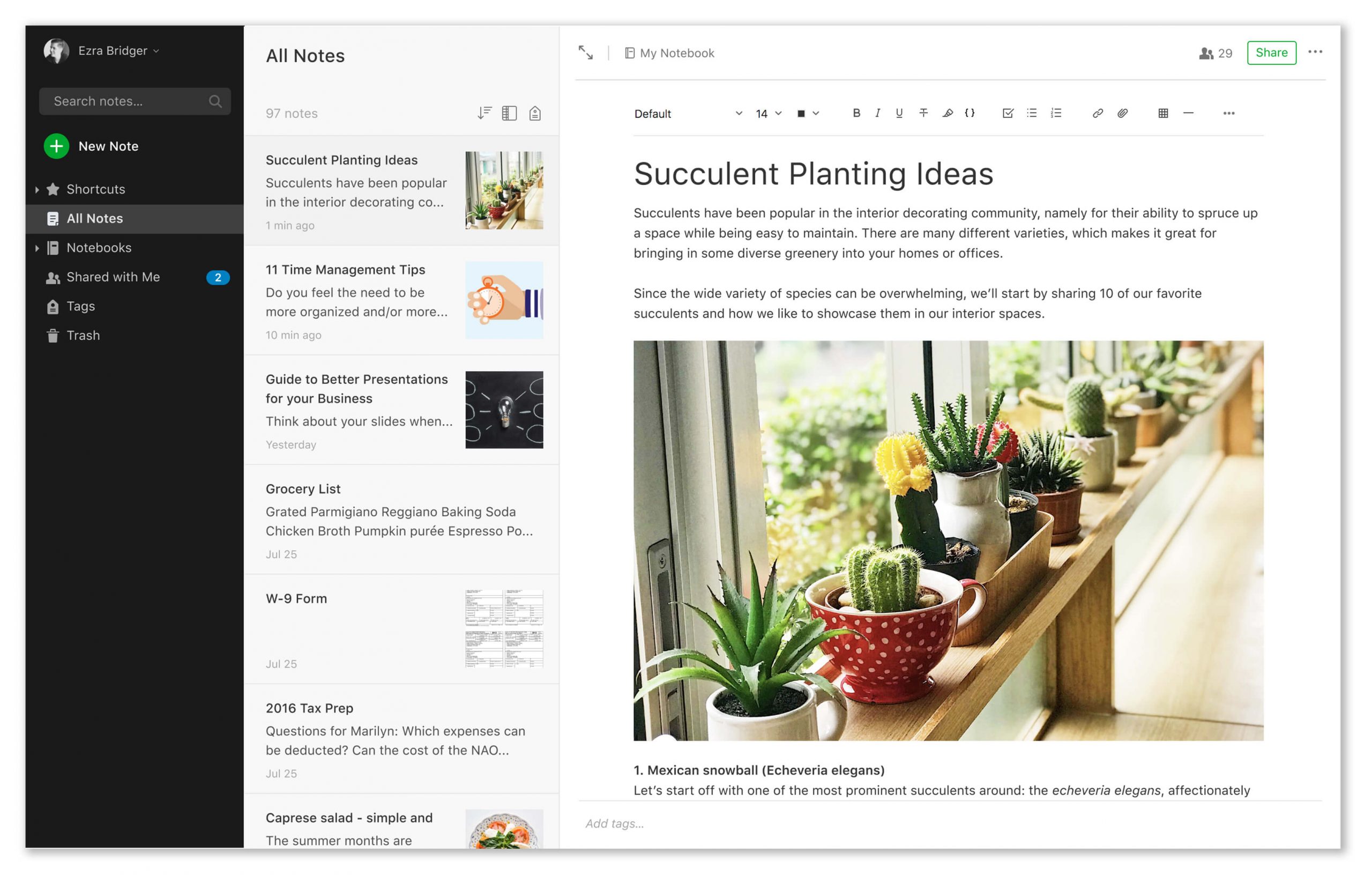 You've probably heard of Evernote, even though you may have never used it. Evernote is one true king of online note-taking and rightfully so. It has been in the market since 2008 and with time it has only grown further in terms of progress and improvements.
Being a note-taking app, the primary focus of Evernote lies in note-taking (no surprises!).
Evernote is a suite of software and services designed for notetaking and archiving for individuals and businesses who want to organize their thoughts so that nothing is overlooked.
It keeps you updated with automatic emails and notifications regarding projects so that you can take better and timely decisions.
Evernote allows multiple people to collaborate on the notes and instantly update the made changes, for a streamlined workflow. In addition to this, Evernote automatically syncs your notes, attached documents, scanned images, voice memos, or clips from the web on all your devices seamlessly.
For a more organized approach, Evernote allows you to sort the notes into folders and later export them as a notebook!
It is one of the best productivity apps for Android that we came across. Moreover, it supports multiple platforms such as Windows Android, iOS, and macOS which helps users to stay on the same page and share the project progress from anywhere in the world.
Features
Synchronization: seamlessly syncs the data across all your devices. It works by automatically saving notes online and making them available on all devices.
Web Clipper: allows you to save web pages whenever you find any useful information. You can save full screen or just the parts that you want to keep, without any ads.
Search: This lets you search for specific text in PDFs. Moreover, it allows you to search for Office docs, images, scanned documents, and PDFs with just a single click.
Scanning: allows you to take picture of any document and then scan it.
Organize Team: easily collect, organize and share ideas with your team. All the members can access the ideas within seconds.
Integration: easily integrates with all your favorites tools for all your organizing needs. It includes Google Drive, Outlook, Salesforce, and Slack.
Templates: saves your time and effort by providing you with easy-to-install templates. You can fully customize them and reuse them whenever you need them.
Pricing
Basic – free forever. It includes web clipping, 2 devices per account, note sharing, and offline access on desktop only.
Plus – at $3.99 per user/month includes unlimited devices per account, offline access on desktop and mobile, Link Google Drive files, search for text inside PDFs and Office Docs and Emails, and Live Chat support.
Premium – at $7.99 per user/month. This plan includes all features of plus,10 GB of new uploads per month, scan and digitize business cards and annotate PDFs.
Business – at $14.99 per user/month billed annually it provides 20GB + 2GB/user monthly upload limit, unlimited devices per account, offline access on desktop and mobile, Centralized account administration and user management, Connect with CRM tools like Salesforce and Email & Live Chat support.
---
4. Zoom (Video Conferencing)
Check out our top picks for the best Zoom alternatives.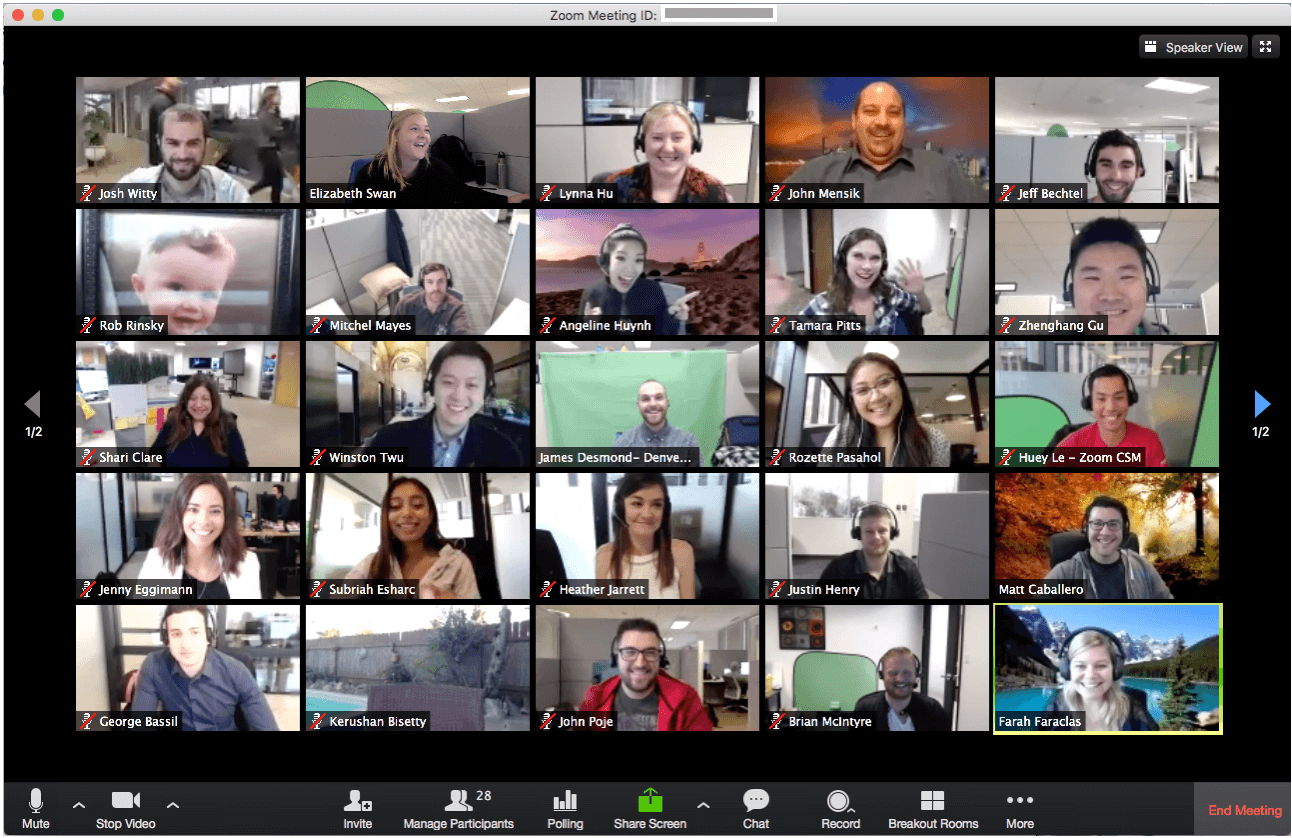 When talking about professional video conferencing software, Zoom is the first thing that comes to our mind. Zoom is a popular online meeting and video conferencing platform developed in 2011, known for its webinar capabilities for live virtual events and broadcasting.
Some of the notable features of Zoom are HD video and audio, collaboration tools, chat functionality, and an enterprise cloud phone system. Zoom empowers users to organize meetings and export them directly to their calendars and thus have stable and high-quality events with colleagues, friends, or family.
With Zoom, you can create multiple separate meetings, recurring or singular, share screens and further record the session with just a click.
Zoom Video Webinars can cater to up to 10,000 attendees with 100 interactive video participants. Users can also send invites to join the web session by generating a URL through the software. Zoom proves to be helpful for businesses of all sizes.
Even more so, it improves collaboration by facilitating content sharing in wireless mode. The software is available as a desktop application and also as an app for Android and iOS.
Zoom's success over time speaks for itself as it is widely used by leading teams such as Box, GoDaddy, and Pandora. The software manages to strike a balance between the economic and the necessary with its affordable pricing plans.
We highly recommend Zoom if you want to have a seamless workflow and excellent collaboration in your organization.
Zoom ranks #4 on our list of the best productivity apps for Mac.
Features
Screen Sharing: allows participants to share their screens in meetings, presentations, and more. Also, it lets you share all the screens of your device or just a single screen just as you prefer.
Remote Control: allows one person to take control of another's screen during a meeting.
White Boards: provides boards so you can easily explain your ideas to others during a meeting. Also, it let you write with different colors, fonts, and pen.
Recording: lets you record a meeting audio/video locally on your device. You can also share the recorded files with your friends via Google Drive, YouTube, and more.
Messages: allows you to chat with other participants. You can also message a person privately or create a specific group related to your work and message them there.
Recurring Meetings: allows the host to schedule a meeting that can be used again and again. Next time, this will let the participants join the meeting with the same link/meeting ID.
Waiting room: allows the host to create a waiting area for the participants. In this way, he can allow only relevant participants to join the meeting.
Pricing
Basic – free forever. It comes with hosting up to 100 participants, unlimited 1 to 1 meeting, 40 mins limit on group meetings, HD voice, and Video, Active speaker view, and virtual background.
Pro – at $14.99 per user per month it includes 100 participants, 24 hours meeting duration limit, User Management, Admin control features, Reporting, 1GB of MP4 or M4A cloud recording, and Skype for Business (Lync) interoperability.
Business – at $19.99 per user per month the plan features 100 participants, an Admin dashboard, Vanity URL, Managed domains, Company branding, LTI integration, Cloud Recording Transcripts, and Dedicated Phone support.
Enterprise – at $19.99 per user/month provides 500 participants, Unlimited Cloud Storage, Dedicated Customer Success Manager, Executive Business Reviews, Bundle discounts on Webinars, and Zoom Rooms.
---
5. Todoist (To-do Lists)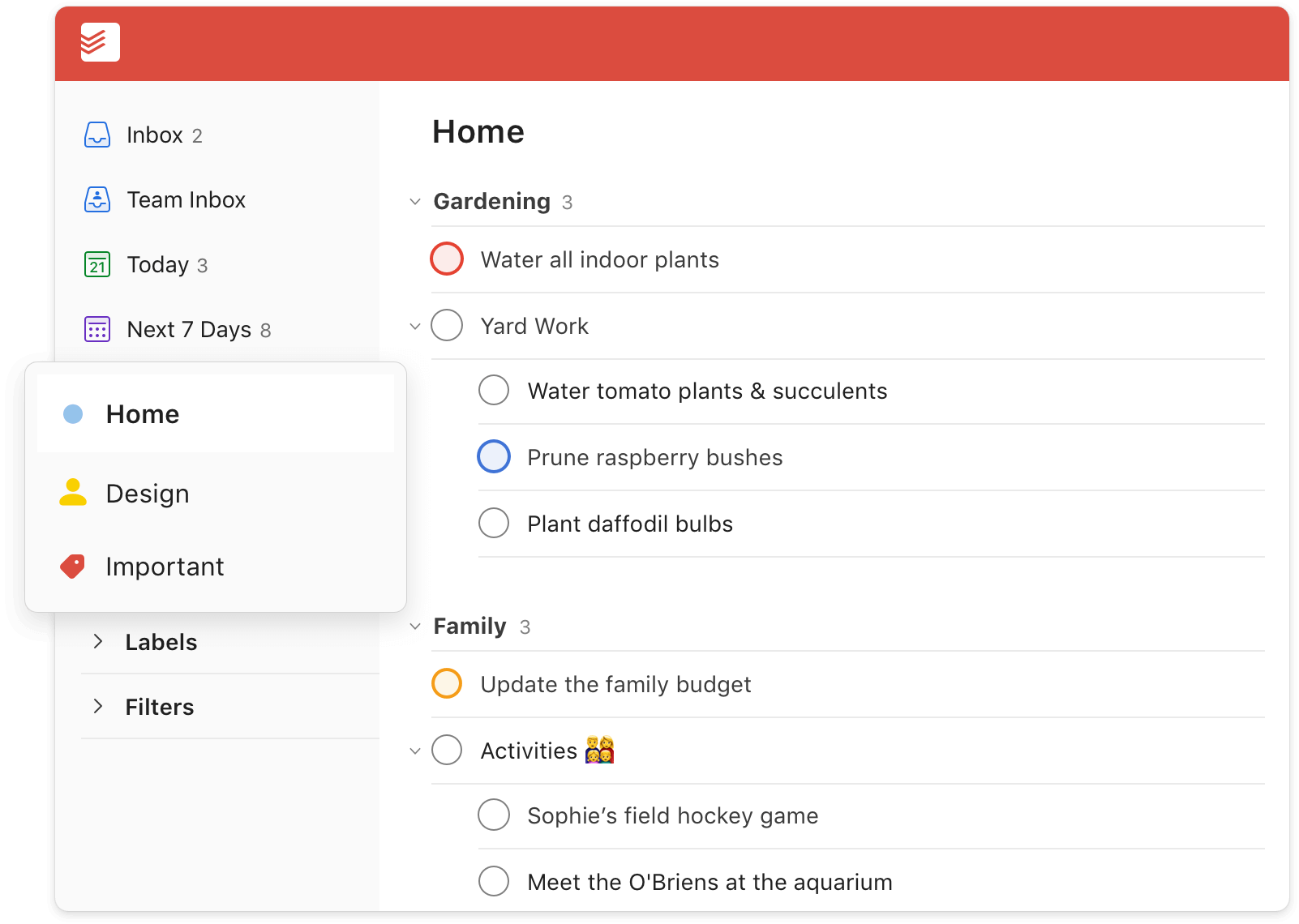 Todoist is a task management application and lets you organize and keep track of your to-do tasks. It makes it easy to add new tasks, check them off, and is perfect for keeping you organized and on track for your day to day activities.
And as it syncs across all devices, you can keep track of your activities no matter which platform you are using.
Todoist also has a Karma system which is a visual tracking system. It rewards points for completing tasks and if your tasks aren't completed then your score may drop.
You can also set location-based reminders which can remind you, for example, to pick up something once you reach the office. It tailors to the basic needs so you can use the inbox for capturing stuff, the today area for planning what's on today, and the next seven days.
Todoist also allows sharing your to-do list with other people and collaborate with them. You can send invites to other people and once they accept, you both can assign each other tasks and add comments to share information.
Todoist is available on all major platforms like Web, Windows 10, Mac App Store iOS, Android, and on major Apple and few Android smartwatches which makes it the best productivity app for iPhone and iPad. It also integrates with major web browsers like Chrome, Safari, and Firefox and you can also add it as a plugin to Gmail and Outlook which will let you turn an email into a task.
Features
Organization: manages your projects by dividing them into sub-tasks. It also prioritizes the tasks that need the most attention or that are near to due date.
Share: divide and conquer your daily tasks in shared projects. Also, with notifications it keeps you updated when people post comments, complete task, and more.
Sets daily, weekly, and monthly goals to keep you focused on your project. Subtasks and sub-projects help you to keep tasks organized.
Keeps track of all the work done in any given project. It then displays your daily, and monthly reports in color-coded graphs.
Seamlessly integrates with multiple platforms. It includes Dropbox, Zapier, Amazon Alexa, and a lot more.
With its more than 10 apps and plugins, you can quickly review your upcoming tasks, and add the new ones from anywhere in the world.
Allows you to add and organize tasks from your home screen with its 'Quick Add' feature.
Pricing
Free – free forever, up to 80 projects and 5 people per project, Recurring due dates Task priorities, Integrations.
Premium – at $3 per user/month billed annually includes up to 300 projects and 25 people per project, Reminders, Comments & file uploads, Labels & filters, Productivity trends, Premium themes, Automatic backups, and adding tasks via email.
Business – at $5 per user/month billed annually provides up to 500 projects and 50 people per project, Team inbox, Admin & member roles, Team billing, and Priority support.
---
6. Hive (Project Management)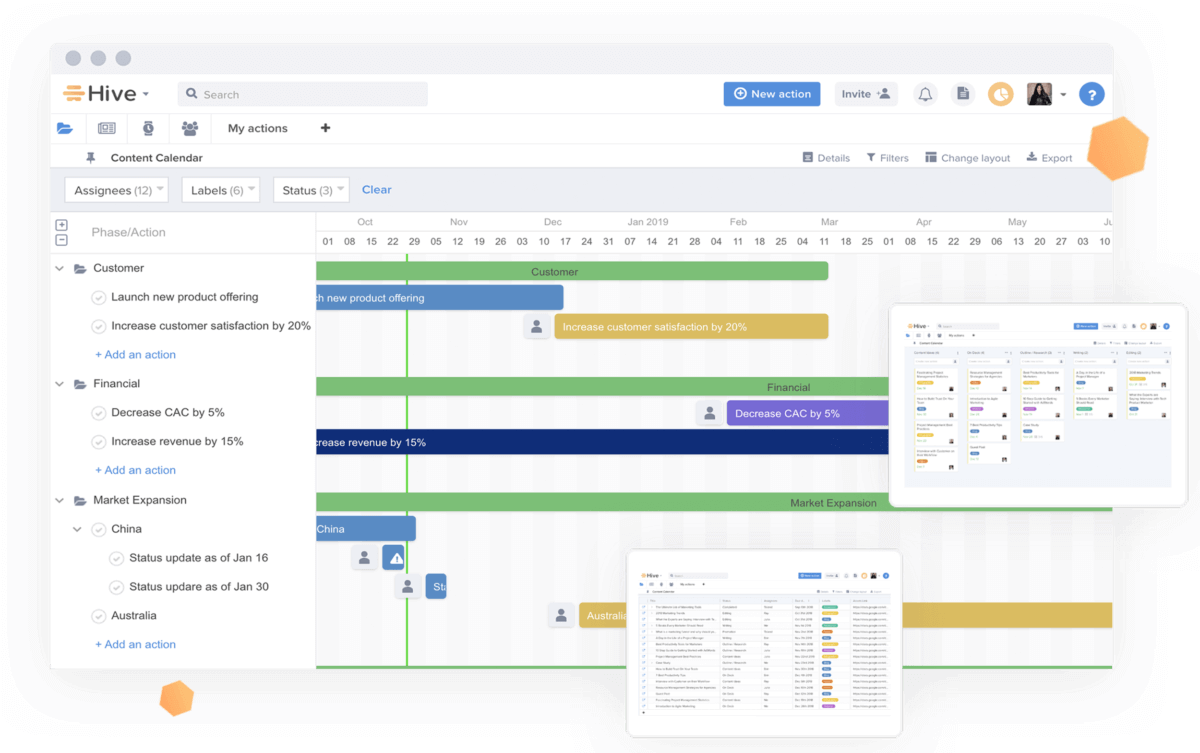 For your business to reach optimal efficiency, you need a Project management tool. Managing large projects without using these tools is almost similar to impossible.
Hive's project management tool provides you with ease of mind and satisfaction by empowering you to assign tasks and collaborate with the team, track project status, easily access and share files without going through any trouble.
Hive is a cloud-based project management and collaboration software designed to provide centralized workflow management to teams of all sizes.
Founded in 2015, the software has only gained popularity over time due to its powerful and effective suite of features. With group messaging, file sharing, and over 1,000 app integrations, the solution offers numerous benefits to project teams all over the world.
Hive allows you to create and assign tasks to teammates, with task deadlines, attached files. It has a status view similar to that of Kanban which lets you track project progress and modify deadlines and other variables.
As Hive is a cloud-based project management software, you can easily access any file, share, and collaborate with team members on the go.
On top of this, Hive Analytics comes with three interactive dashboards that provide actionable insights into the team's productivity. Using existing data and machine learning, Hive identifies inefficient areas and allows you to find ways to rectify them.
Thanks to multiple integrations, users can focus better on the task at hand and less on syncing with external applications.
In case of any anomaly on the project, the system has real-time notifications to help you take timely actions. For easy access at all times, Hive is available as desktop apps for Mac and Windows, and as a mobile app for iOS and Android.
Hive ranks #6 on our list of the best productivity apps for Android in 2021.
Features
Customization: lets your team manage projects the way they prefer. It also lets you easily switch between views for more flexibility.
Integration: quickly integrates with more than 1000 multiple platforms. It includes Google Drive, Microsoft Teams, Slack, Okta, and a lot more.
Messaging: This allows you to collaborate easily with your team and clients by messaging them individually or in groups.
Analytics: continuously monitors the happenings and gives reports on projects in real-time. This helps to spot risks proactively.
Resourcing: works by planning and scheduling your team's time for current and upcoming projects.
Supports automated workflows to streamline your company's daily tasks, routines, and communication.
Pricing
Two paid pricing plans are available for Hive as following:
Professional– at $12 per user per month if billed annually. This plan features unlimited projects and messages, unlimited storage, standard integrations, PM toolkit, access to API, and data export.
Enterprise– pricing available on a quotation basis. This plan includes all features of Professional, plus dedicated account manager, rollout support, external users, and Hive analytics.
---
7. Toggl (Time Tracking)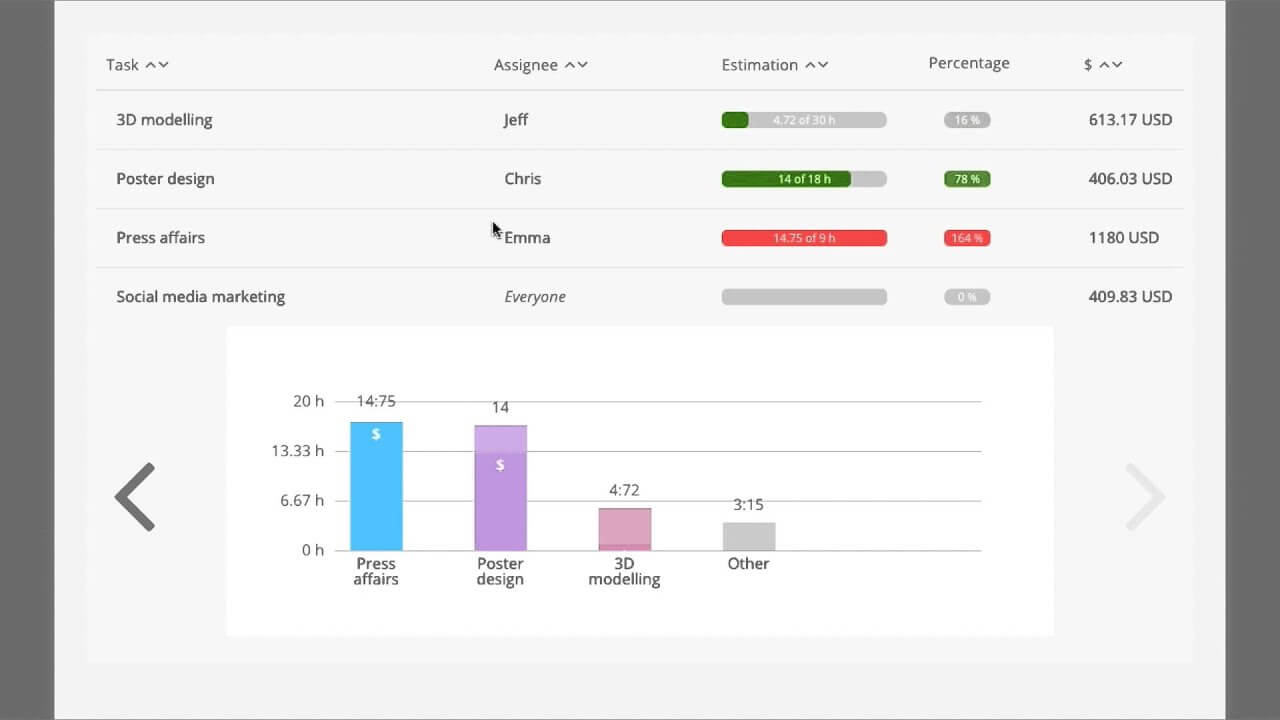 As we all know 'time is money', for most freelancers this applies when it comes to being paid for hours spent on a project. Tracking time plays a crucial role in disciplining your work and managing your daily routine. Thanks to always evolving technology, we have Toggl.
Toggl is a web-based time tracking software that is designed to keep tabs on your time spent on various tasks and provide a handy overview of that time.
You can use Toggl as a web service, desktop application, or on your mobile phones (both Android and iOS). It has a simple and easy-to-use interface to help users evaluate their productivity.
Toggl has an idle detector that notifies you when you are away from the computer. There is also an option to set reminders to track time at specific intervals on particular days of the week.
The feature we love the most about Toggl is its auto-tracker. With this feature, Toggl automatically starts its time tracking even if you forget to start the timer, a true lifesaver!
Toggl is compatible with Windows, macOS, and even Linux. The role it plays in boosting productivity, it is one of the best productivity apps for Android and iOS. It also offers a Google Chrome extension for you to track time efficiently without even have to open the web application.
You can also record timelines of websites and applications with the software. Toggl provides reports by breaking down tasks, based on their description to give you in-depth insights about your time spent.
In addition to these amazing features, Toggl provides the Pomodoro technique to boost your productivity and helps you get the most out of your time.
Features
Multiple Platforms: allows you to track time across multiple platforms. You can track time across the web, desktop app, browser extension, and mobile app with just a single click.
Auto Tracker: automatically tracks the time entry suggestions based on the software you are using currently.
Seamlessly integrates with more than 100 apps. You can directly start the time from tools such as Asana, Trello, Todoist, and more.
Reports: allows you to select the level of details you want to see in your reports. It then filters and sort the data accordingly and generates client-ready visuals and reports in the form of PDF or CSV.
Revenue Tracking: works by assigning billable rates by team members to view what activities are generating revenue. Also, by comparing your payroll to your billable it keeps track of which project and clients are profitable.
Team Management: provides a team dashboard through which you can see the work of your team. Also, the software automatically automates email reminders to team members who haven't tracked their number of hours.
Pricing
Along with the free 30-day trial, Toggl has the following plans to offer:
Free – free forever, includes time tracking, allows deleting time entries, Bulk editing, Manual time addition, Idle detection, Offline Mode, and CSV import
Starter – at $9 per user/month if billed annually. It includes Unlimited team size, detailed weekly reports, more exporting formats (PDF, CSV, XLS), project time estimates, alerts for estimates, project templates, and Company branding.
Premium – at $18 per user/month if billed annually allows editing team members' profiles, project, and employee profitability charts, Schedule reports to email, set tracking reminders, and much more.
Enterprise – Pricing available on a quotation basis and includes all features of Premium, expert training and assistance, and priority support.'
---
8. Hootsuite (Social Media Management)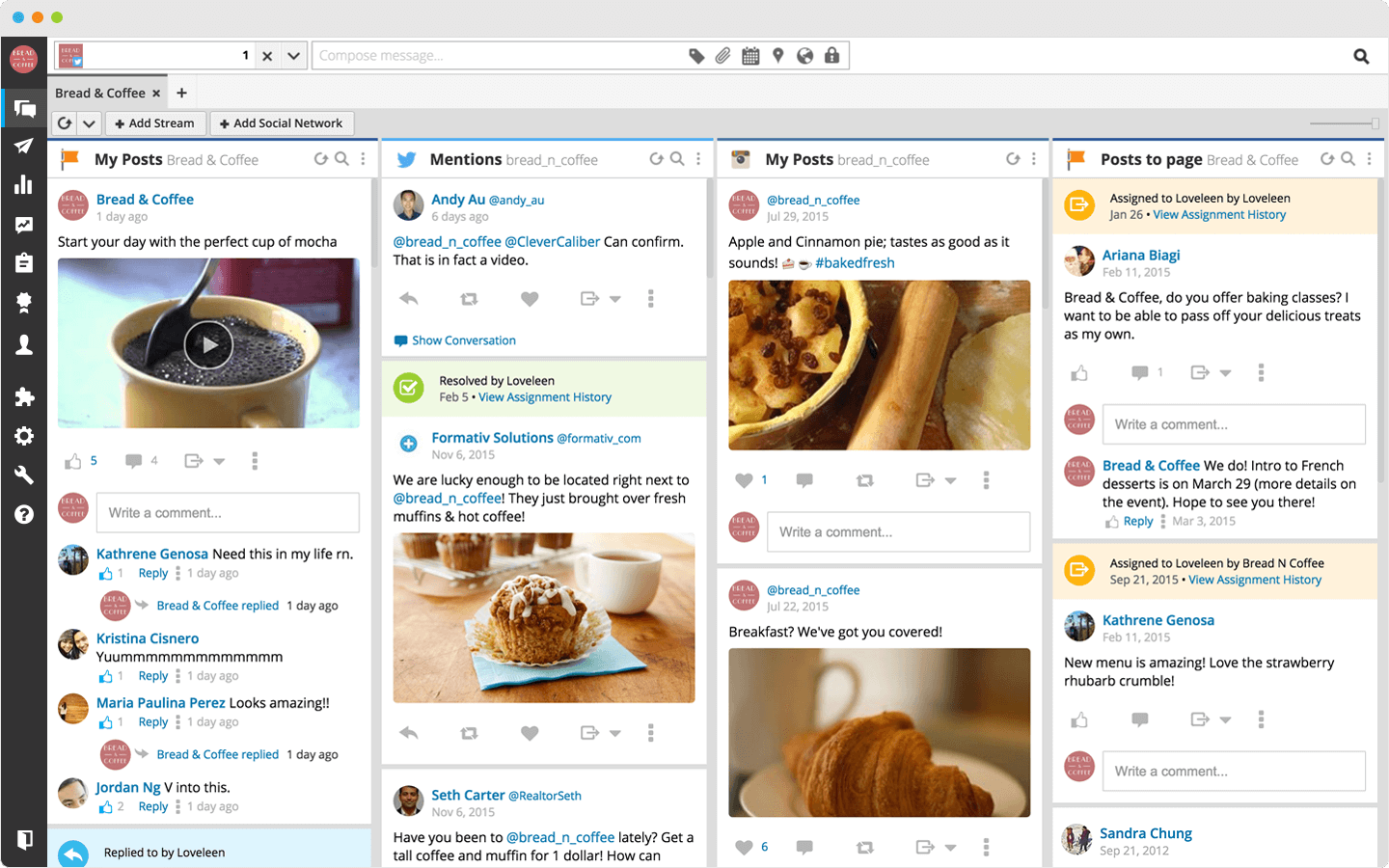 Hootsuite is a cloud-based social media management tool that provides a one-stop platform for multiple social media accounts. It is highly popular among the masses with over 16 million users worldwide due to its ground-breaking features.
Hootsuite is a combination of various products, services, and solutions required to efficiently manage social media platforms.
This online marketing tool integrates with all major social media channels such as Facebook, Instagram, Twitter, Linkedin, Pinterest, and YouTube.
Hootsuite is developed to revolutionize today's communications by utilizing social media for marketing campaigns, growing audience, and broadcasting messages.
The software empowers users to track industry trends, execute media strategies, and campaign results to tweak their strategies simultaneously.
The Dashboard consists of various tools and services to enhance productivity and workflow. With Hootsuite, you can create smarter workflows, provide a secure environment for collaboration, and boost your business in the right direction. Moreover, the software provides deep insights into key influencers and potential customers.
Hootsuite's mobile application allows you to take your social media dashboard anywhere you want and manage your status online on the go.
The software accommodates businesses of all sizes by managing several contributors, providing security and analytics, team collaboration, and audience engagement.
In today's world, where Social Media's opinion plays an important role in business growth, we suggest you give this software a try!
Features
Social Campaigns: works by planning all your social content in a collaborative calendar. It then helps your team to create innovative engaging posts and then post them automatically according to the schedule.
Inbox: helps you to engage with clients/customers across private and public channels in just one place.
Streams: continuously keeps track of your activity and engage at scale across all your social networks.
Content Library: supports a shared library of on-brand social content and assets to help you save time, and effort.
Tasks Assignment: helps you to boosts your efficiency by assigning tasks to the relevant team.
Open-Platform: quickly integrates with the most used tools. It includes Dropbox, Google Drive, Salesforce, and Adobe.
Training: works by training your team and enhance your skills across your organization. It then guides you according to the strategy with data-backed best practices.
Pricing
Hootsuite comes with four pricing plans. A free 30-day trial is available for the Professional and Team pricing plan. The prices for annual billing are as follows:
Professional– at $19 per month, 1 user, 10 social profiles, Unlimited scheduling, Key performance metrics, social sweepstakes, and unlimited RSS integrations
Team– at $99 per month includes all Professional features, 3 users, 20 social profiles, Unlimited scheduling, Custom branded URL, User permissions, Team message assignments, Custom analytics, and exportable reports.
Business– at $599 per month provides up to 10 users, 20 social profiles, Unlimited scheduling, Flexible approval workflows,5 social media certifications, and 24/7 customer support.
Enterprise– available on a quotation basis.
---
9. Grammarly (Publishing and Editing)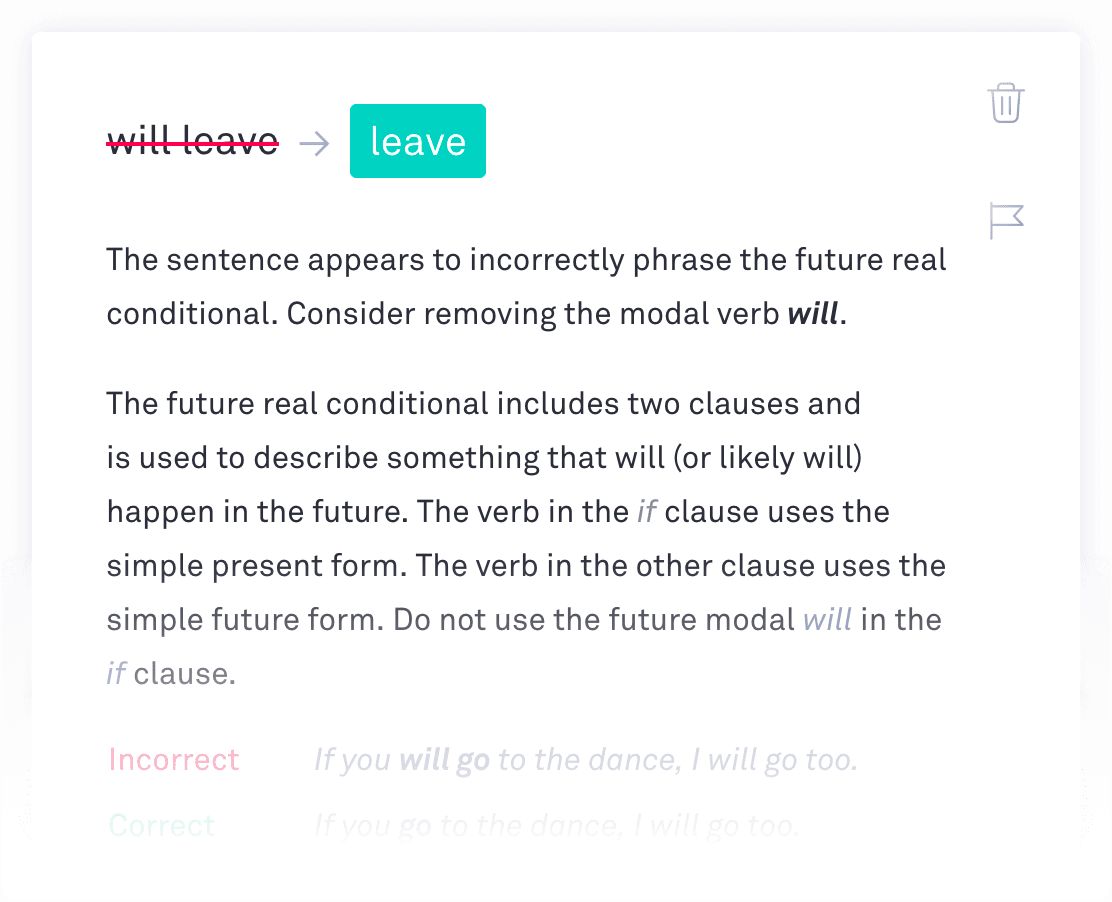 If you are someone who wants to remove the technical errors from your professional emails, papers, articles, or even social media status updates, Grammarly is for you! It is an extensive grammar checker and proofreading tool that assists you with improving your writing quality.
By using Grammarly you can take your writing skills to the next level by avoiding embarrassing typos and grammatical mistakes. Grammarly can be accessed through its website, app for Android and iOS, and in the form of browser extensions.
Also, the software has incredible plug-ins available for Microsoft Word and Outlook to help you write professionally using proper grammar.
The software scans your uploaded document and detects grammar and punctuation errors such as comma splices, run-on sentences, fragments, etc. Grammarly offers a first-class spell checker to improve the overall accuracy of your writing.
With Grammarly, you get vocabulary enhancement suggestions, genre-specific writing, style options, and a readability score that works as another line of defense.
The fact which makes Grammarly hands down one of the best productivity apps is that even with all these robust features, it is fast and, elevates your writing by making it precise and clear with just a few clicks.
Features
Tone Detector: analyses your word choice, phrasing, and punctuation, and analyze your tone. It then tells you if your text sounds friendly, concerned, confident, or something else.
Readability Check: continuously goes through your text as you write. And gives you suggestions that either your text is wordy, overcomplicated, or readable.
Editor: helps you to make your work mistake-free. It makes sure your text is clear, engaging, and clear/targeted to your audience.
Grammar check: automatically corrects all the grammar and spelling in your text. From irrelevant use of adjectives, wrong use of verbs, to irregular formats, it corrects all.
Real-time Feedback: gives constant suggestions about different ways of writing a text. You can then choose according to your writing style.
Plagiarism Detector: quickly go through all the text and mark the plagiarised text. This helps you to change only the highlighted text.
Improves your sentence structure by giving vocabulary enhancement suggestions.
Pricing
Grammarly's free version includes basic features only.
Free – free for a lifetime, include only grammar checking and spelling correction.
Premium – professional writing we recommend you opt for the premium plans as they include advanced features such as a Plagiarism detector, vocabulary enhancement suggestions, and writing style tools in addition to basic features.
Monthly – $29.95 per month
Quarterly Subscription – at $19.98 per month, billed as one payment of $59.95 annually
Annual Subscription – $11.66/month, billed as one payment of $139.95 annually
---
10. Dashlane (Password Manager)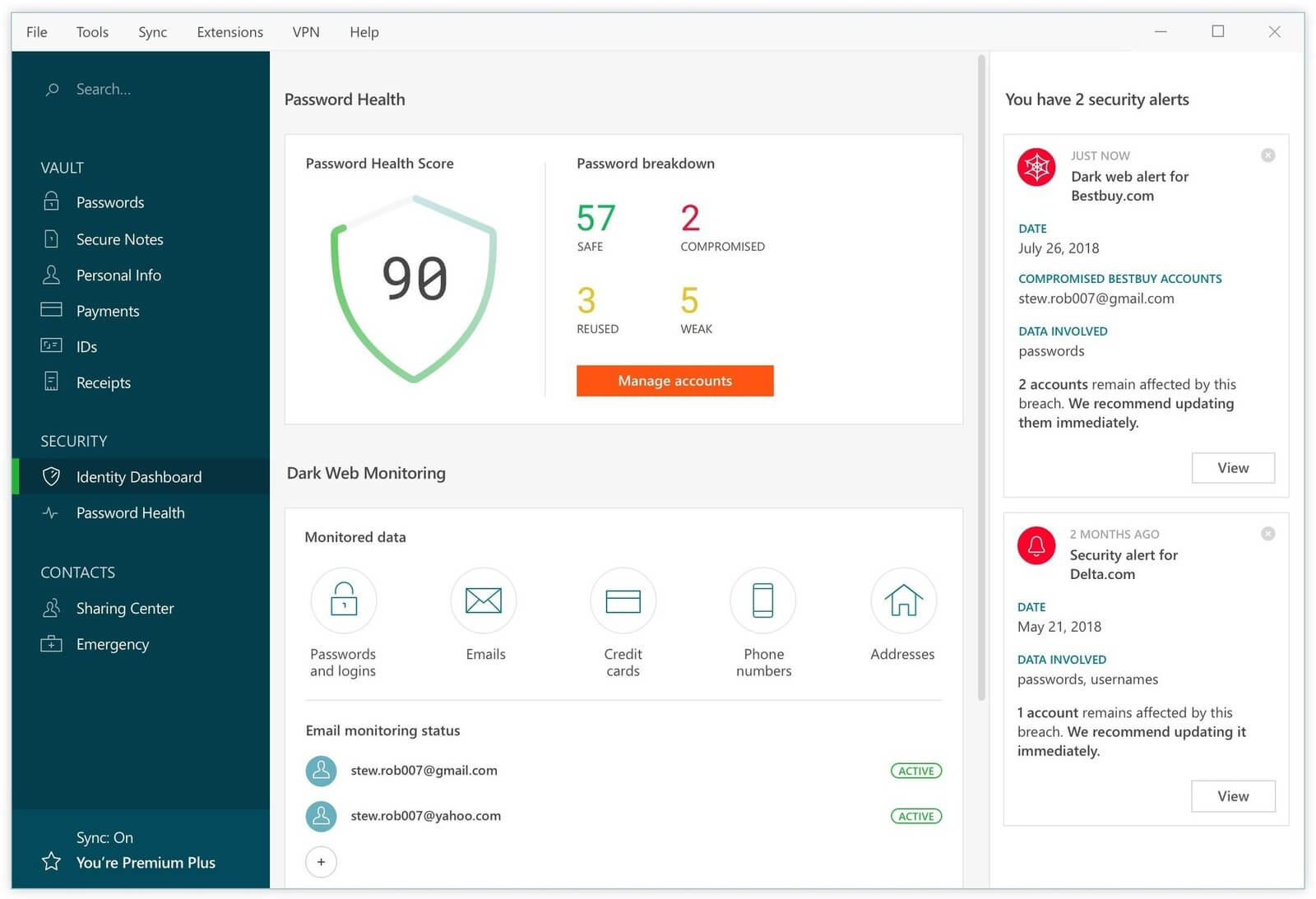 With all the online security breaches that have taken place over the past few years, it has become essential for users to take additional steps for their security online.
This is where Dashlane comes in, which helps users to effectively secure their personal information and manage passwords across the web.
Dashlane is a simple yet powerful password management software. It can manage and generate complex and unique passwords for users, based on their selected criteria.
Bolstered by two-factor authentication, identity theft Insurance, dark web scan, friendly pricing, and many other robust features, the software lives up to its reputation.
The software offers the broadest range of features as compared to other password managers available on the market. The passwords are stored in an encrypted vault and synced across the user's devices automatically.
Dashlane enables users to select an emergency contact to share encrypted passwords, in case they forget their Master password.
Furthermore, access to dash light provides password analysis and suggestions to essentially improve user's password quality. Another handy feature of Dashlane is the digital wallet, where you can store your credit card information securely for tracking and making purchases at various online stores with a few clicks.
When it comes to compatibility, Dashlane offers stand-alone extensions for Mozilla Firefox, Google Chrome, and Internet Explorer. Even more so, it has apps for both Android and iOS.
In premium versions of Dashlane, a VPN service is also offered.
Features
Automatic Login: saves you passwords, credit card numbers, and personal details. IT then automatically fills in all the credentials, saving your time.
Password Storage: allows you to save an unlimited number of passwords and data. Moreover, it syncs all your data to all your devices automatically.
Dark Web Monitoring: continuously searches the web. In case of any data found, it updates you with instant alerts.
VPN: provides unlimited VPN, so that you can use your favorite websites, and unblock geo-restricted content in no time.
Password generator: creates strong, randomized passwords, so that you can increase your online security.
Password Sharing: lets you share unlimited data and notes with your friends. Also, it lets you import data from a browser and many password vaults.
Pricing
Dashlane provides users with free as well as paid versions. The software also offers a pricing plan for the business community.
Free – free of cost, includes features such as fifty entries, one device, security alerts, instant form, and payment autofill.
Premium – at $3.33 per month if billed annually. It includes unlimited password storage, VPN, Dashlane on various devices, autofill, and dark web monitoring.
Premium Plus– at $9.99 per month if billed annually. Includes all features of Premium, Credit monitoring, $1,000,000 insurance of identity theft.
Business – at $4.00 per month if billed annually. It includes all features of Premium excluding VPN, Smart spaces for work, 2FA integrated security, and admin console.
---
11. GanttPRO (Online Gantt Chart Software)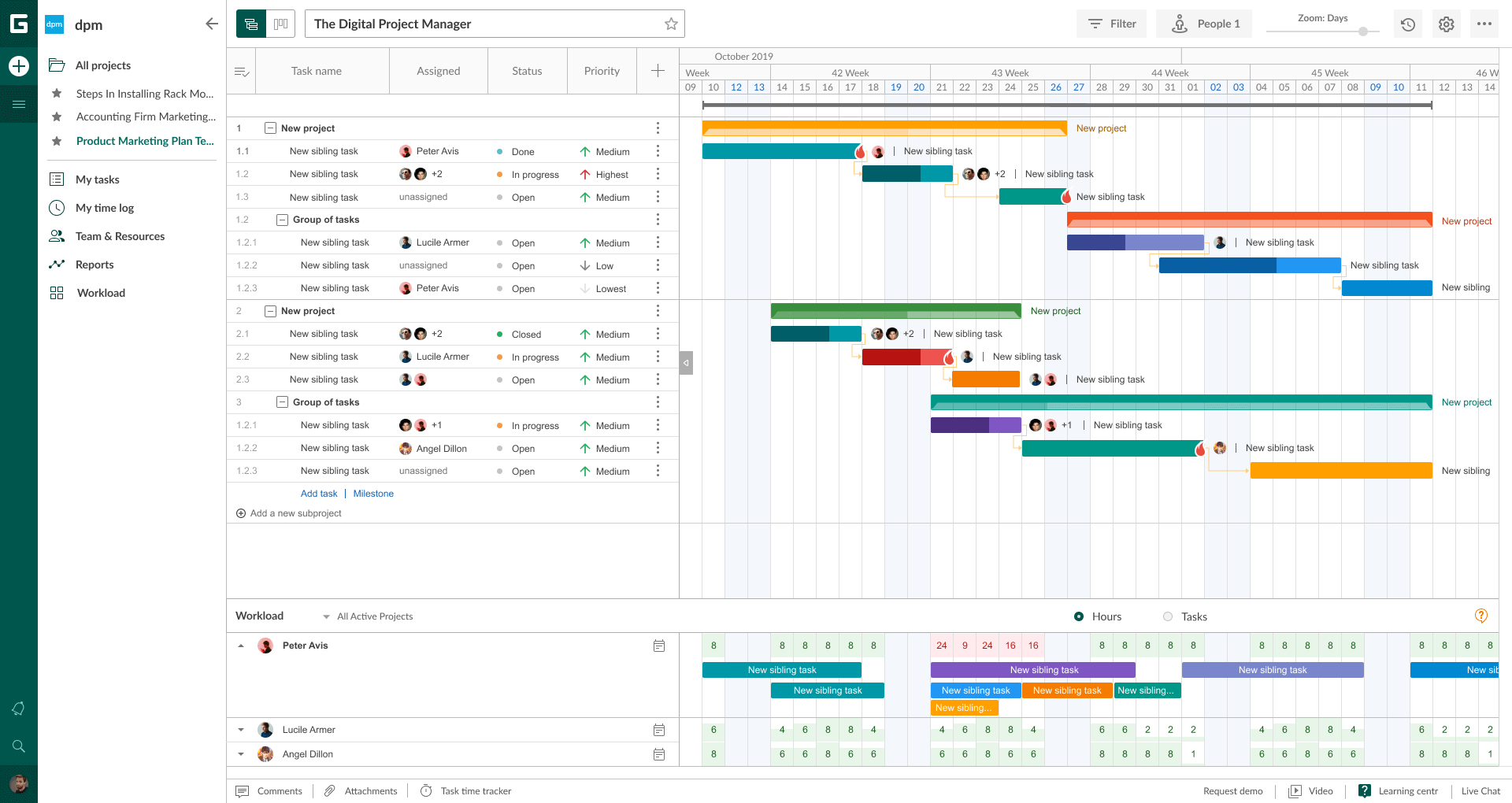 GanttPRO is an online project planning tool based on Gantt charts. It is one of the best productivity apps available in the market.
The software has an intuitive interface with a nice UX/UI design.
Thanks to it, productivity in your team will not be a problem: even new team members or managers can instantly jump into the project without any hassle.
The Gantt chart approach in GanttPRO offers a diagram with vertical and horizontal lines. Tasks are shown along the vertical axis. Corresponding time for each assignment is shown along a horizontal line.
Besides, the tool has a Board view as an alternative way to work on your project: an approach that is similar to Kanban where tasks look like cards and are placed in columns.
Managers and teams have great opportunities for task management. They can work with statuses, start and end dates, deadlines, progress, assignees, duration and estimation, cost, and budget.
GanttPRO supports all major platforms such as Windows, macOS, and Linux.
Features
Drag and Drop: lets you manage your projects quickly. It does so by letting you prioritize tasks, set dependencies in one click, duration, and progress on a Gantt chart online by drag and drop of tasks and their attributes.
Team Management: set user-based access, assigns tasks and subtasks to members, track progress, and more. Also, you can add attachments and comments with just one click.
Resource Management: calculates task/project cost by setting the cost per hour for a resource and the time spent on the task.
Customization: allows you to set working days and days-off for you and your team. Based on your business calendar, it will then automatically calculate the duration of your project.
Notifications: send instant updates about changes made in the project, assignment of a new task, and more.
Share and Export: lets you share your chart with a URL. It also lets you export your timeline with popular formats like PDF, PNG, XLSX, and XML.
Report: contains brief review about tasks/projects, users, due date, time, and comments.
Pricing
GanttPRO has a free 14-day trial with all the features available. It includes an unlimited number of projects, team members, and virtual resources as well as export and sharing.
The pricing plans include:
Individual – at $15 per user per month billed annually. Good for personal projects. All the features except for team collaboration are available.
Team 5 – at $7.90 per user/month billed annually. Teams up to 5 members, all features available.
Team 10 – costs $6.90 per user/month billed annually. For teams up to 10 members. All the features are available.
Team 15 – costs $5.90 per user/month billed annually. Teams up to 15 members, all features available.
Enterprise – quote available upon request.
---
12. Any.do (To-Do Lists)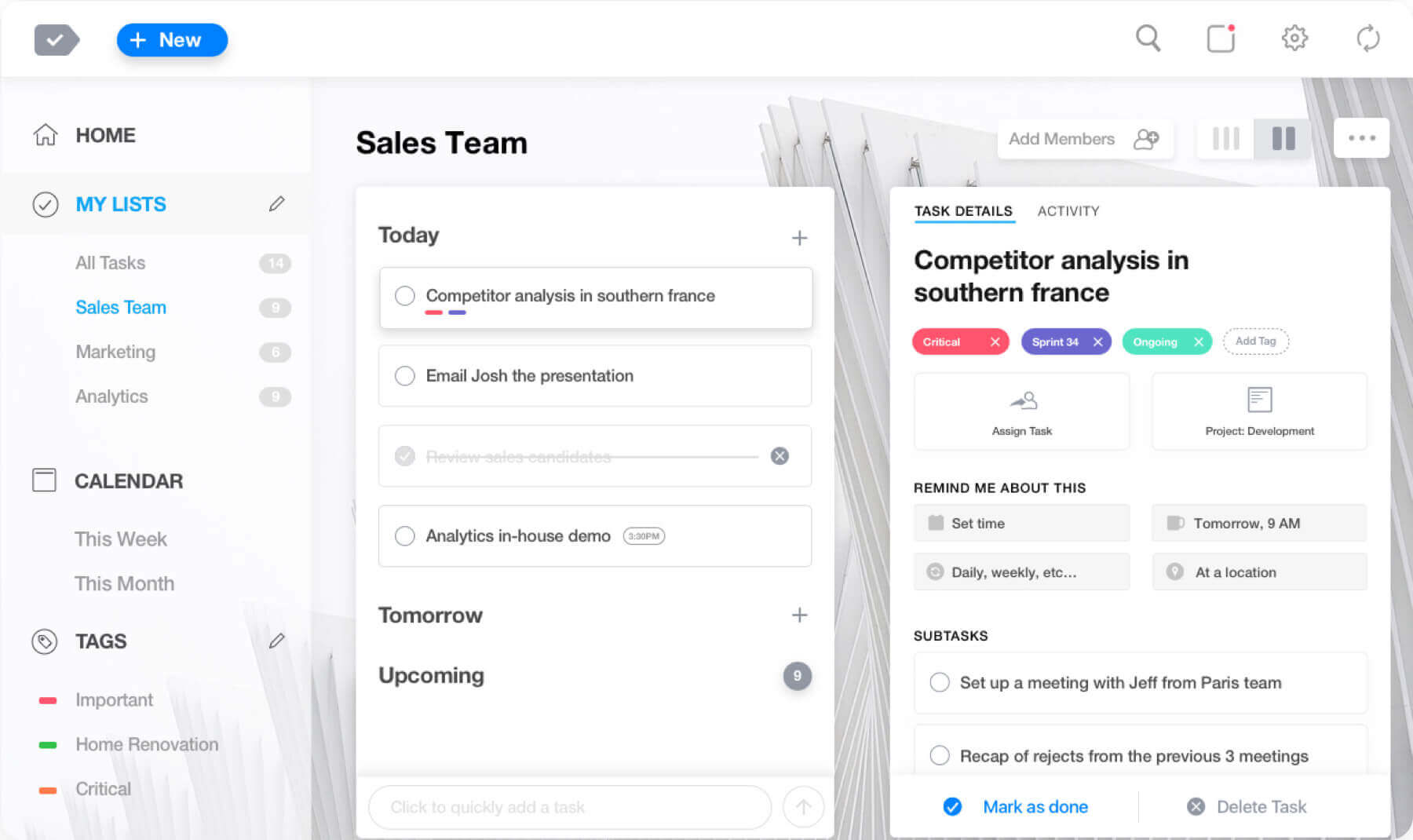 Whether it's picking up groceries from the supermarket or math homework due Monday, you probably feel overwhelmed by the amount of work you have to do. That's where to-do lists come to save the day.
Although writing a paper list is easy, but software-based approaches can be more efficient in terms of learning curves and allows you to re-prioritize tasks quickly.
Any.do is one of the best free productivity apps out there due to its striking interface and signature features. It has versions for nearly every platform like Android, iOS, the Web, and Chrome. Any.do stands out mostly for its unique task management and has been growing on the management scene for a while.
Key Features
Works best with calendar, shows tasks side by side.
Features "Any.do moment" which reviews all the task assigned to you for the day
Offers Auto-completing suggestions when you type "call", "buy", "clean" and much more.
Upgraded versions feature location-based reminders.
Great sharing proficiency for its free members.
Customizable themes with color labels for paid users.
Pricing
Free: It includes simple pre-made options while collaboration is limited to sharing tasks. It also includes the "Any.do moment" feature, which gives a recap of your tasks.
Paid premium ($2.99/month): Offers customized themes with color tags and labels. The privilege of customizing recurring tasks and most importantly location-based reminder.
Team level ($4.99/month): Team account provides all the features of premium paid alongside administrative control over the team.
---
13. Zenefits (HR Management and Payroll)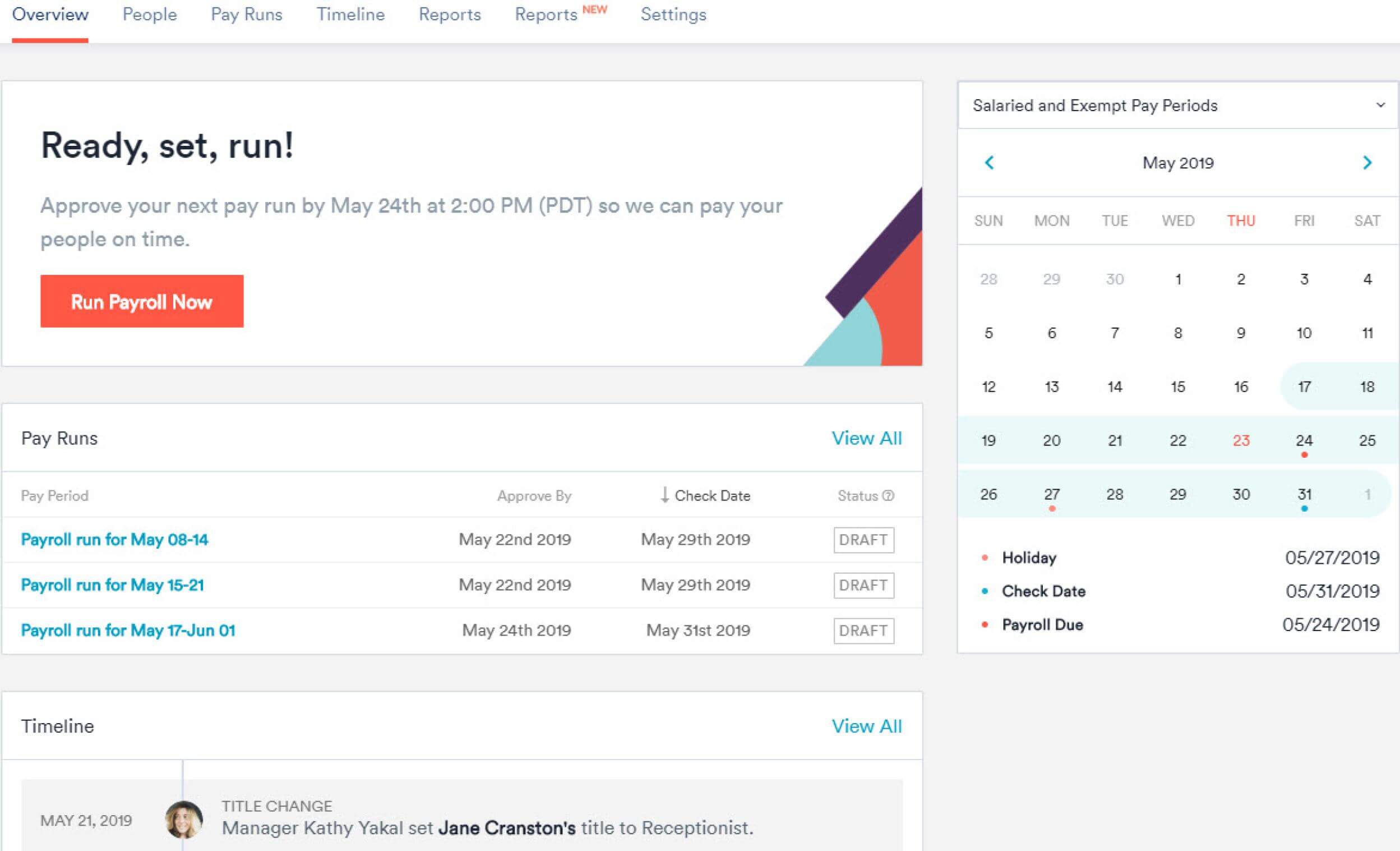 While advancing web-based development, companies often struggle to find the right tool for optimum team level productivity. While employees are a company's greatest asset, managing them is not an easy task.
Tasks previously handled by human resources, including employee benefit or payroll concern, can now be effectively delivered through HR management software.
Zenefits being of the best productivity apps has only been in existence since 2013. It has helped 11,000 companies enable the workforce, and has won the editor's choice award for HR software.
Zenefits is an all-inclusive HR SaaS program, which offers a wide range of offerings from HR scanning to performance management tightly integrated with advisory services to simplify HR administration.
Key Features
The offer letter is one click away which makes hiring new employees an easy task.
Provides self-onboarding- New employees can onboard themselves online.
Tax documents are automatically created based on data collected during onboarding
Through integration features, new employees are provided login accounts for apps like Slack, G Suite, and more.
Reporting of Equal Opportunity Statistics, Headcount Activities, Stock Options Granted and Turnover Rates is provided.
PTO can be created and managed, which is then fed to other areas of Zenefits.
Pricing
Essential Plan ($8/month per employee): Includes core HR management like hiring, onboarding, reporting and documentation, Scheduling, and much more
Growth Plan ($14/month per employee): Provides all the features of the Essential plan alongside Compensation and performance management; Goal setting and much more
Zen Plan ($21/month per employee): Includes all the features of essential and growth plans alongside Well-being management.
---
14. Marinara Timer (Pomodoro & Productivity Timer)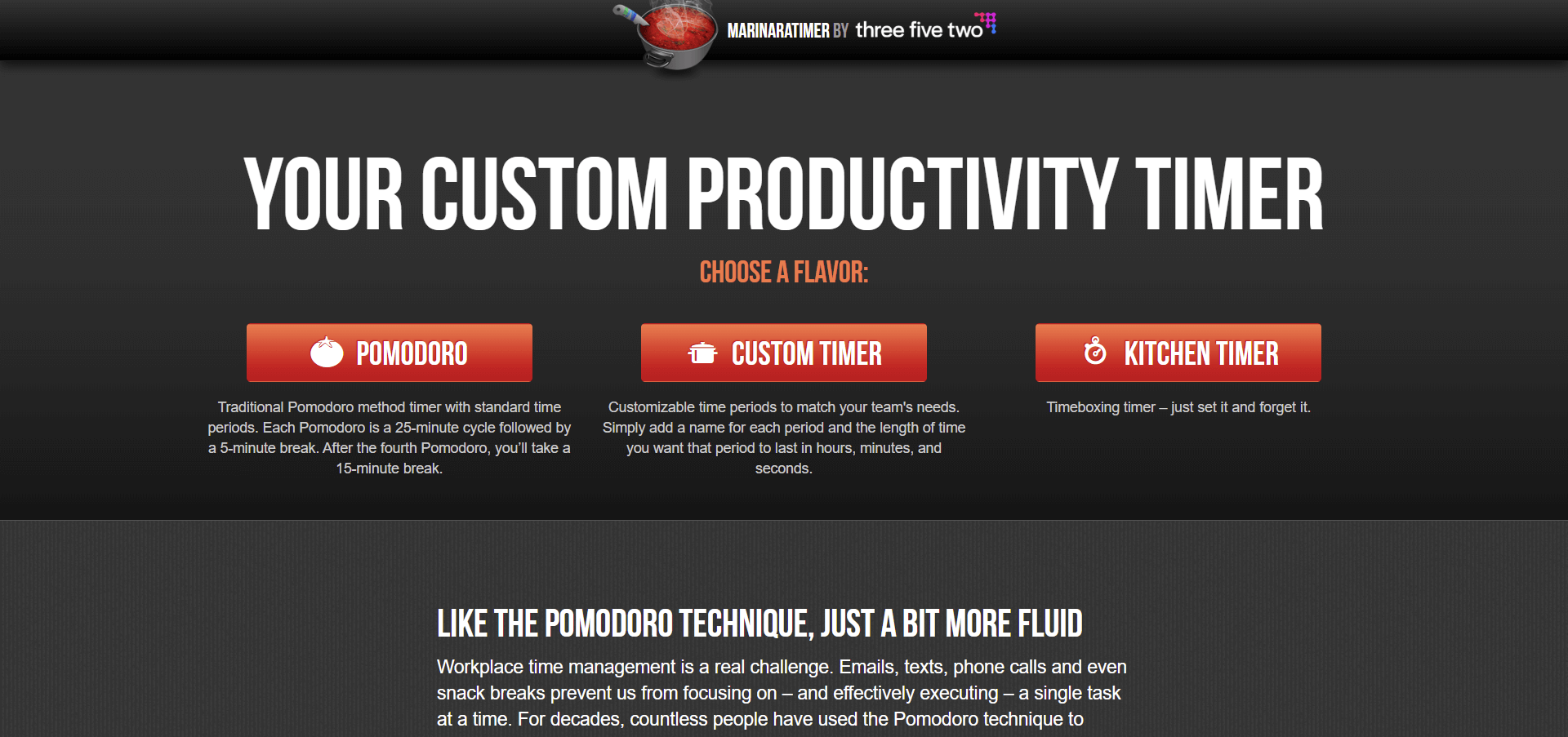 In terms of increasing productivity, the Pomodoro technique has been the most successful one. Using this technique minimizes distractions and combats procrastination.
Research has shown that "Spaced repetition" in the Pomodoro technique is useful in building lasting knowledge, and also forces the individual to be productive throughout the day.
If you want to try this technique, you'll need a timer to track your work progress, and reminders to take breaks.
Marinara Timer is a plain but versatile web app with plenty of customizable options to choose from. It is one of the best free productivity apps consisting of three different timers: Pomodoro, Marinara & Kitchen timer.
Each timer lets you choose the music that plays at the end of each session.
The Pomodoro timer is a classic version of the Pomodoro technique that uses 25 minutes sessions followed by a 5-minute break. The kitchen timer is a simple and manual clock down which is ideal for single sessions.
The Marinara Timer offers the user to have more flexibility in choosing how long they want their sessions and breaks to be.
Key Features
Offers the Standard Pomodoro technique time block with the Pomodoro Timer, The 4-period cycle of technique is continuously repeated.
It offers a variety of music such as "alarm sound" that is played at the end of every session to remind you to take breaks.
"Custom time" allows you to customize each session according to your requirements.
Very basic and easy processing with no complications, being the best productivity apps for android, it is perfect for people who are willing to try the Pomodoro technique.
Displays the current "Pomodoro schedule", from which you can access where you are in the cycle.
Features "share your timer" in which you allow other people to view your sessions.
Pricing
Marinara Timer is available for free use online via the web.
---
15. Voila Norbert (Lead Generation Software)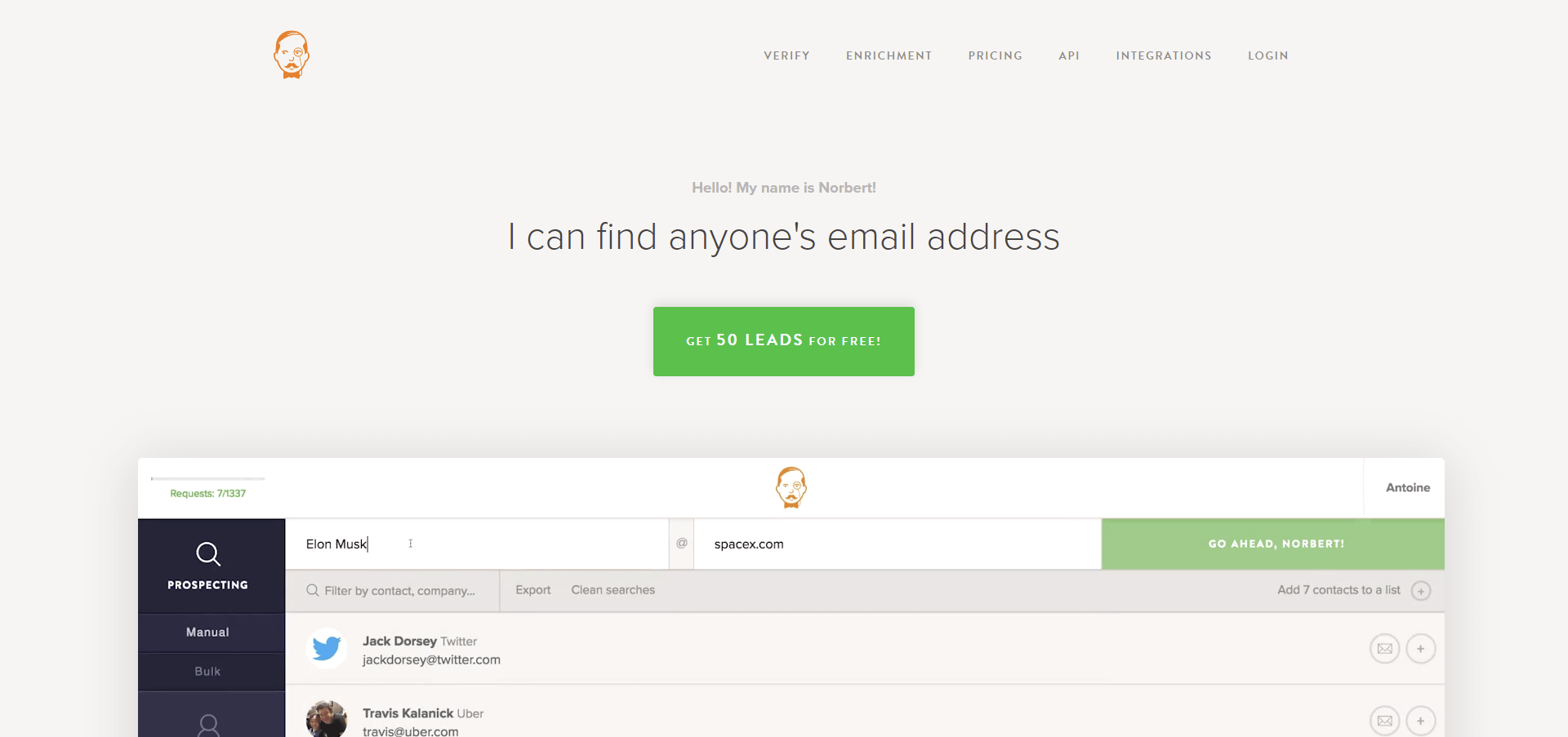 According to a report by Marketing Charts, 17% of employees spend more than 15 hours solely on lead generation. Despite wasting this much time 63% of companies still find lead generation to be their biggest challenge.
Running a business is like running a marathon; an endless workload can lead to what the Japanese call Karoshi, which translates to "death by work". Therefore to avoid getting strained by tons of responsibilities, we recommend you rely on software that gets the work done more productively.
Voila, Norbert founded in 2014, offers a seamless platform to find new email addresses, as well as verify the ones that matter the most to your company.
It is one of the best productivity apps out there for professionals looking to build new relationships for sales and marketing. What's so great about voila Norbert is that it pairs lead generation with email verification with the delivery of 100% validity.
Key Features
Verification of email addresses as its most significant function.
Search bulk email addresses using their name and company.
Spots typos and gets rid of any identical email addresses.
Offers Integration with Zapier, Hub spot, Salesforce, and Drip.
Features Removal of any inactive or invalid Domains.
Enriches leads with data that leads to maximum chances of conversion.
Allows Scheduling of emails to be sent later and instantly follow up as well.
Pricing
Valet ($49/month): 1,000 leads/month, unlimited team members, bulk API usage, 5o bulk workers.
Butler ($99/month): 5,000 leads/month, unlimited team members, bulk API usage, 5o bulk workers.
Advisor ($249/month): 15,000 leads/month, unlimited team members, bulk API usage, 5o bulk workers.
Counselor ($499/month): 50,000 leads/month, unlimited team members, bulk API usage, 5o bulk workers.
---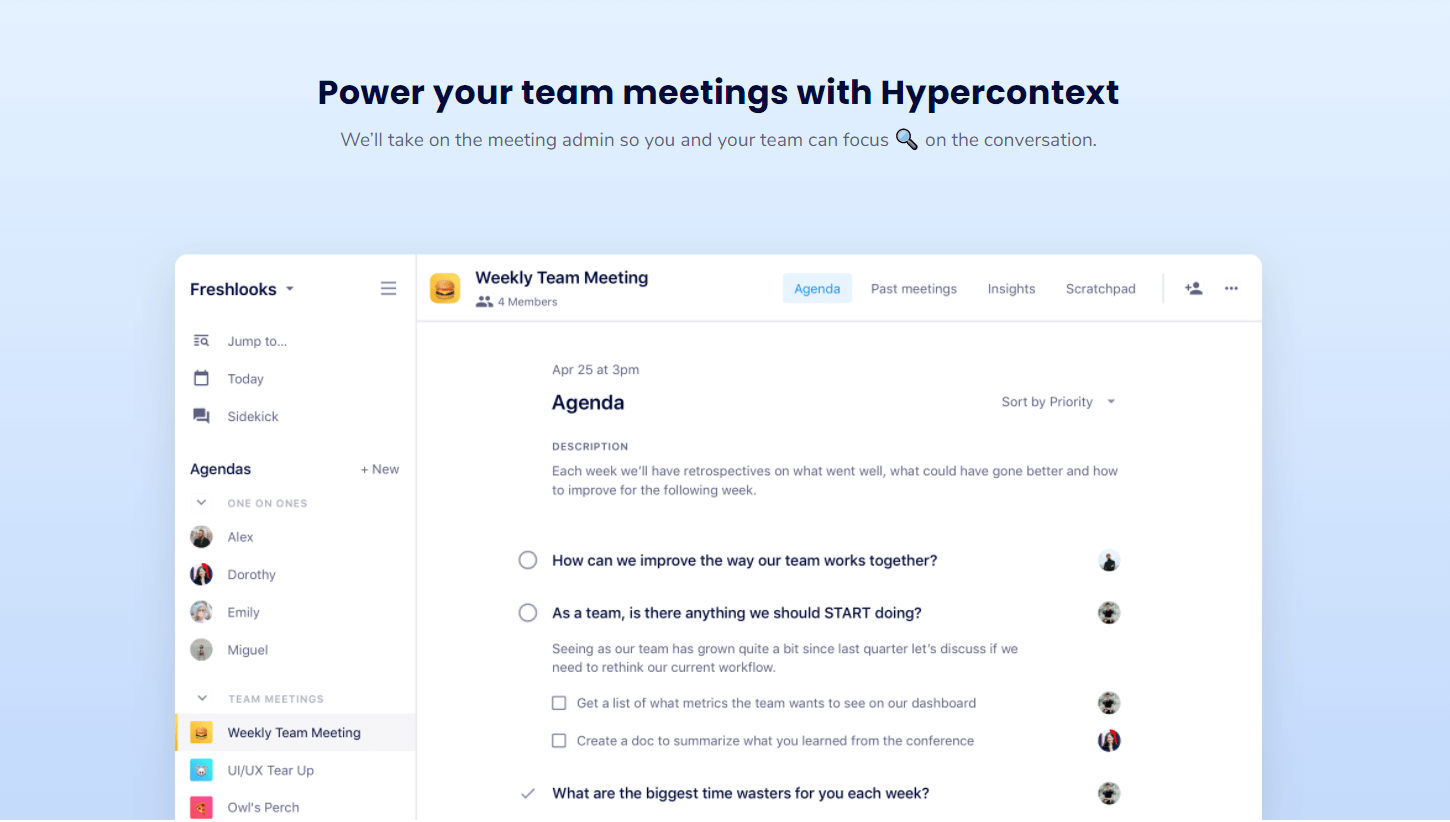 Hypercontext is an efficient meeting solution that creates a central hub for meetings and sharing information. It's perfect for both one on one or group meetings as well as organizing a wide variety of things like agendas and meeting notes.
Everything from employee reviews to career coaching can be simplified with the one-on-one meeting features. Share notes with each other and keep your own private notes to look back on.
Hypercontext can even provide you with suggestions for questions to ask to keep the convo flowing. At the end of the meeting, next steps can be assigned to keep everyone on track and a survey can be used to gain feedback to improve meetings in the future.
This productivity app can essentially facilitate your meetings as the admin so you can focus on the nitty-gritty of the tasks at hand. Keep the meeting flowing with collaborative agendas and preemptive discussions.
And use the shared meeting notes to keep track of decisions and look back on discussions.
One of the most exciting parts of Hypercontext is the goal feature. Boost morale and inspire your employees with measurable goals. Set them in Hypercontext and track your team's collaborative progress as they hit milestones. Progress is easily visualized with fun graphics and clear images.
Hypercontext also integrates with several of the most popular applications. You can seamlessly manage your meeting times with Google Calendar and add agenda items on Slack.
Integration with mobile apps allows you to take meetings on the go for the ultimate flexibility! This access and the ease that you can use the multiple meeting features make Hypercontext a must for collaboration!
Key Features
Meeting Planning: Schedule meetings in Hypercontext and communicate the time and place with attendees. Then, create agendas with the ability to collaborate on items to cover.
Administering Meetings: Conduct meetings and focus on the conversation. With real-time commenting in integrated minutes, the discussion can be easily tracked and recorded.
Goal-setting: The goal-setting tool allows you to set, track, and reach goals with incremental milestones along the way. Teams can collaborate on shared goals.
Integration: Hypercontext can be tied to many commonly used applications for a seamless and organized experience.
Templates: Allow you to easily plan and run 1:1 or group meetings. Plus, goal ideas are provided to inspire and motivate.
Feedback: Gather feedback via post-meeting surveys to improve meetings. AI-powered insights can help you identify gaps in meeting strategies.
Pricing
Basic: free forever. Includes unlimited meetings with automatic minutes. Also collects employee feedback and access to over 200 conversation starters.
Pro: $5.60 per user/month. Includes everything in basic with a few added features. Gives you the ability to track the next steps and utilize custom agenda templates. Also gives you the ability to send attachments and gives you access to 250GB of storage as well as AI-driven conversation insights.
Business: $8.80 per user/month. This plan gives you everything in the other plans as well as the features you need to motivate your team. Goal setting and tracking plus engagement reporting to keep your people on track. You'll also receive predictive billing and priority support for the ultimate in service.
---
17. Freshchat (Live Chat Software)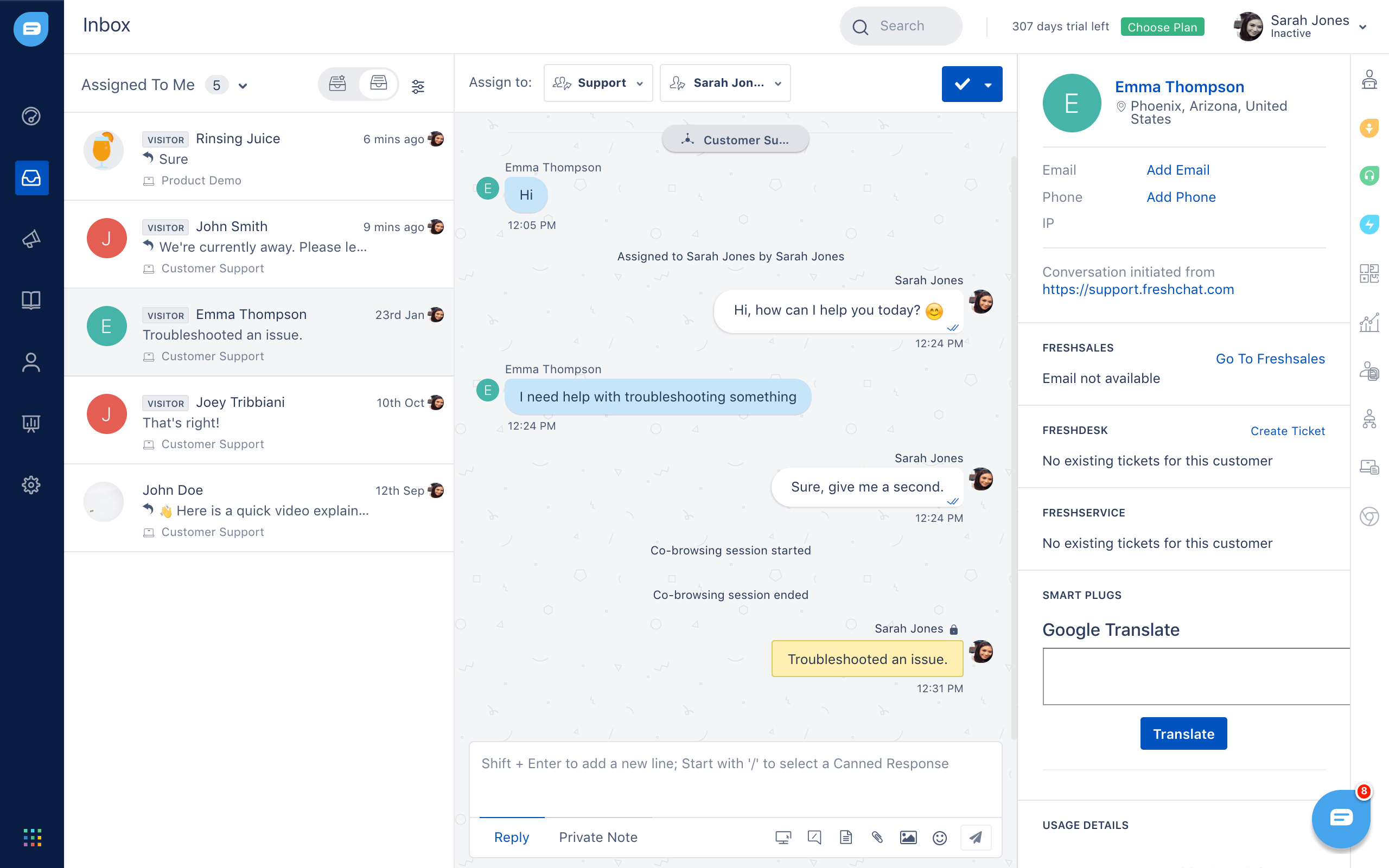 According to the Survey of American online consumers, 68% of customers engage in live chat. On the other hand, 44% of customers claim that having their inquiries answered by a live agent is one of the most important features a business can offer.
With live chat software, you can increase the efficiency of your business, by allowing multiple chats simultaneously. Secondly, Software-based approaches can reduce Support Center expenses by lowering waiting queue time compared to a call center.
Freshchat is messaging software built for customer engagement teams to talk to visitors to provide them with the best customer service, and expectantly converting them into Customers.
It offers a context-driven messaging experience with quality features like triggered messages, in-app campaigns, and intelligent message routing and it is the best productivity apps for iPad Pro as well, as it provides you the leverage of interacting with your customers on the go.
Freshchat has been labeled as extremely cost-benefit by its users and has allowed the possibility for both clients as well as work colleagues to interact with the business on the same platform increasing productivity and effectiveness.
Key Features
Features "Business hours" in which you can set up business hours, and a pre-written message will appear for customers who approach you outside those hours.
Features "Routing" in which conversations are directly assigned to each group member based on rules which you have the right to define.
To help businesses better understand feedback, Freshchat offers the tagging of conversation.
Reports on Customer satisfaction and team performance are tracked continuously.
"In-app Campaign" lets you interact with target leads as well as make announcements to certain groups.
Multilingual support is provided in Freshchat to engage with customers all around the world.
Pricing
Sprout ($0/month): Priority Inbox, Message Channels, Integrations, Mobile App, Notifications, and OmniChat.
Blossom ($15/month): Features in Sprout alongside with Limited Triggered Messages, In-messenger FAQs, Smart Plugs, Business Hours, Limited Dashboard, and much more
Garden ($24/month): Features in Blossom alongside Unlimited Triggered Messages, Custom Bots New, In-app Messages, Clearbit Integration, and much more.
Estate ($39/month): Features in Garden alongside Multiple Business Hours, Advanced Dashboard, CoBrowsing, IntelliAssign, Multilingual Support, and much more.
Forest ($79/month): Features in Estate alongside with Roles and Permissions, APIs, IP Whitelisting.
---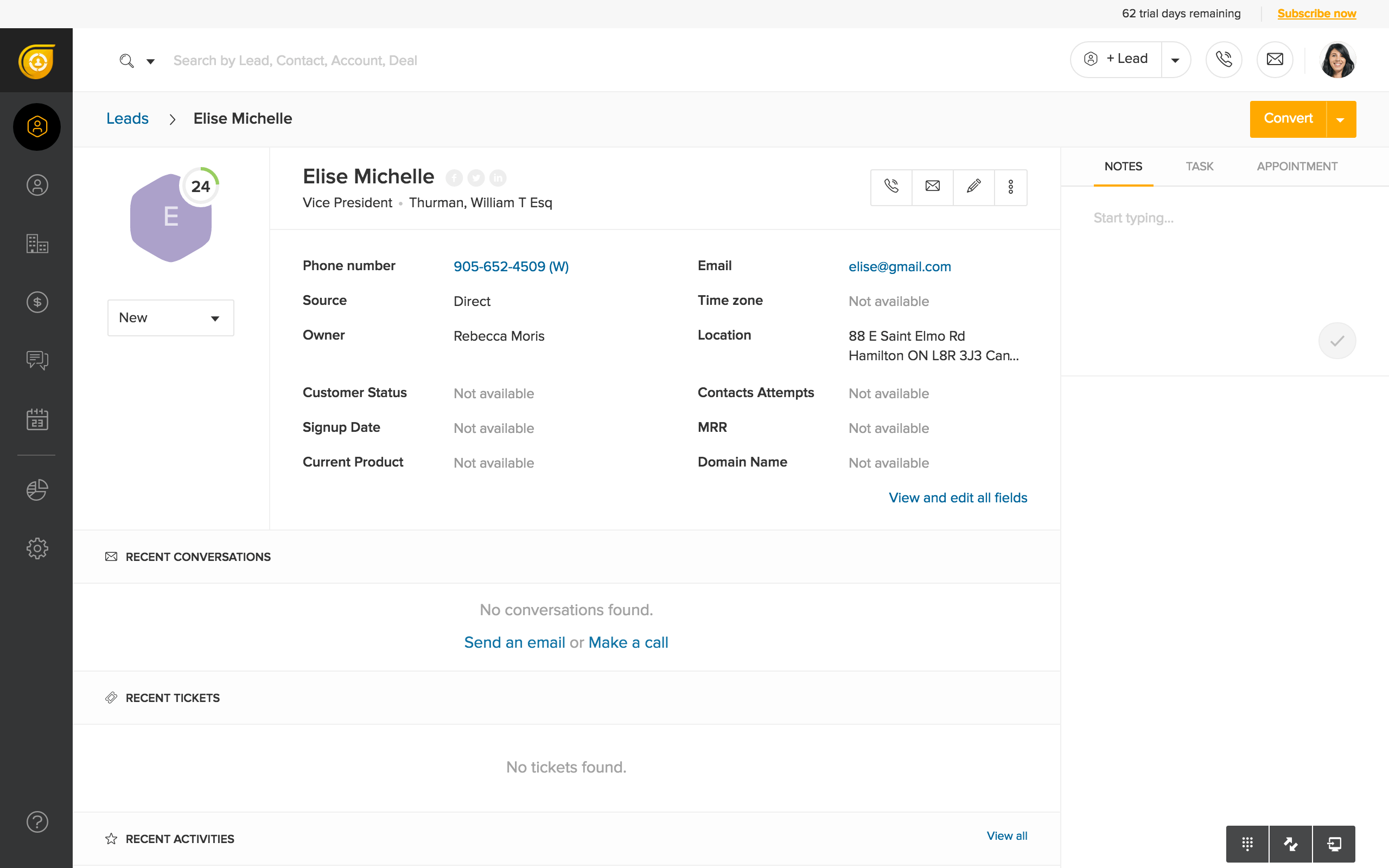 According to research, it is 6-7 times more expensive to acquire a customer than to keep a current one that is why businesses need to build strong relationships with customers.
Customer relationship is an indispensable part of business, therefore installing a full-fledged CRM system is recommended to deal with business needs.
The best part of the CRM system is that it is extremely cost-benefit, on the other hand, the system is so centralized that everything is available at the tip of your finger. This reduces the time taken to process and thus increases productivity.
Freshsales, a product of Freshworks, was a response to the company's own need to handle multiple aspects of sales simultaneously. It has won the Great User Experience Award.
Satisfied consumers describe Freshsales as one of the best productivity apps for iOS that helps them engage with various leads as well as answering their inquiries proficiently.
But what explicitly makes Fresh Sales one of the best productivity apps is that with just one click you can send targeted emails and get in touch with your prospects in a more effective way.
Key Features
Freshsales is seamlessly integrated with google calendar and segment, you can sync all your events and track them from your phone.
All users get rich content regarding the use of the system, 24/7 help is available through live chat, phone, and email feature
Features reporting and summarizing in which you can make custom reports on every deal, email, and opportunity.
It uses AI-based lead scoring to consider all conversations and relevant details to discover leads
Allows auto-dialer, route calls, create personalized welcoming messages, ID their callers, and tracking of performance.
It allows your team to send bulk emails and also synchronizes them to your calendar.
Pricing
Blossom ($12/month): lead, Contact, Account, and Deal Management, Visual Sales Pipeline, 2-way Email Sync, Lead Scoring, Phone powered by Freshcaller, SMS Integration, Freshworks Integrations, and much more
Garden ($25/month): Everything is Blossom alongside with 250 Bulk Emails/user/day, 10 Workflow Automations, Territories and Lead Assignment, Smart Matches, Advanced Reports
Estate ($49/month): Everything in blossom 1000 Bulk Emails/user/day, 10 Sales Sequences/user, 25 Workflow Automations, Territories, and Lead Assignment, Smart Matches, Custom Roles, and much more
Forest ($79/month): Everything is blossom alongside 5000 Bulk Emails/user/day, 25 Sales Sequences/user, 100 Workflow Automations, 50 Teams, Territories, and Lead Assignment, and much more.
---
19. Wave (Business Accounting Software)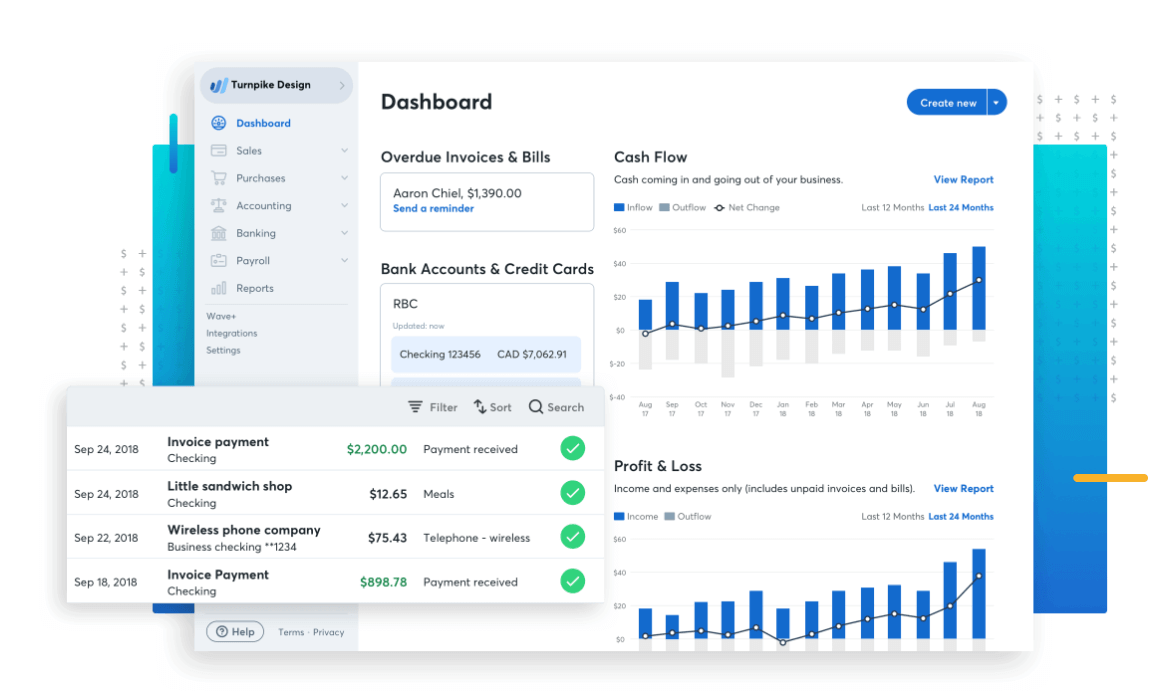 Manual bookkeeping is time taking and prone to human errors and wrong entries, which results in a lot of time wasted on correcting those entries.
Thus software-based approaches are recommended to ensure validity and efficiency, as business accounting software is virtually inept at making such errors.
The benefits of Validity and efficiency go hand in hand with cost-benefit, since all core calculations are automated and stored digitally. This reduces the overall cost of printing and distribution of documentation.
Wave is award-winning accounting software with around 3.5 million users; the software offers a good set of accounting features to manage your business including online invoice creation, automated payment management, and reminders, with a very clean and well-organized interface.
Wave is ideal for small businesses and has been reviewed as one of the best free productivity apps, that is because unlike other free apps, there are no limits on invoicing, contact lists, and other features.
The software offers support to multiple companies and deals with personal accounting as well for owners who have no accounting background.
Key Features
The dashboard features visual representative graphs of Overdue Invoices, Cash Flow, Credit Cards, Profit & Loss, Payable & Owing, and Net Income to give an insight.
Offers three types of invoice templates and allows you to schedule reminders, record expenses, and send receipts
It features a client portal, where clients can view their invoices and have the easiness of paying online.
It allows you to integrate bank accounts to track your expenses and record journal entries as well.
Features checkout in which you can generate a checkout link that can be forwarded to your clients directly.
Offers 12 kinds of customizable reports including a new cash flow report, profit, and loss reports, and mini-aging reports.
Pricing
Free: Invoicing, estimates, contact management, expense tracking, account payable, basic inventory, and reports.
Wave Plus
Monthly Accounting Coach ($79/month): 30 minutes live coaching plus email support.
One-time Accounting Coach ($249/month): 120 minutes of live coaching.
Bookkeeping (starts at $120/month): An expert to handle transactions, reconciliations, insights, and planning.
Tax Service (starts at $129/month): An expert to handle all-year-round taxes, federal and state tax returns representing you with IRS, quarterly reviews, and planning.
---
20. SEMrush (SEO Tool)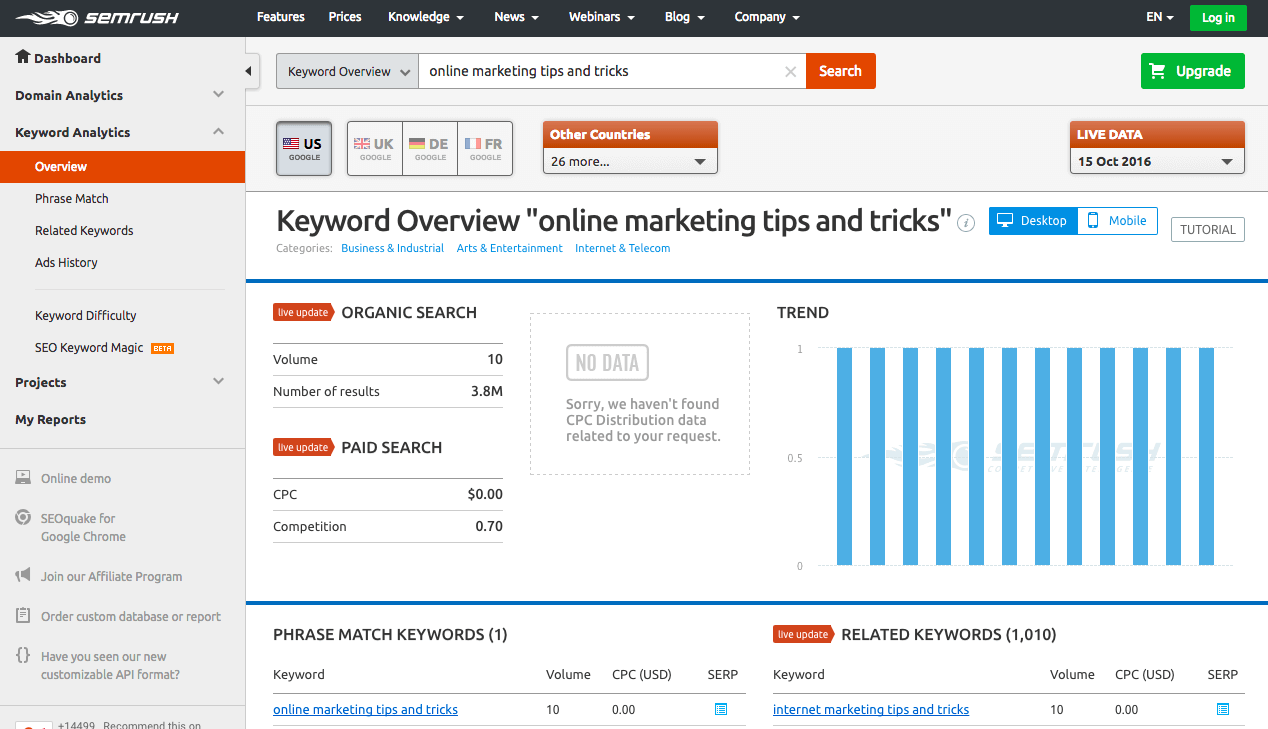 According to Accenture, an estimate of 94% of B2B buyers are likely to search online before they buy a product. That is because consumers now view the internet to be an integral part of their shopping experience
Relying on SEO is considered to be the most effective way of marketing claimed by 50% of marketers. However investing in SEO can be overwhelming for small a business, which is why we recommend SEMrush.
SEMrush, one of the most successful SaaS apps, has over 4 million users with clients like Wix being one of them.
It is a digital marketing tool that offers over 20 tools and reports with the largest keyword database, i.e. 8.3 billion keywords in 118 countries, trusted by the likes of Quora, HP, and eBay.
The software is built to assist you in every step of optimizing your website to gain more traffic and convert them into potential customers.
It is the best productivity apps as it helps users understand how their competitors found success and how they can replicate their steps as well with the help of backlink tools, rank tracking, on-page SEO analysis tool, and SEO audit tool.
Key Features
It allows you to find competitors and conduct an analysis of their SEO strategies.
Features link building by allowing access to your competitors.
SEMrush provides the leading keyword database and is highly comprehensive.
Effectively performs a complete website audit.
Generates an organic research report that contains all the information needed to build a successful SEO marketing plan.
SEMrush allows you to calculate your data reach and compare it to your competitors for better insight.
Pricing
Pro ($99.95/month): SEO, PPC, and SMM projects with 40+ advanced tools, Competitor traffic, and social media results.
Guru ($199.95/month): Content Marketing Platform, Branded reports, Historical Data, Extended limits.
Business ($399.95/month): White label reports, API access, Extended limits and sharing options, Google Data Studio Integration
---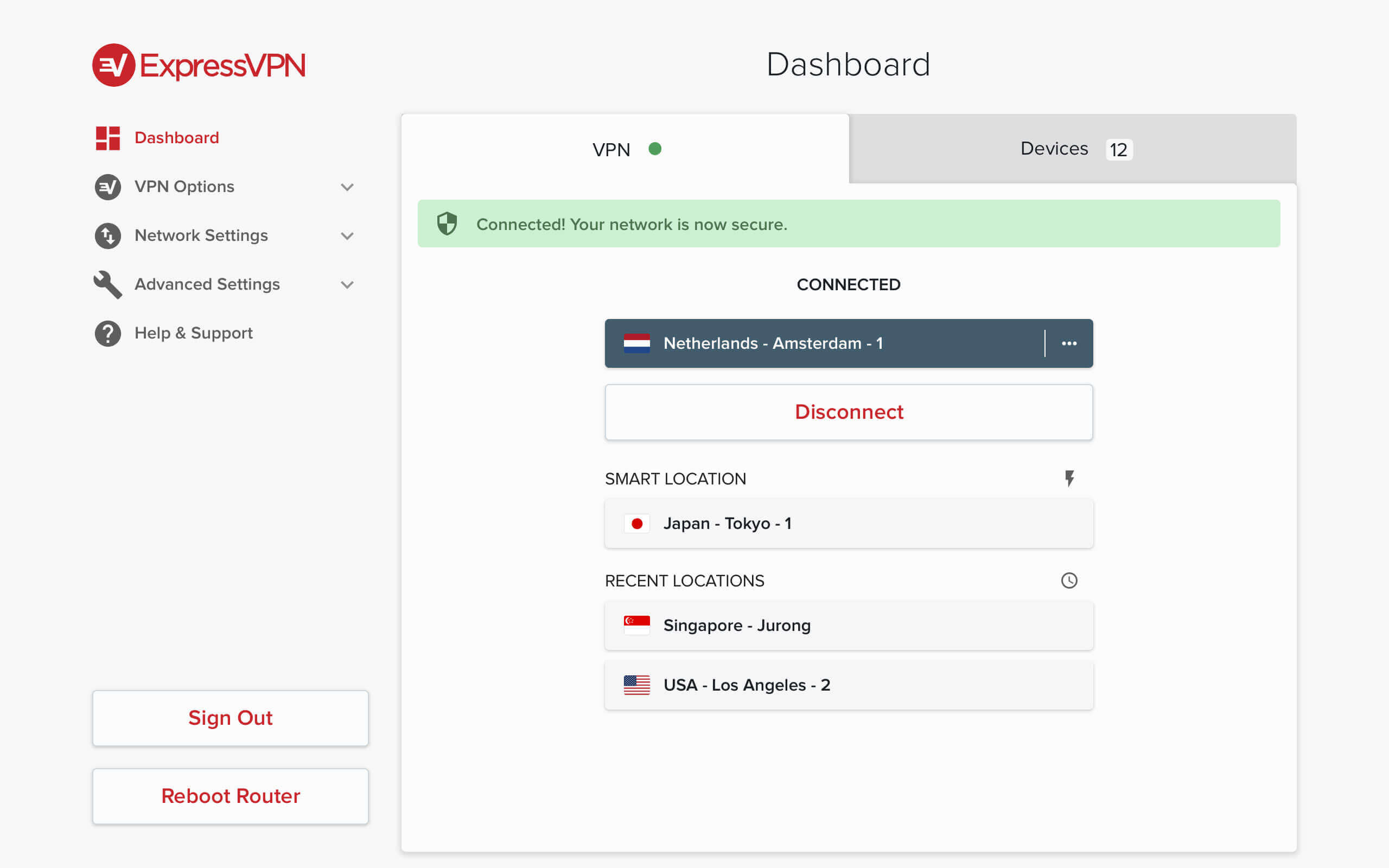 As with any system that requires the use of personal information, security is a concern of every individual. Even when surfing the web, a large amount of data is collected by big brands that customers trust.
VPN services can be hacked so it's important to consider security when choosing a VPN, there are of course software that sells your data to other companies that is why ExpressVPN is praised for being No. 1 in providing security.
ExpressVPN offers intense coverage in Europe and the U.S with over 2000 users in 94 countries, it is also recommended by Forbes.
ExpressVPN being the strongest VPN in the market provides multiple features with great speed and custom encryption alongside connection features too. It is considered to be one of the best productivity apps for Mac in ensuring the security of personal data.
Key Features
Express VPN has 160 servers in 94 countries; there is no limit to bandwidth or server switch.
It offers four main protocols – PPTP, L2TP, IKEv2, including the popular OpenVPN to connect the VPN server.
This app is available for nearly every platform e.g. Windows, Mac, Linux, iOS, Android, and Router.
Express VPN can be connected to three devices simultaneously.
Provides 24-hour live chat support.
It allows you to hide your IP address and also search anonymously.
Pricing
Monthly plan ($12.95/month): Billed monthly with all the features
Half-yearly plan ($9.99/month): Billed every six months with all the features.
Yearly plan ($12.95/month): Billed every 12 months with all the features.
---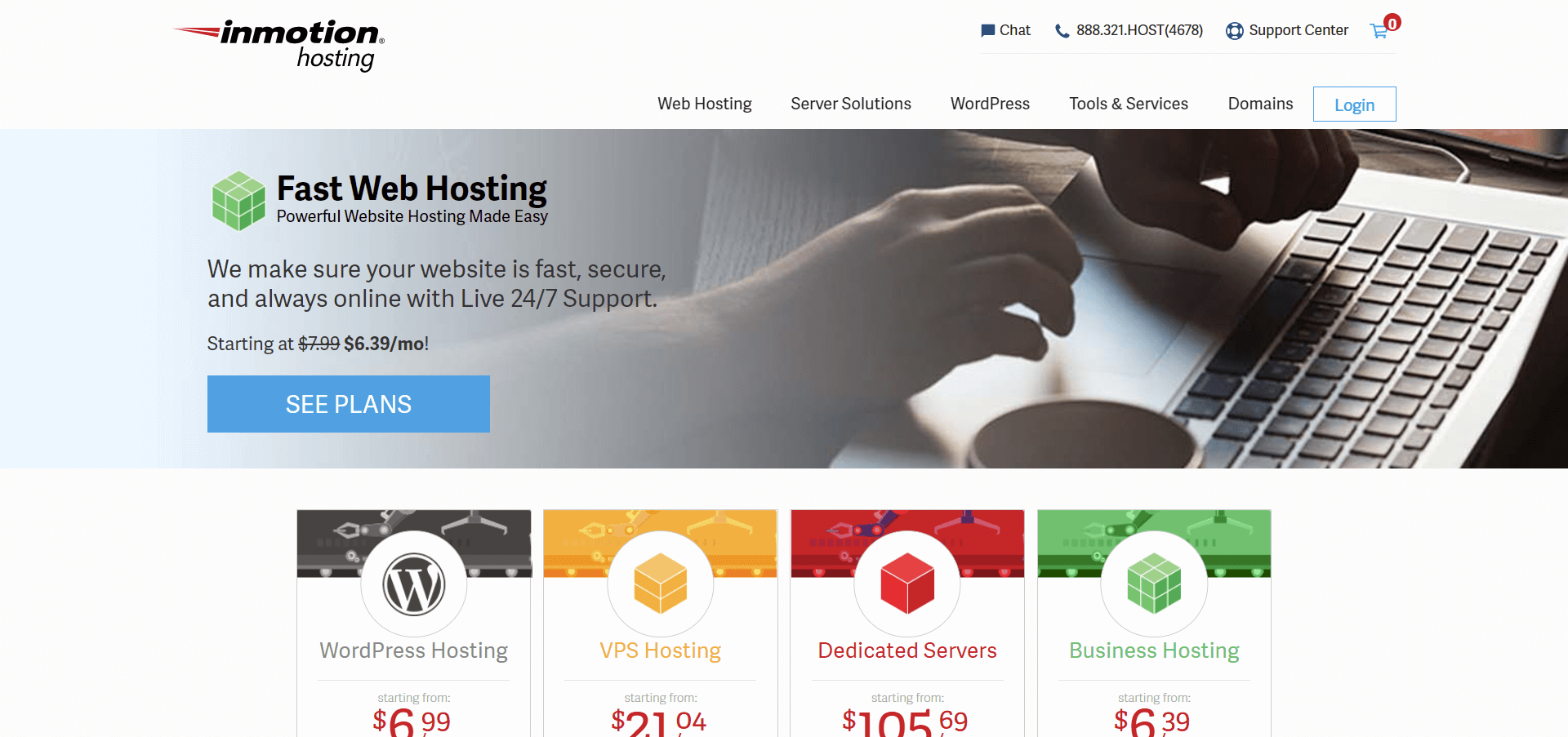 From the past few years, all transactions have shifted online; therefore any successful business must have the support of a reliable web hosting service.
It is easier to approach a cheap web hosting service, however it should be considered as an investment. For example, viruses can hack into your business's website, and steal critical customer and sales data. Thus relying on a good web hosting service can provide you excellent security.
InMotion Hosting is an activated domain name and web hosting company with a customer base of over 30,000 domains. The app has great technology and support teams all bundled at customer-friendly rates.
InMotion is considered to be one of the best productivity apps, as setting up a website is a tricky process, It provides a convenient onboarding process for its new customers.
They provide content especially tailored for customer's most central questions regarding websites.
Key Features
The website is supported by multiple data centers with free SSD, ensuring maximum processing speed.
It offers a free domain for every plan.
The most exciting feature in InMotion is free data backups, It automatically backups data regularly.
It allows you to code in multiple languages e.g. MySQL, Ruby, PHP, and PostgreSQL.
Features "built-in e-commerce" where you make purchases anytime.
Offers thoroughgoing security by providing a free Sucuri Security plugin for WordPress sites.
Pricing
Launch ($3.49/month): Host up to 2 websites, unlimited disk space and bandwidth, 2 MySQL & PostgreSQL databases, free website transfer and setup, free daily website backups, max Speed Zone technology, and much more.
Power ($4.49/month): Host up to 6 websites, unlimited disk space, and bandwidth, 50 MySQL & PostgreSQL databases, free website transfer, online eCommerce, and much more.
Pro ($7.49/month): host unlimited websites, unlimited disk space, and bandwidth, unlimited MySQL & PostgreSQL databases, online e-commerce, pro-level us-based support, and much more.
---
23. EmailAnalytics (Visualize Your Email Activity)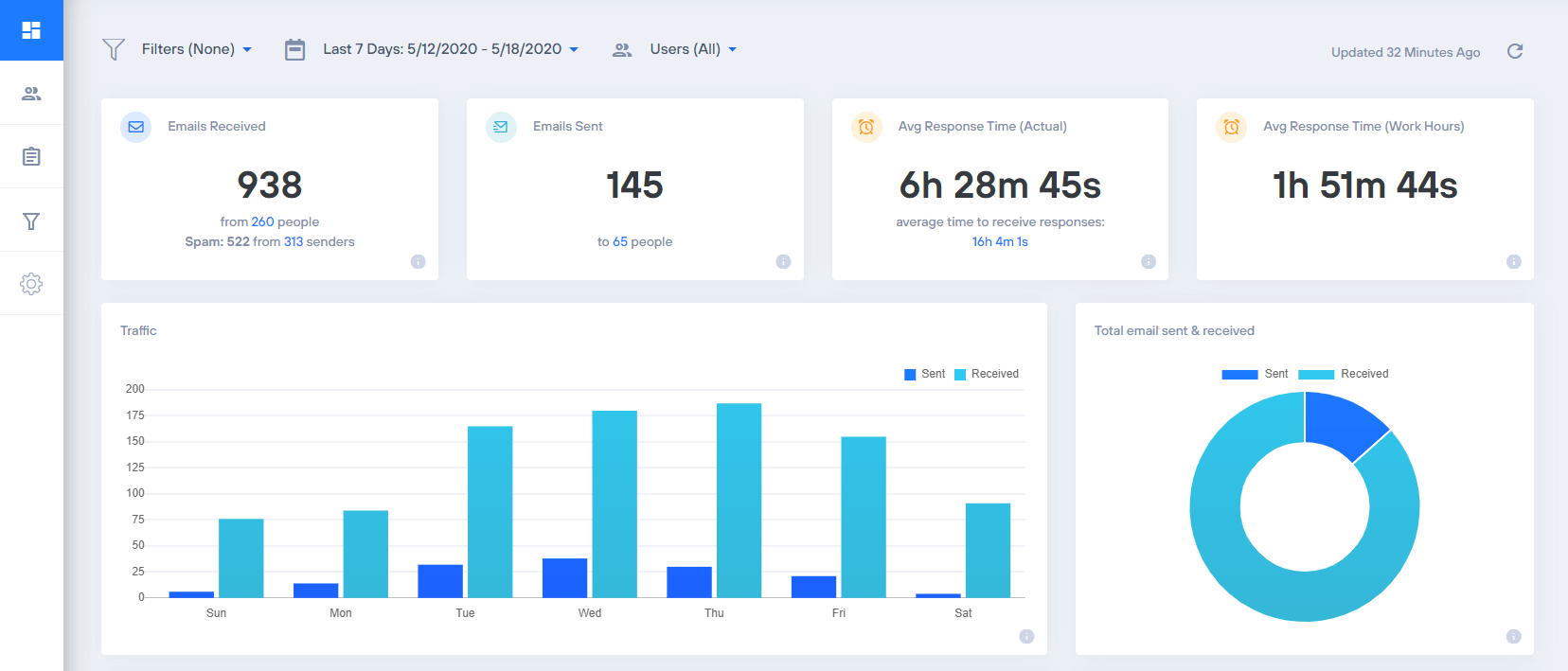 EmailAnalytics is an email productivity app that visualizes your email activity – or that of your employees – if you use Gmail or G Suite as your email client. This enables you to get at-a-glance insights into your busiest email days of the week, your top senders and recipients, and how many emails you send and receive every day.
One of its best features is that it calculates average email response time, which is a crucial metric for sales and customer service teams. And the tool sends you daily email reports right to your inbox, making it easy and convenient to monitor your team's email productivity, all without leaving your inbox.
Key Features
Add team members and view their metrics on your dashboard
Simple and effortless export to Excel functionality
Get daily or weekly email summary reports for you and your team
Real-time data sync
Include or exclude data from your reports with custom filters
Average response time abides by your set work hours
Privacy: data security is ensured with Gmail's API. User's data is only accessed for automated analysis.
Team Management: manages your team and identify top-performers by comparing their Gmail metrics against each other.
Reports: supports email analytics dashboard, which helps to generate reasonable reports.
Pricing
Pro: $15 per user/month
Enterprise: $5-12 per user/month (with bulk user discount)
Best Productivity Apps – FAQs
☀️ What Are Productivity Apps?
The purpose of productivity software apps is to help you balance your work and personal tasks with ease and efficiency. There are times these types of software have a direct or even an indirect approach to helping you reach your goals and deadlines.
You can use them for both, personal or professional benefits.
Productivity apps come with many features and even browser plugins. There are about three tiers of productivity apps, which are; personal productivity apps, business and office apps, and collaboration apps.
These different categories sometimes overlap with each other when they are being used.
However, there are some powerful to-do list apps that more or less cover all these categories in one. That means other than your life organization, you can also work with your teammates and organize lightweight projects with them.
This level of flexibility provides a good sense of mental balance.
Since a productivity app is meant to help you work to your best capacity, you need to make sure you pick the right one. It should have the features you need acts as a tool that helps you manage and evolve as a person and professional.
☀️ How Do You Use Productivity Apps?
It's not that difficult to choose a productivity app. Practically all of them have the same elements, such as; spreadsheets, task managers, reporting capabilities, time trackers, chat functionalities, file management, notifications, etc.
The difficult part is getting lost in what all their features offer us.
All these apps have vast features and sometimes we have a tendency to get caught up in those features, and not manage our time properly. Be careful not to get caught up and waste time on their extra features.
Below are some features you should check for when choosing and using productivity apps.
It should have due dates and status tags that help you keep track of deadlines.
There should be communication and chat features in the app that help you keep the communication in one place. This helps eliminate any misunderstandings.
It should have a project and task creation, which are effective and amplifies your organization.
It should help with time management & scheduling, by setting your tasks and calendar commitments in one place.
The productivity app should have a file management system for all your files, so you can filter or search a particular file whenever you need it.
☀️ Are Productivity Apps Useful?
Why do we yearn to be more productive? Mainly so that we can accomplish all of our goals effectively and efficiently. We all want to grow, and earn a sense of achievement and self-accomplishment. All of these can be achieved with the help of the right productivity app.
Being productive also mean you want yourself to be more focused and have minimized distractions. Productivity apps do just that, they make sure you don't waste your time on redundant tasks, all while providing you valuable information on how to improve your next step.
They also provide valuable insight into how other people's work may be affecting yours, and how you can use that data to amplify your work process. In short, productivity apps are indeed useful provided you choose the right one that caters to your needs and wants.
☀️ What is the Best Productivity App for the iPhone?
How many of you use your iPhones to keep in touch with your teams constantly, especially when working on a tight-scheduled project? It is by far the easiest way to stay productive, and if you have the right technological tools it is by far the most effective way to stay productive.
Here are our top two productivity apps for iPhone:
Evernote: Use it for brainstorming, scanning documents, audio notes, clipping articles to read later, and much more.
Dashlane: A secure vault for all your passwords that helps make password-less logins possible, saves you time, and also ensures your passwords are always protected.
☀️ What is the Best Productivity App for Android?
Smartphones provide us with many functions. They all help us to open communication channels consistently, on the go, and to become productive by using advanced tools.  There are so many options for productivity apps, especially for Android.
Here are our top two productivity apps for Android this year:
Google Drive: Offers regular Google Docs, Sheets, and Slides, the cloud storage in Google Drive, also, a standalone PDF reader from Google, and Google Keep Notes – a simple but effective note-taking app.
Slack: Is one of the best business chat app currently available. It supports text and voice chats and is a great integration provider for Google Drive, Asana, and other productivity apps.
---
Conclusion
Save your time and organize your digital life organized with these powerful applications because it's time to work smarter, not harder. We have tried and tested these applications to provide you with in-depth research about the best productivity apps.
You will surely have a hassle-free, efficient, and productive work cycle if you invest in some of these mentioned applications.
We encourage you to try these apps for yourself and get back to us with your valuable feedback. All the while keeping in mind that productivity doesn't necessarily begin or end with apps. But with this list, you will have all kinds of apps to get you started in the right direction.
Here's to having a more productive year!
---
Other SaaSy goodness on All That SaaS: